Art Deco styling, lavish greenery and an eclectic antique collection create an alluring aesthetic at this luxury urban resort in Bangkok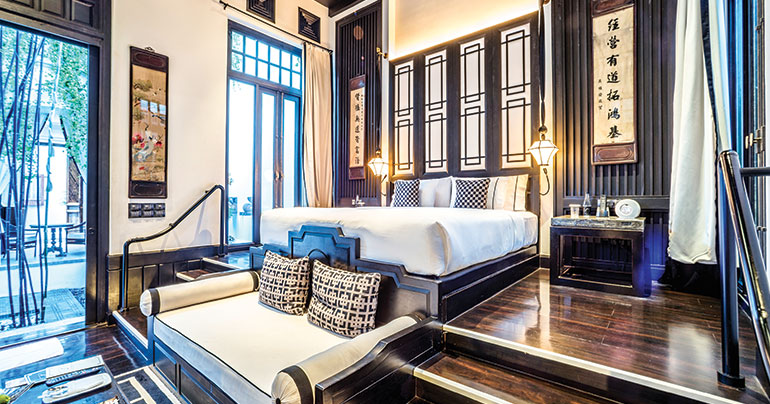 Living art
The Siam only opened its doors in 2012, but you'd be forgiven for thinking it's been around for much longer. From the 19th century Thai military helmets that sit behind the reception desk to the Second World War-era gramophone found in the library room, the Siam doubles up as a museum for the private antique collection of owner Krissada Sukosol Clapp. Despite hailing from all corners of the globe the artefacts burnish the hotel with an undeniable sense of belonging. Traipsing around the hotel's numerous corridors and cubbyholes, it feels as though you've been invited into the home of an affable eccentric, a Jay Gatsby-esque character who at any moment could appear to regale you with tales of old adventures.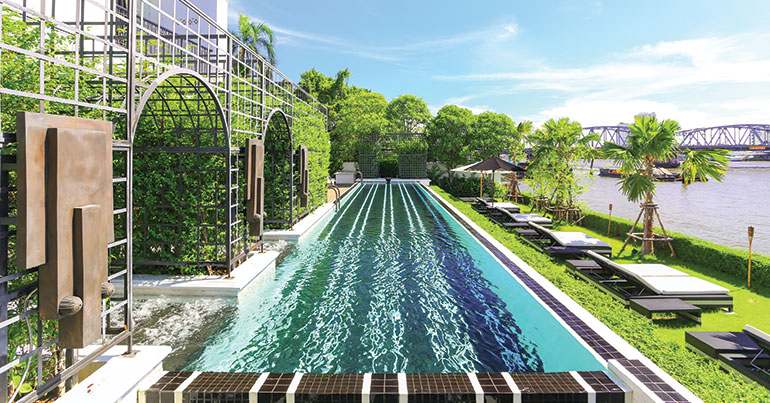 Fit for a king
Simply put, the Siam is a masterpiece of Art Deco design. Constructed mainly from stone, leather and wood, the resplendent black-and-white mansion effortlessly blends the grandeur of the roaring twenties with the opulence of King Rama V's 19th-century Bangkok. At its heart sits an elevated black granite pool ensconced by row upon row of majestic arches peppered with carefully curated palms and ferns. Glistening under the light that pours in from the conservatory-style glass ceiling overhead, a trickling stream reflects the Siam's mystical charm: peaceful yet very much alive, the hotel will lull you to rest with one hand and extend an invitation of adventure with the other.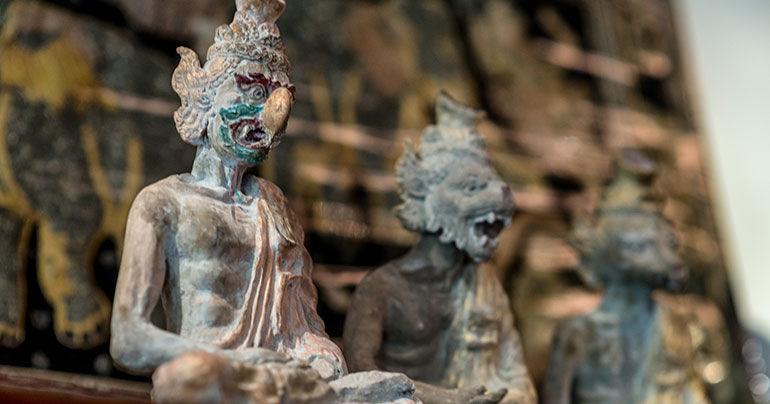 Devilishly indulgent
The Art Deco theme continues into the hotel's 39 guest suites, which use monochrome palettes and bursts of colour to create stylish hubs far removed from the frenetic energy of Bangkok. More accurately described as small apartments than rooms – even the smallest spans 80 square metres – each individually decorated suite comes with a generous sitting area to entertain guests and an ensuite bathroom that boasts twin sinks, a standalone bathtub and separate walk-in showers and toilet cubicles. In keeping with the hotel's penchant for antiques, walls are adorned with ancient Buddhist relics and cabinets filled with countless treasures aimed at stoking your inner curiosity. What's more, every suite is assigned a private butler to attend to your every need.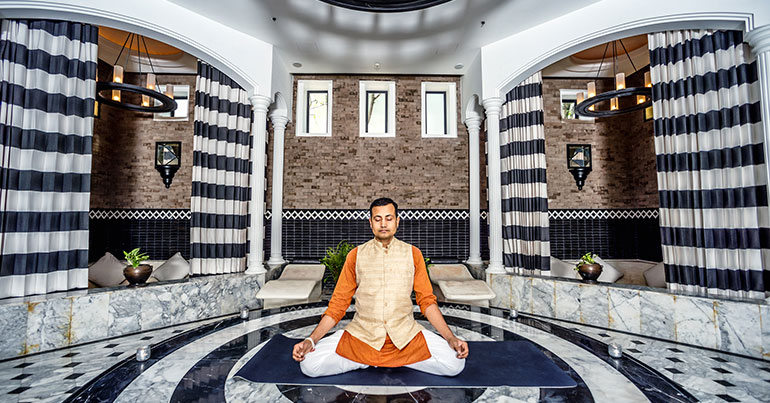 Mind and body
After a long day spent sightseeing in Bangkok, guests can unwind in the hotel's Opium Spa, where skilled therapists use renowned Sodashi spa products to soothe sore limbs and rejuvenate tired skin. Bordered by black Art Deco shutters and radiating a natural calm, the spa's stylish lounge offers but a glimpse of the peaceful oasis that awaits within. However, for those who prefer to attain spiritual equilibrium through physical exertion, the hotel also has its own Muay Thai ring and a dedicated trainer on staff to guide you through a workout. Its inclusion in the building was motivated by a desire to offer guests authentic Thai experiences, a way of thinking that also saw the owners set up an onsite sak yant traditional tattoo parlour.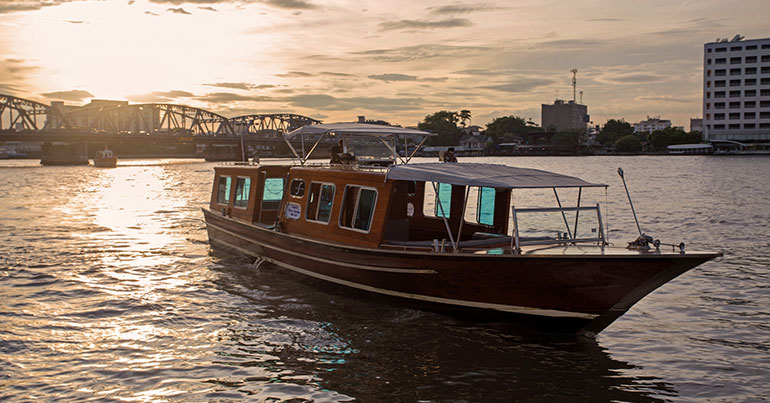 Sunset cruise
Given its location on the banks of the Chao Phraya river, it may come as no surprise that the Siam operates a shuttle boat service for guests heading to the city. It goes as far as Saphan Taksin BTS station in Sathorn, the capital's fine-dining and drinking mecca that is within a stone's throw of many of Bangkok's major attractions. Initially built to transport rice to the country's major cities, the hotel's beautifully renovated golden teak barge is the perfect vessel from which to gorge on canapés, drink in the mesmerising sunset and reflect on a trip well spent.
This article was published in the April edition of Southeast Asia Globe magazine. For full access, subscribe here.
Related reading: