Discover the Rascal, Indonesia's new luxury charter boat offering cruises around the country's spectacular eastern waters

Tradition meets tropical
In a nod to tradition, the Rascal has the hull of a pinisi, a traditional wooden vessel built by the Konjo boat builders of Sulawesi island. However, unlike regular pinisi boats, the Rascal has done away with the largely ornamental sails and masts in favour of providing four large deck areas for socialising. Light timbers and white paintwork make for a fresh, modern look and combine with nautical blue and white cushions, wicker chairs and stylish beanbags to create a refined but fun ambience. And with a friendly crew of ten, there's always someone to anticipate your next wish.
'Hamptons' bedrooms
The Rascal is the only pinisi charter boat in Indonesia with five double en-suite cabins, all of which are above deck. Forget stuffy interiors; every bedroom has large windows to maximise light and views, and from the king-sized bed in the master cabin, drink in the 180-degree panorama of remote, uninhabited islands as they slide by. Modern 'Hamptons' styling is complemented by tropical and maritime-inspired artworks and a timber writing desk for your travel journal. Meanwhile, spacious bathrooms feature rainwater showers, each room accesses the veranda and three of the bedrooms can accommodate an extra child in a day bed or bunk.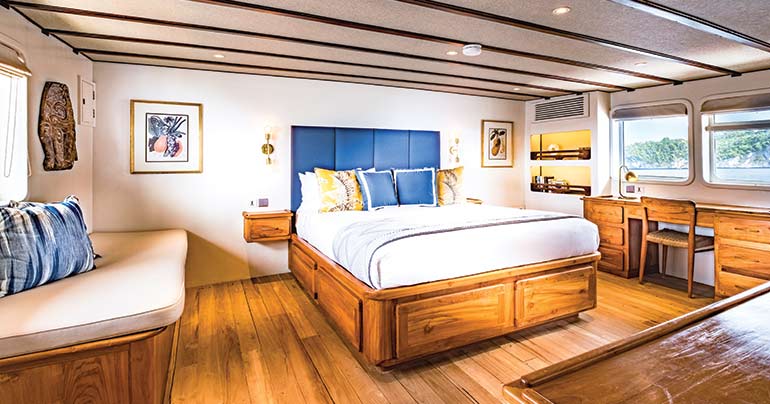 Bucket-list destinations
From October to April, the boat cruises the remote Raja Ampat archipelago in West Papua province. Raja Ampat is arguably the world's most biodiverse marine environment, with one dive site having the highest count of fish species on the planet. Manta rays delight snorkellers and divers, gliding through their 'cleaning stations', and brightly coloured soft corals cling to every surface. Above water, mushroom-shaped islands erupt from turquoise waters, and bright red eclectus parrots glide between trees. From April to October, the Rascal avoids the monsoon by plying the waters of the Komodo National Park where, aside from highly rated diving, visitors will encounter the world's largest lizard, the Komodo dragon.
Flexible itineraries
The Rascal's flexibility is one of its greatest luxuries. Cruise director Gaz Phillips, formerly of Aman Resorts, ascertains the interests of your group and suggests suitable itineraries. As a scuba instructor, Phillips guides divers through world-famous dive sites, while non-divers can try stand-up paddle boarding, kayaking or snorkelling with turtles. A private beach party on your own island is a must, complete with a sun gazebo and a cooler box of drinks. Alternatively, choose to visit a friendly Papuan village, enjoy a guided bird of paradise tour or take a hike up the steep limestone outcrop of Mount Pindito to photograph spectacular island peaks and coral-rimmed lagoons far below.
Chef's creations
All meals and non-alcoholic drinks are included in the charter, and chef Dony plates up restaurant-quality food all day. Breakfast is served à la carte, and for a spicy kickstart try the superb Indonesian fried rice. Two-course lunches are followed by three-course dinners that take in seafood, steaks and healthy salads. Your waistline may suffer, though, given the tempting and plentiful snacks such as curry puffs or homemade chocolate cake. Liquid refreshments are plentiful, too, and for a nightcap with a view, try the boat's rooftop deck. The shooting stars are spectacular, and sharing the moment with your favourite people is, quite simply, unforgettable.
This article was published in the March edition of Southeast Asia Globe magazine. For full access, subscribe here.
Related reading: