We can't continue to ignore the fact that domestic abuse is a plague on our houses

By Charlie Lancaster
Whether used as a tool of repression, a form of control or an expression of power, domestic violence is not a marginal issue. Globally at least one in three women will be beaten, coerced into sex or otherwise abused by an intimate partner in her lifetime. Women aged 15-44 are more at risk from rape and domestic violence than from cancer, motor accidents, war and malaria, according to the World Bank.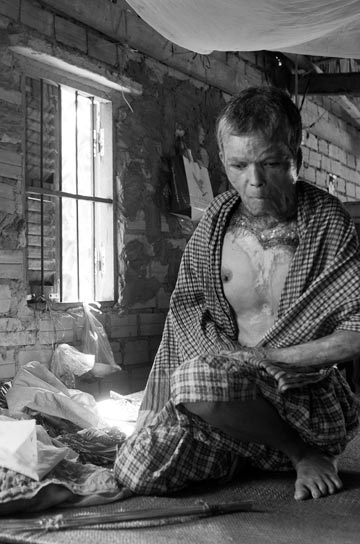 Not confined to a specific culture, country or social grouping, violence against women has its roots in the historical power imbalance between men and women, and in a world largely governed by men, domestic violence is commonly deemed a 'private matter'. Rarely has this been more obvious than in the case of Cambodian Moeng Sin and So Phorn. Sin had verbally and physically abused his wife for 20 years before he took the violence to another level last year. Following an argument, Sin doused his wife in petrol before setting her alight. She was hospitalised for ten days before being encouraged to move back in with her husband and not press charges. In a land of impunity, Sin walks free while Phorn is disfigured and imprisoned in a life of pain.
We can't continue to ignore the fact that domestic abuse is a plague on our houses and is in part the result of a wider acceptance of violence against women, which has led to female journalists being sexually assaulted in Egypt, the death of a 23-year-old Indian student following a violent gang rape attack on a bus in Delhi, and a US politician claiming that "legitimate rape rarely leads to pregnancy". Social media campaigns and groups are boosting the fight for gender equality, and it remains crucial for males to be involved in attempts to shift perceptions of masculinity. Efforts such as the White Ribbon Campaign, which encourages men to take more responsibility for reducing the level of violence against women, and the Good Men Campaign, a Cambodia-wide initiative to transform gender norms, must be supported if we are to shift attitudes and turn the tide against gender-based violence. We owe it to our sisters and mothers to ensure that the next generation of women can live a life free of fear.

Send your comments to editor@localhost



Also view
"Beaten and Burned" – Living in fear and pain, victims of domestic violence are being ignored by society and the authorities
"Their livelihood is reliant on my ability as the CEO to ensure the company stays healthy" – Aireen Omar, AirAsia's CEO of Malaysian Operations, discusses why and how businesswomen in Asean are holding their own among female executives worldwide
"The female factor" – Women are increasingly taking their seats in Southeast Asia's boardrooms – a vital development if impressive economic expansion is to continue

"Cambodia: Women in business"