Living in fear and pain, victims of domestic violence are being ignored by society and the authorities
Text & Photos by Denise Hruby
Getting up and sitting straight is an arduous and painful task for So Phorn. With help from her children she can move around her small wooden house, in which the smell of medicine lingers.
A year ago, then aged 59, Phorn fled her Kampot home, screaming. "Help me!" she cried hysterically, her arms waving in the air. She was drenched in petrol and wrapped in flames. Neighbours rushed to extinguish the fire that had engulfed her upper body.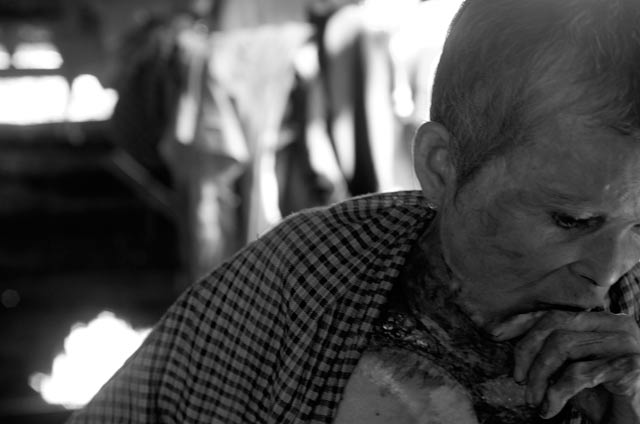 So Phorn spent ten days in Kampot's provincial hospital before she returned to her one-room house to live with the perpetrator of this horrific crime: Moeng Sin, her 50-year-old husband.
On the day of the attack Sin and Phorn had an argument. Hidden behind closed doors Sin, a soldier, would usually silence his wife by beating her. But last April, he doused her with gasoline and used his lighter to set her on fire.
"I was trying to escape. I knew that he wanted to set me on fire. But he held me so tight, I couldn't run," Phorn said. "I could feel the flesh falling off my body."
In the 20 years of marriage leading up to that fateful day, Phorn had endured verbal and physical abuse at the hands of her husband, including rape.
"I wanted to leave him; but then I always thought that it would get better," she said, while trying to brush away the flies feasting on a large open wound that stretches across her chest. After all, she asked, how could she provide for her five children without her husband's income?
Domestic violence is a major problem in Cambodia. In a culture where divorce is taboo and society dictates that a wife obey her husband, the majority of victims dare not speak out.
Like most abusive Cambodian husbands, Sin lives free, underscoring the lack of public awareness of, and impunity around, such abuse.
Women's rights activists say that many women in Cambodia have little recourse when it comes to domestic violence. They are financially dependent on their husbands and authorities rarely take action.
"There are many reasons why a woman may keep silent about the violence she experiences, particularly when she doesn't have other options and may face social stigmatisation and possible reprisal from the perpetrator," said Freya Larsen, a consultant for UN Women.
In 2012, Cambodian rights group Licadho assisted 304 women who had experienced domestic violence and recorded that four women had been killed by their spouses.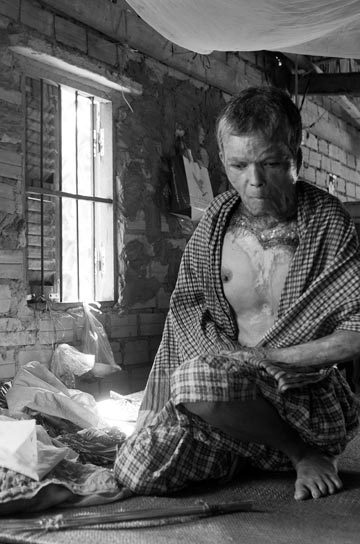 "Domestic violence is a big issue and it happens a lot," said Licadho coordinator Sao Chanhorn, adding that of the few women that do speak out, the majority usually stay with their husbands.
"If the victims are willing, we help them to file a complaint. But most of the time, they choose to compromise and reconcile with their husbands," she said.
A 2009 study released by the Ministry of Women's Affairs found that at least 40% of women in Cambodia had experienced, or knew someone who had experienced, physical violence in the home. About 20% of the more than 3,000 women questioned had been tied up and beaten, and 7% said they had been choked and burned, or knew someone who had experienced such abuse.
"Women who are exposed to poverty are trapped by their husbands," said opposition lawmaker Mu Sochua, who was minister of Women's Affairs from 1988 to 2004. "Like anywhere in the world, domestic violence is a social issue and it is an accumulation of many factors. What makes it more serious in Cambodia is the level of impunity here."
Neighbours and relatives in the close-knit community in Kampot's Boeng Sala Khan Cheong commune claim that they were unaware of the beating and humiliation Phorn had suffered over the past two decades.
"Apparently it had been going on for many years, but we never knew about it. Moeng Sin was a nice guy, friendly and polite. Everyone liked him," said Chan Samorn, the commune chief.
Asked why Sin had not been arrested, Kampong Trach district penal police chief Roth Sam Ang replied that the victim had not made a complaint, which is legally required before the police can take action.
"We've heard of the case, and we have been there and asked questions. But we didn't make an arrest because the family didn't file a complaint," Roth Sam Ang said.
In Cambodia, however, the police can make an arrest without a complaint in extreme cases such as this.
"The reality is, the husband has mental problems and he was also injured," said Roth Sam Ang. "If he wasn't ill, we would have punished him according to the law.
Phorn says that she wanted to file a complaint after the attack but the commune chief pressured her against it. He told her that there was no point in punishing him.
"The [family] wanted the police to arrest him, but I told them that it was better not to," Chan Samorn said. "What good would it do?"
He added that "the accident" had already happened and imprisoning the perpetrator would help neither the victim nor the family.
Phorn, who lives in constant pain as some of her wounds keep opening up and filling with pus, said she was baffled as to why she ended up living with her husband after being discharged from hospital.
"I don't know why he still wanted to speak to me. I told him to leave, but he is cruel and dumb. He just didn't leave," she said
To raise awareness of domestic violence, women's advocacy groups have launched projects such as the
UN-sponsored White Ribbon campaign, which educates men about women's rights. The German and Spanish
governments have financed the Good Men Campaign, which encourages gender equality.
"In a year or two, you can change the general attitude, but to change people's behaviour, well, that takes much longer," said Stefano Brigoni, country representative for Spanish NGO Paz Y Desarrollo, which coordinates the Good Men Campaign.
In an attempt to stamp out domestic violence, the Cambodian government passed the Law on the Prevention of Domestic Violence and Protection of Victims in 2005. Rights groups heavily criticised the decree for including loopholes for perpetrators. According to the law, "appropriate measures" can be taken against spouses or children "if the disciplining and teaching are conducted with a noble nature".
After the attack, Sin continued to abuse his disfigured wife. It took the commune chief eight months to intervene.
"The woman came to me and told me that she can no longer live with him. She said he had tried to rape her and her daughter as well. So I ordered him to move back to his parents' house," Samorn said.
Sin now lives about a two-minute walk from Phorn and their children and has a view of his old home.
Phorn says life is better without him and she doesn't care what people think about her.
"Now I am not embarrassed to be without a husband," she said. "Because he burned me."
Related Articles
"Healing Burns" – Acid attack survivors in Cambodia
"Stop Acid Violence" – Acid attack survivor Soum Bunnarith sings out against the "terrible poison"