Lavi Lev, senior vice-president of Ultra Clean Holdings in Asia, discusses the region's burgeoning 3D-printing industry and the plans that could revolutionise the sector

By David Hutt
Not so long ago, 3D printing was an idea confined to science fiction and the pipe dreams of nutty inventors. Today, less than three decades since it was invented, technology has advanced so quickly that a standard 3D printer sells for as little as $1,000, while large-scale printing has become a multimillion-dollar industry.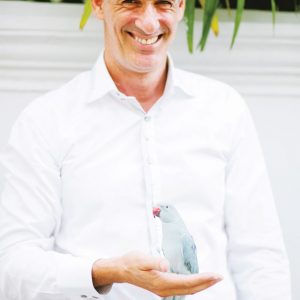 "It's such a rapidly growing business, and one with immense potential, we are more than happy to become one of the leaders in Southeast Asia," said Lavi Lev, senior vice-president for Ultra Clean Holdings (UCT) in Asia. 
Founded in California in 1991 as a division of the Mitsubishi corporation, UCT went public in 2004 and has become a leading supplier of high-end electromechanical equipment and specialist systems – such as technology for robotic assisted surgery – to areas including the semiconductor, medical, research and energy sectors. According to Lev, who took up his position in 2011, the company is now expanding into the 3D-printing industry, otherwise known as Additive Manufacturing.
Last November, an agreement was signed between UCT and Belgium-based i.Materialise, the consumer brand of world 3D-printing technology leader Materialise, to enable UCT to franchise the brand in Southeast Asia.
i.Materialise is an online marketplace for 3D designs. Under the deal, UCT will enable people in Southeast Asia to print, buy and sell 3D products locally, and will focus on further populating the online site with items created in the region, reflecting diverse cultures and the creativity of local artists.
"At the moment, the region does have 3D-printing capabilities but these are on a small scale," Lev said. While companies may have one 3D printer and the ability to manufacture a handful of products, most would likely be competent at small-scale jobs but often have to outsource if they don't have the capabilities, he explained.
"Factories with millions of dollars worth of printers that offer high-end services don't currently exist in the region, perhaps not even in Asia," he said. That is about to change, with UCT set to open its Additive Manufacturing Centre in Singapore at the end of Q1. The factory will be the largest 3D-printing facility in Southeast Asia and is set to revolutionise the region's industry. Not only will the centre manufacture products that are bought and sold on the i.materialise platform, such as jewellery, gadgets and home décor items, it will also allow UCT to print its high-end, specialist products.
The advantage of a large 3D-printing factory in Southeast Asia, Lev said, will be substantial. Currently, much of the region's outsourced printing contracts are fulfilled in Europe, where there are extra costs for shipping as well as a time delay.
"Now businesses in the region have access to our printing services in Singapore, they can benefit from the full force of the industry," he said.
Using the latest in 3D-printing techniques, the Additive Manufacturing Centre will also open up opportunities for businesses in the region, such as virtual warehousing. "A lot of companies want to store their products online for future use instead of storing them in an physical warehouse. With 3D printing, if they want the products later, we can print them on demand."
According to Lev, Singapore is the "perfect" place to open such a factory, not only because of the city-state's excellence in business, but also because it has invested a "significant" amount of money in 3D-printing infrastructure and in the training of personnel.
"A few years ago, the government identified the industry as the next wave in manufacturing and was keen to get the right employers in the industry," he said.
As for the region's response to UCT's new factory, Lev said that "enthusiasm is pretty amazing, we're spending all of our time in meetings and taking orders".
Lev is also confident that once a firm footing is established in the city-state, UCT will be looking to expand regionally. "Once we see what countries we're getting a foothold in, we'll have no problem in putting printers there, too."
With orders already piling up and the opening of its factory only a month away, Lev joked that while optimism is high for the future, he is not becoming arrogant. "It's how you say: 'We're walking before we're running.'"
Keep reading:
"A travel odyssey" – John Brown, chief operating officer of Agoda.com, discusses the company's Asia focus and the exciting times ahead in the tourism industry