Colin Firth has cemented his place as a go-to gentlemanly heartthrob, but the British actor has also proved his versatility, turning his hand to a wide range of characters in recent years. He discusses some of those roles – including his turn in the recently released film, Genius – and talks filming The Railway Man in Thailand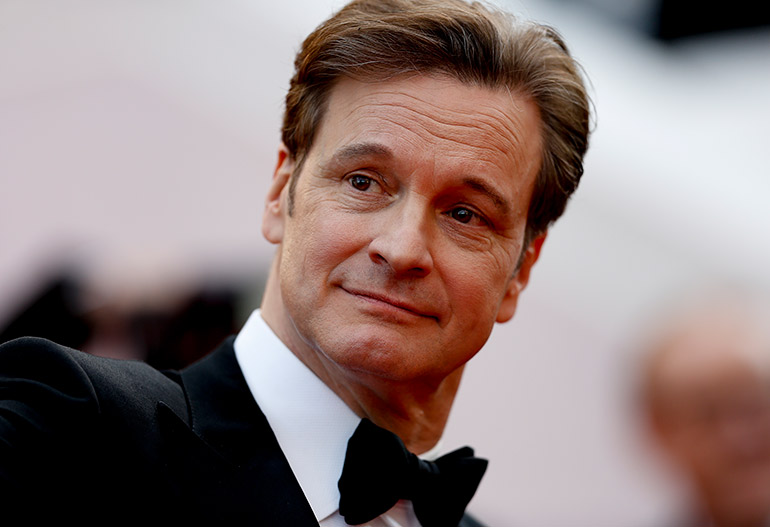 Not slowing down
Colin Firth was once described by fellow thespian Rupert Everett as "a ghastly guitar-playing redbrick socialist" – willing to give away the first $500 he earned to charity just because he could. And Firth, an Oscar winner for his depiction of Britain's stuttering-yet-steadfast King George VI in The King's Speech, is well suited to playing the role of upper-class gentleman. He established himself as the quintessential Jane Austen heartthrob Mr Darcy in the acclaimed 1995 Pride and Prejudice miniseries before cementing his Hollywood status with turns in romantic fare from Bridget Jones's Diary and Love Actually to Girl with a Pearl Earring.
This year alone, the 55-year-old has three features due for release: Genius, Deep Water and Bridget Jones's Baby. In Genius, scheduled for release in Singapore and Indonesia this month and Malaysia in October, he plays Max Perkins, a veteran book editor at Scribner who discovers a fresh new talent in the loud and disorganised Thomas Wolfe.
Based on the A. Scott Berg book Max Perkins: Editor of Genius, the story about the writer and editor's close relationship, it was adapted for the screen by John Logan (Gladiator) and directed by Michael Grandage (The Madness of King George). At a Berlin Film Festival press conference in February, Firth said it was challenging for him to play a quiet, reserved book editor opposite Jude Law's depiction of the larger-than-life southern US writer.
"It's not the first time I've played a rather restrained man in a suit," Firth quipped, appearing almost professorial with his trademark oversized, black-framed glasses and a dark grey suit jacket teamed with a and black shirt. "Taking a character like that and pitting him against someone whose energy is so completely contrary to that was a very interesting challenge for all of us. My instinct was to take him even further into taciturn, repressed silence, which was very much how he was observed to be."
Executive producer Andrew Scott Berg described the casting of Firth as "a natural fit", adding that the famed book editor and the actor share a similar temperament and intellect.
"In the past 35 years, I've not seen a single other actor who I thought possessed the qualities of Max Perkins as closely as Colin Firth," he said. "He is Max."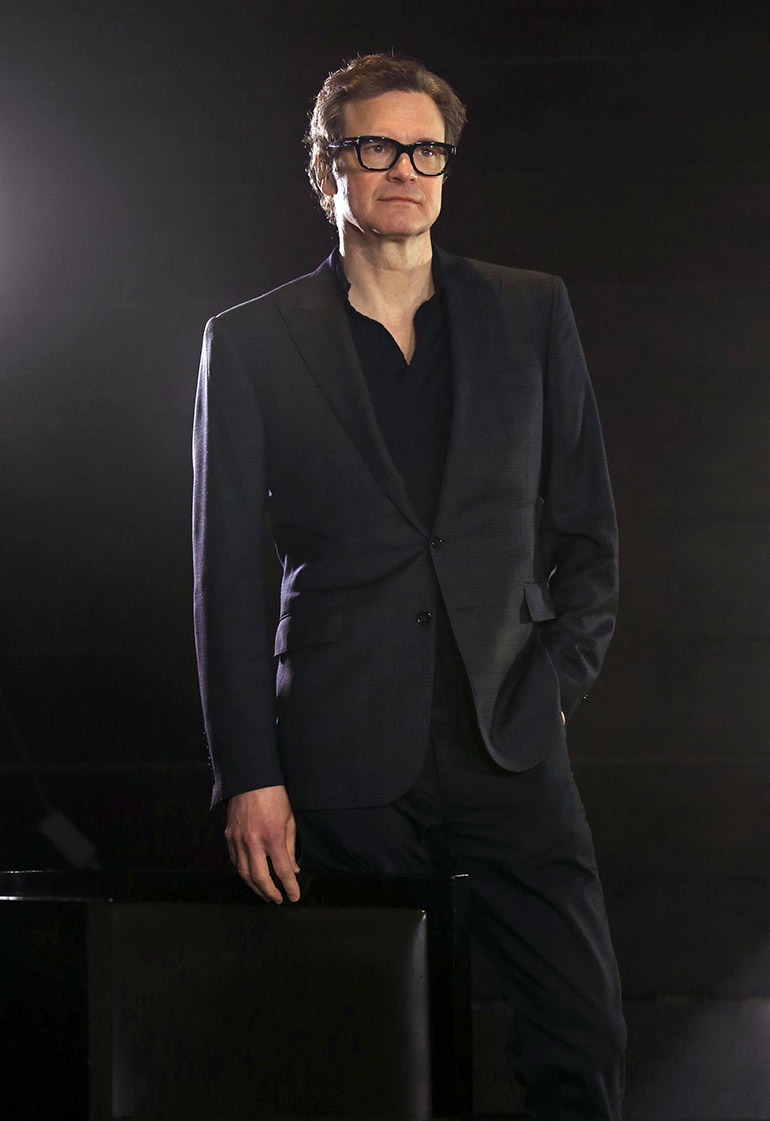 The Railway Man
It was a very different type of film, however, that saw Firth travel to Thailand four years ago to film The Railway Man, a drama in which he played former British army officer Eric Lomax, who returns to Asia to find the man who tortured him in a notorious Japanese labour camp during World War II. The war epic is based on Lomax's bestselling autobiography that describes the inhumane treatment prisoners of war endured as they built the Thai-Burma Railway.
"Eric Lomax wasn't famous for his voice or appearance," the actor told me in 2014. "On the other hand, [we felt] a sense of urgency to being faithful to his story because it was told at great cost to him. That's one of the things that struck me. You have an immense piece of history that's affected the lives of hundreds of thousands of people. If you start to include the secondary casualties – the families and children of these people – it's an important story to a lot of people and very few people have told it."
When the film's production arrived in Thailand, the cast began to better understand what Lomax and tens of thousands of others had experienced. To Firth and his fellow cast members, Hellfire Pass remains haunted today by the thousands of young men who were forced to work under brutal conditions.
"It was an intense experience," Firth recalled of shooting on location. "Something immense happened there and it can't fail to leave a mark, whether it's the power of your imagination or not. It was something beyond the comprehension of most people. You stand in a huge cutting in the rock towering above you, and you're told this was carved by men with hand tools in the space of six weeks and this is how many men died just here. It's shattering actually."
The scene set in the pass was shot on Lomax's 93rd birthday, and the event did not escape the acknowledgement of the cast and crew. Firth, his co-star Nicole Kidman and their colleagues sang "Happy Birthday" to the survivor in Hintok Pass, close to Hellfire Pass. Because of the time difference between Asia and the UK, the salute was recorded and emailed to Lomax so he could watch it the next morning. The filmmakers wanted Lomax to see the film but, sadly, he died later that year while the film was in post-production.
Humble beginnings
Born in the tiny hamlet of Grayshott in Hampshire, southwest of London, Firth and his two siblings spent much of their early lives moving around in the wake of their academic parents. For a time, the family lived in Nigeria. Later, they lived in St Louis, the heart of the US Midwest, before returning to Britain, where Firth enrolled at the Drama Centre in London. He was 'discovered' while performing Hamlet in a Drama Centre production and cast as the ambitious gay schoolboy Guy Bennett in a West End production of Another Country, which led to a role in the movie version soon after.
In person, Firth is as charming as the characters he often plays onscreen. He is well-spoken, delivers thoughtful answers and is often enjoyably self-deprecating. He kindly offered to pour me a cup of tea before an interview a few years ago at a press junket for Love Actually.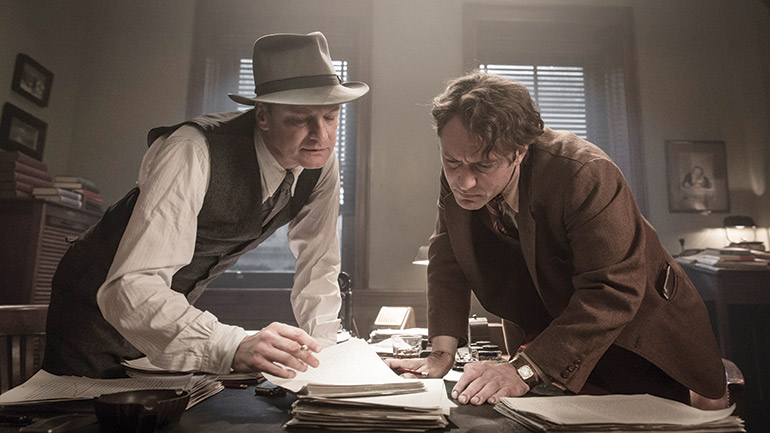 When asked to impart his formula for success in selecting jobs, the actor paused and seemed to give deep thought to the question. "It's different every time," he eventually said. "It would be impossible to have a checklist or criteria, all of which has to be fulfilled, in order to do a film. With Tinker Tailor Soldier Spy, I could just feel there was something special about it. It was a combination of that, [director] Tomas Alfredson and the cast onboard that appealed to me – none of whom ended up doing the film, by the way. I went from being the last person cast to the first person cast but, nevertheless, the cast that showed up [Gary Oldman, Tom Hardy and Benedict Cumberbatch] was every bit as convincing as the original lineup.
"Sometimes I just want a change of tone. Sometimes my friends have gotten together and it's about being a good sport. Sometimes it's a risk. Sometimes it's a director I've always wanted to work with. Sometimes the script's great and I'm not sure about the director. There are a million variables and a leap into the unknown."
For example, he was initially reluctant to star in fashion designer Tom Ford's lauded directorial debut, A Single Man. "I didn't know much about him; I don't know much about fashion," he recalled. "It was a slow burn. I started off turning it down, and then I realised I was doing myself a disservice because I felt like taking a big risk and taking a leap into the great unknown. He's not only turned out to be a great friend but also one of the directors I long to work with again."
With three films out in the coming months, including the third installment of the Bridget Jones films, which is released in the Philippines on 14 September and then across the region in the following weeks, it seems as though he works almost nonstop. However, Firth reveals that he knows the importance of taking time off to smell the roses. After filming The King's Speech, he took a sabbatical of nearly a year before diving into Tinker Tailor Soldier Spy.
When he's not filming or spending time with his family – Italian film producer wife Livia Firth, their two sons, Luca and Matteo, and his adult son, Will, from a prior relationship with US actress Meg Tilly – Firth maintains a few other interests outside of the acting bubble. He is known for his support of philanthropic causes, notably Survival International, which defends the rights of tribal peoples around the globe. And in contrast to the stiff-upper-lip characters he often depicts, Firth gets a kick out of watching his beloved football team, Arsenal.
"I watch a lot of football, our football, and yeah it can become an obsession," he admitted. "I have a season ticket because I used to go very, very regularly and I still do. I take my kids. I don't know if it's an obsession, but it's something that I can have strong feelings about."