The Vietnamese government yesterday declared coastal regions affected by a toxic waste spill in April safe for swimming. But experts maintain that it is far too soon to make such a pronouncement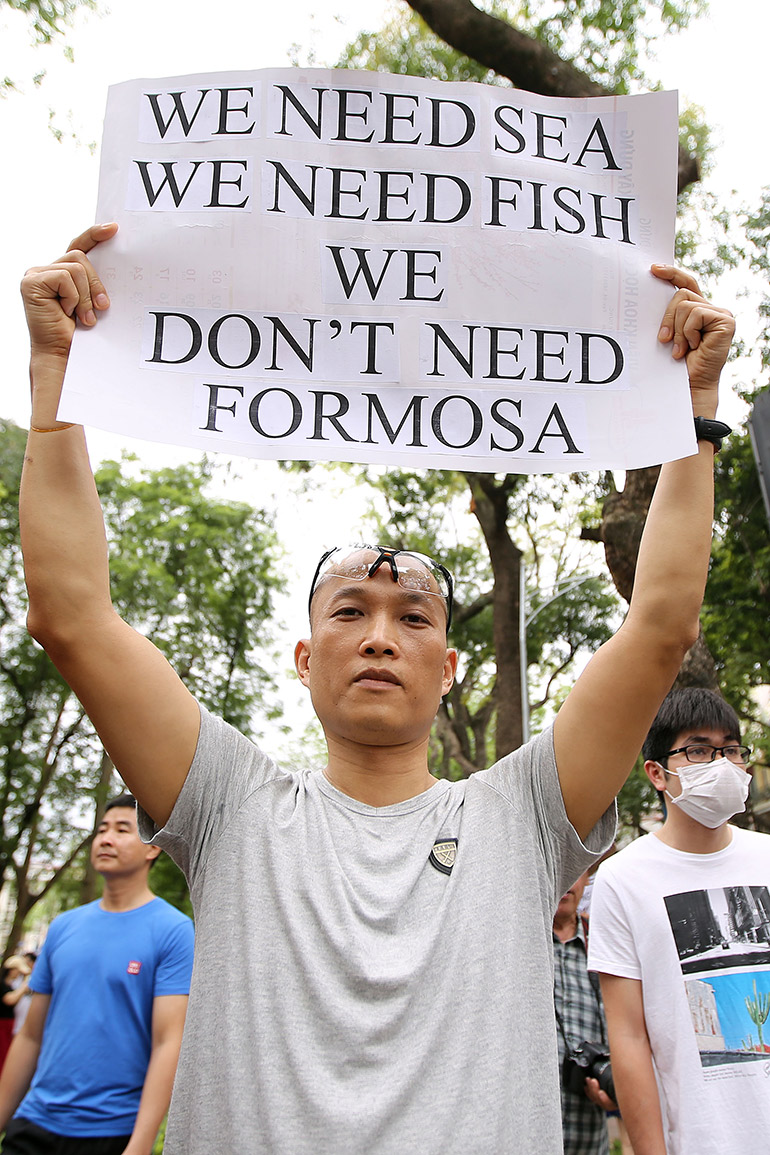 Just four months after the Taiwanese Formosa Ha Tinh Steel company devastated Vietnam's fishing industry by dumping toxic chemicals off the country's coast, a government-sponsored study has been released claiming that the affected areas are again safe for swimming.
The study, headed by professor Mai Trong Nhuan of Hanoi's Vietnam National University and commissioned by the Ministry of Natural Resources and Environment, said coastal areas in Quang Binh, Thua Thien-Hue, Quang Tri and Ha Tinh provinces had largely recovered from the spillage of various chemicals, which included cyanide.
At a press conference yesterday, Nhuan said the levels of toxic substances taken had decreased significantly and were well within normal levels deemed safe for swimming and aquaculture, Vietnam's Thanh Nien News reported.
"Aquatic creatures are returning and the ecosystem is recovering," he said, adding that affected coral reefs were also seeing a noticeable improvement.
But Tran Hong Ha, the natural resources and environment minister, said it was unclear whether fish caught within 20 nautical miles off the coast would be safe to eat, according to VnExpress.
In what has been called Vietnam's worst ever environmental disaster, roughly 115 tonnes of fish washed ashore along more than 200 km of coastline in April, leading to mass protests throughout the country.
In June, the government announced that Formosa Ha Tinh Steel, a subsidiary of the Taiwanese-owned Formosa Plastics Group, was responsible for discharging toxins into the ocean in Ha Tinh province, which is home to a $10.6 billion plant owned by Formosa.
In an interview with Tuoi Tre in April, Formosa representative Chou Chun Fan said: "I cannot assure you that the activities of the steel factory would not impact marine life. You win some, you lose some."
"You have to decide whether to catch fish and shrimp, or to build a modern steel industry," he added. "Even if you are the prime minister, you cannot choose both."
The company later admitted publicly that it was responsible for the pollution and pledged to put $500m towards environmental remediation efforts, although it is unclear if, or how, the funds have been spent.
Nguyen Thi Kim Oanh, a professor of environmental engineering and management at the Asian Institute of Technology in Khlong Nung, Thailand, said it was too soon to declare the central coastal areas safe for swimming. "I would advise a more cautious approach," she said.
Adam Switzer, assistant chair of research and graduate studies at Nanyang Technological University's Asian School of the Environment, was also sceptical of the recent study.
"I'm a little hesitant to accept that the fisheries have for the most part recovered, as such chemicals have long-lasting effects," he said.
Switzer added that the chemicals could be absorbed into coastal sediments, which would have long-lasting environmental effects for years to come. This spill, he said, underscored the need for regional governments to monitor the use of industrial chemicals.
"It is imperative that government agencies effectively manage the impacts of large foreign investments in coastal infrastructure that are pouring into the developing coasts of Asia."
The Vietnamese government announced in July that more than 200,000 people, including 41,000 fishermen, had been adversely affected by the spill.