On the deck of the USS Ronald Reagan aircraft carrier on patrol in the South China Sea, a cluster of Cambodia's top diplomats and military brass gathered to watch fighter jets launch from the nuclear-powered vessel into the skies above waters that have seen tensions between the world's great powers rise to levels not felt since the Cold War. Through all the pageantry, the message was clear: here were two nations united by their commitment to peace on the high seas.
Less than a week later, at the Asean summit in Laos, Cambodia blocked any reference to the recent international ruling against China's continued militarisation in the South China Sea by the Permanent Court of Arbitration in The Hague. The move, reminiscent of Cambodia's complicity in a similar gridlock during its chairing of the summit in 2012, once again revealed the deep rift between US and Chinese interests in the Asia-Pacific – and exposed the desperation of the nations caught in between.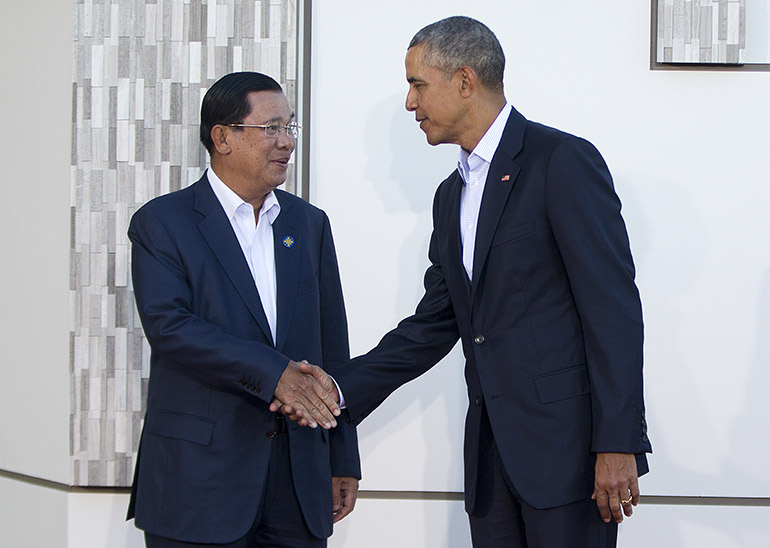 The Cold War spectre
For Julio Jeldres, who began a teenage correspondence with Cambodia's former head of state, King Sihanouk, in the 1960s and later became the monarch's private secretary, US attempts to contain China's influence in Southeast Asia echo the tense manoeuvrings of the 20th century's darkest years.
"At times the whole process appears a repetition of events during the Cold War, when China was 'Enemy Number One'," he told Southeast Asia Globe. Jeldres, now an adjunct research fellow at Australia's Monash University and counsellor to the cabinet of Cambodian monarch King Sihamoni, said Washington has struggled to match Beijing's deep pockets.
"The US has been trying to build a confident relationship with Cambodia through economic assistance, military cooperation and other initiatives," he said. "So far it's been unable to compete with China, which has provided huge amounts of grants and assistance to Cambodia and developed links in economic, military, educational and cultural fields with the Southeast Asian country."
China's generosity drew international attention when, just days after his country's intervention at the Asean summit, Cambodian Prime Minister Hun Sen announced that it would be receiving a $500m aid package from the rising superpower. Chinese aid to Cambodia has been steadily increasing in recent years, with President Xi Jinping pledging between $500m and $700m annually – a significant increase from less than $100m in 2007.
Avery Poole, a lecturer in international relations at the University of Melbourne, Australia, said Cambodia's decision to side with China was part of a familiar tightrope act.
"Asean states have historically tried to balance the presence of great powers in the region," she said. "On one hand, Asean wants China's investment and trade, but Asean states have also been wary of China's security and military presence and of the potential China-US rivalry. So Asean is in a balancing act."
According to Poole, the turmoil of this year's summit reflected a deep disunity within the Asean group. "It highlights a key feature of Asean: there is no collective security arrangement, and the security interests of Asean states are really quite diverse," she said.
Bought and sold
Evelyn Goh, a professor of strategic policy studies at Australian National University, said it was a mistake to think of the two superpowers as equals in terms of what they were able to offer developing nations.
"There's very little bilateral aid that comes from Western countries like the US," she said. "It simply doesn't give money for infrastructure building – that kind of funding doesn't exist. It's not like Cambodia has a choice – do you have the US funding or do you have Chinese? – it doesn't work that way. The US doesn't give that kind of money for that kind of project, it's not a direct competition."
According to the US state department, the US gave Cambodia more than $77.6m in aid "for programmes in health, education, governance, economic growth, and demining of unexploded ordnance" in 2014 – just over a tenth of what China pledged to Cambodia the same year.
Typically, Chinese economic aid is a combination of grants and soft loans supporting infrastructure projects in agriculture, mining, garment production and the energy sector as well as the roads and bridges criss-crossing the country.
Sophal Ear, associate professor of diplomacy and world affairs at Occidental College in the US and author of Aid Dependence in Cambodia: How Foreign Assistance Undermines Democracy, said Cambodia's dependence on foreign funding has forced it to walk along a knife-edge between the often-competing interests of China and the US. He cited Cambodia's 2009 decision to forcibly deport 20 ethnic minority Uighur asylum seekers back to China – a move condemned internationally as a breach of the 1951 UN convention on refugees, to which Cambodia is a signatory. The decision was rewarded the very next day by then-vice-president Xi Jinping's announcement that China would invest $1.2 billion in Cambodian infrastructure – more than the past 17 years of Chinese investment combined.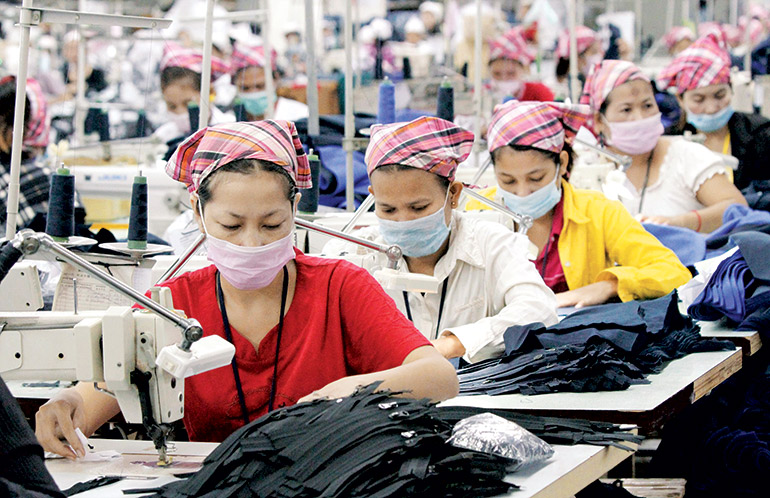 "At this point, I see it as going [along] the middle path," Ear said. "Cambodia is far too aligned with China starting in 2009 with the return of 20 Uighurs to China, and then in 2012 with Cambodia's chairmanship of Asean. The US has less aid and investment to offer Cambodia, but the garment sector exports to where? Not China, but the US and EU."
With the US and EU buying almost four-fifths of Cambodia's $5 billion in garment exports – an industry that accounts for about 80% of the country's total export revenue – it is a market the government cannot afford to alienate.
No strings attached
In a speech to the European parliament in July, self-exiled Cambodian opposition leader Sam Rainsy called on the assembled MPs to put pressure on the ruling Cambodian People's Party by revoking Cambodia's duty-free access to European markets. Roundly criticised by the Cambodian government as a spiteful attempt to torpedo the economy, Rainsy's threat was a stark reminder of just how dependent Cambodia has grown on markets that are deeply concerned about the country's ongoing human rights violations.
Ear said Western money often came with demands that the recipient abide by international conventions on human rights issues – conditions that Chinese investment routinely ignores.
"Even if the West matched what China offers Cambodia in financial aid and investments, it would come with a demand that human rights and democracy be respected, neither of which China asks of Cambodia," he said.
This year, both the US Congress and European parliament have censured Cambodia over its recent crackdown on political dissent, citing the legal harassment of opposition leaders Sam Rainsy and Kem Sokha as well as the recent murder of outspoken government critic Kem Ley, which is widely believed to be politically motivated. Both bodies threatened to halt the flow of money – some $465m through to 2020 from the EU alone – to Cambodia unless the government introduces a raft of measures loosening its hold on civil society. So far, no change has been forthcoming – a gamble that, for the moment, seems to have paid off.
Huiyun Feng, a senior lecturer on international relations at Australia's Griffith University, said China's growing strength has challenged existing assumptions about the role of human rights in determining government policy – something that may lead to conflict as the two powers clash for supremacy.
"As a newcomer and a rising power in the international system, China will be socialised by the existing norms and rules," she said. "However, there are some rules and norms that China might not agree to. For example, on human rights and intervention, China embraces different principles and norms. Therefore, we will see competition and conflicts on norms and rules between China and the West in the future."
Yet Ear said the West's posturing on human rights carries little weight with a regime that has weathered rebukes from the US for decades, with few tangible consequences. "As long as mass atrocity crimes aren't happening in Cambodia, Washington hardly cares," he said.
Tipping the scales
The Obama administration's so-called 'Pivot to Asia' has hardly helped the growing tension, with the outgoing US president launching a charm offensive on many of China's neighbours in the region – which has included lifting a long-term ban on arms sales to Vietnam, a historical enemy of both China and Cambodia.
Feng said the full impact of the rising tensions was hard to predict. "In my view, the US pivot or rebalance policy has sent a mixed message to the region that might have caused some ambiguity and confusion," she said. "For China, it has been seen as a containment strategy against the rise of China, although the United States leaders have officially denied it many times. For Asean states, the US pivot or rebalance may be used by some countries to counterbalance China's ambition."
In Ear's view, however, Cambodia is looking increasingly like a country with no way out. "[The Asean summit] has reconfirmed Cambodia's commitment to China," he said. "China's aid and investment comes with strings attached; loyalty being paramount. China's aid and investment are the carrots; playing spoiler on the South China Sea is Cambodia's job. If Cambodia stops doing its job, China will stop paying."