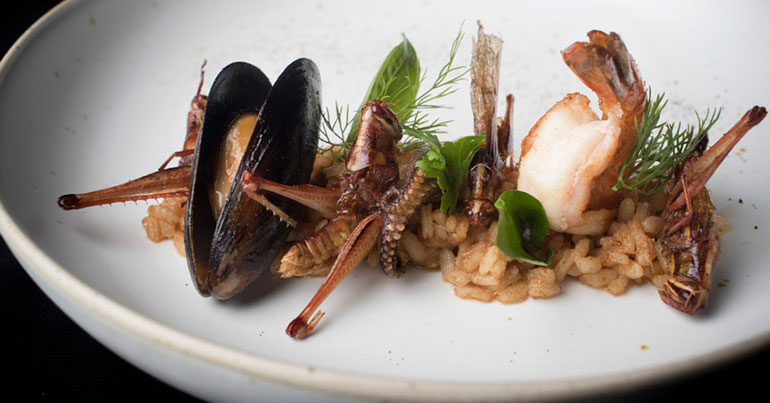 Insects in the Backyard, Thailand
A far cry from the Thai capital's street-side skillets sizzling with silkworms, Insects in the Backyard is Bangkok's take on the growing trend of high-end insect eateries, with dishes presented in such a way that they would not look out of place in any Michelin-starred eatery. Furnished with reclaimed doors, aged timber window frames and recycled kitchen equipment, this restaurant brings a ramshackle charm to Thonburi's fashionable Chang Chui district. Delicacies include a lobster grasshopper bisque seafood risotto (above), fresh cricket pasta with basil pesto and chorizo and a ravioli made from juicy giant water beetle – all the work of dual chefs Thitiwat Tantragarn and Somkiat Pairojmahakij.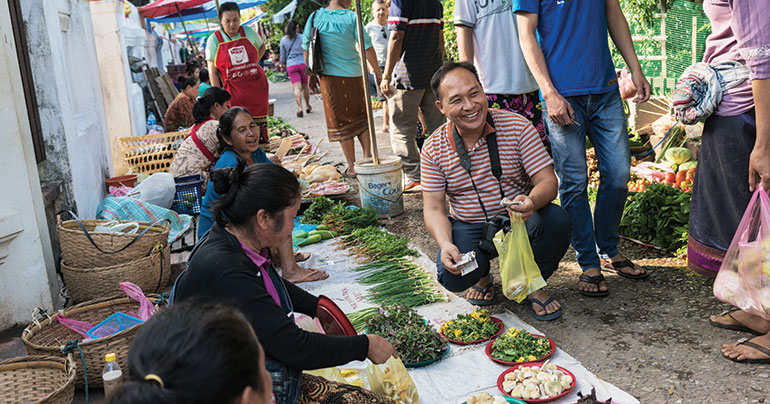 Blue Lagoon, Laos
The brainchild of local Lao chef Somsack Sengta (above, centre), this elegant Lao-Swiss fusion restaurant in the nation's cultural capital of Luang Prabang might seem an odd place to seek out bugs, rats and other creepy crawlies to nosh on over a candlelit dinner for two. But Blue Lagoon's local reputation for unmissable haute cuisine has not come despite its intriguing menu, but because of it – we can heartily recommend the coconut cream and tamarind bisque, flicked with flecks of fried black ants and finished with a sprinkling of silky white ant eggs.
Quan Kien, Vietnam
A fine spot to enjoy the culinary heritage of Vietnam's Hmong, Muong and Thai ethnic minorities, Hanoi's Quan Kien features a range of bug-based dishes for the daring traveller. Renowned for affordable and authentic cuisine, Quan Kien's low-slung tables and stylish décor provide the perfect setting for gourmands to wash down dishes of white ant eggs served with mushrooms, pork, lemongrass and chilli on a bed of sticky rice with a few well-earned cups of rose-apple rice wine.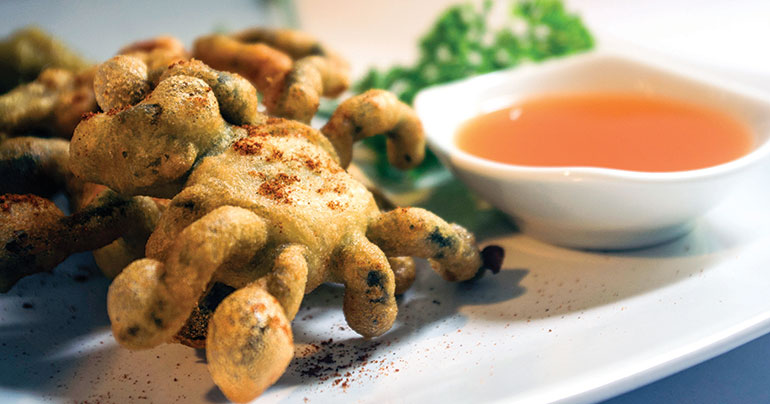 Bugs Café, Cambodia
For many travellers, Cambodia has long been associated with chowing down on all creatures great and small. But the simply named Bugs Café is the first spot in the country to take things to a new level. Nestled just off Siem Reap's main thoroughfare of Sivatha Boulevard, the menu at this stylish little spot is built entirely around consuming protein-rich critters. The tarantula doughnuts (left) are chunky and challenging, essentially whole spiders battered in tempura and deep-fried, while it would be a crying shame not to sample the Bug Mac, two burgers whose patties are made from a secret recipe of assorted bugs.
This article was published in the April edition of Southeast Asia Globe magazine. For full access, subscribe here.
Related reading: