Somsack Sengta's clearest memories of his childhood in Luang Prabang are of playing among the bomb casings of rusty 1,000kg American warheads still full of perilous explosives.
"We lived close to an old military compound. There were thousands of these huge bombs lying around and we would play games jumping from bomb to bomb… We'd also pull out the gunpowder, fill tubes of bamboo with it and throw it in the river to catch fish. It's incredible none of us were killed," the 44-year-old, Swiss-trained chef and entrepreneur told me at his home. Located on a bend in the Nam Khan River, the leafy property is about five kilometres from the heart of the Unesco-listed ancient capital, a town of glittery, gilded pagodas and exquisitely restored French and Lao heritage architecture.
Of course, histories such as Sengta's are not unique in Laos. From 1964 to 1973, US warplanes on secret bombing missions dropped more than 270 million cluster munitions on Laos, one-third of which did not explode. Since the US withdrew from Vietnam and the bombing of Laos ceased, more than 20,000 civilians have been killed or injured by unexploded ordnance, also known as UXO. About 60% of the casualties have been children, often playing as Sengta did in the late 1970s.
He was one of the lucky ones. After a poor childhood, he studied English and became a tour guide around the time Luang Prabang gained its World Heritage status and as tourists trickled back into the country. He formed a friendship with an affluent Swiss family he guided around the mountainous landscape and, in 1993, they invited him to study cooking – a passion he inherited from his grandfather – and live in Zürich. "When I arrived in Europe, every house was like a palace," he says. Ten years later and fluent in German, French and English, he returned home, and two years after that he opened Blue Lagoon, now one of the city's most acclaimed high-end restaurants.
He tells me these stories almost as soon as I arrive at his estate, made up of three restored wooden homes. Sengta, his French wife Virginie and their son Kenny live in one, while the other two have been converted into Airbnb properties. The gardens are laced with flowering frangipanis, jackfruit and flame trees, while inside, cabinets are filled with antique Ming dynasty vases and old Burmese pots.
America's UXO legacy still plagues the country, but Laos is moving on from its war ravaged past. Development and investment are rocketing along, mostly thanks to the government's warm relations with China, and tourism is one of the country's fastest growing industries – since 2012, visitor numbers have risen by at least 10% each year, with last year the first to see a drop in foreign arrivals.
Like many locals, Sengta is full of praise for Laos' new Prime Minister, Thongloun Sisoulith, who's made demonstrable efforts in tackling government corruption, drug trafficking and illegal logging since assuming office a year ago. Yet unlike most locals working in hospitality, he's positive about Chinese investment and the potential it has to bring tourists.
"I think the common stereotypes made about the type of travellers the Chinese are, especially by restaurant owners and hoteliers, are very unfair," he says. "Why are people scared of this? These guys are our neighbours; we've lived together for thousands of years. They didn't drop millions of bombs on us," he says.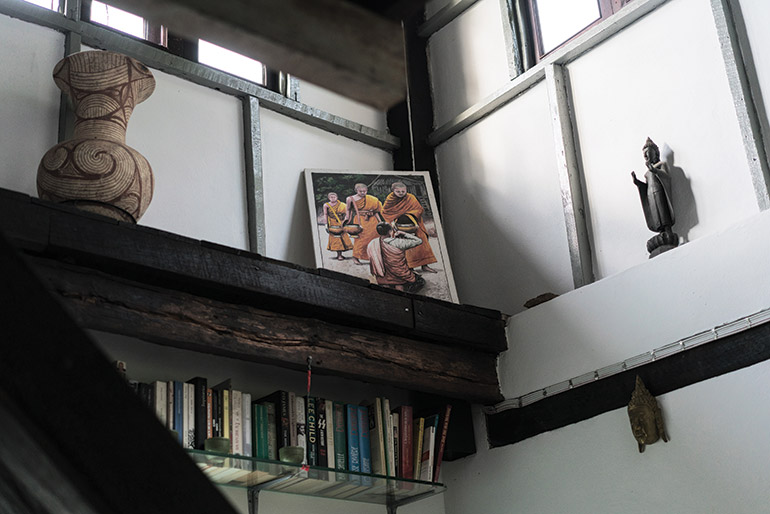 "We have to seize this opportunity. The Chinese aren't just important for the development of Laos, they're important for the development of the world. Laos has a population of just seven million and 80% of people are in villages. People complain that they're bringing in Chinese construction workers, but do we have the engineers to work on the project? Maybe this will eventually bring more jobs to Laos, as we'll be able to import more and industry will increase. If we don't climb aboard this train now, we may lose our chance. We'll get left behind the rest of Southeast Asia," he adds.
In 2003, Sengta saw a good opportunity himself and pounced on it. He opened Blue Lagoon in a small space on a main road, cooking a fusion of Lao and Swiss fare. Two years ago, the restaurant moved to a sweeping space tucked down a laneway in the old town, replete with huge, lantern-lit courtyard gardens, a heritage-listed building, a library and an industrial-sized kitchen for Sengta and nine other chefs. In total, he employs 36 staff, providing each of them with accommodation and training. He says the effect has been low staff turnover in a transient town of 50,000 people – his sous chef has been with him for nine years.
The restaurant has recently garnered praise from international travel magazines for Sengta's intriguing insect menu. The most popular is a coconut cream and tamarind bisque, speckled with crunchy black ants and garnished with creamy, white ant eggs.
Back at his home, however, Sengta is plating up an even more obscure delicacy for us: a bowl of orlam, a stew made with pepperwood, fresh dill, eggplants and a dried, crispy field rat. When I ask why his restaurant isn't serving such challenging food – and whether Luang Prabang's cuisine has been "dumbed down" to cater to Western palates – he is quick to assert that indigenous cuisine is not dying out.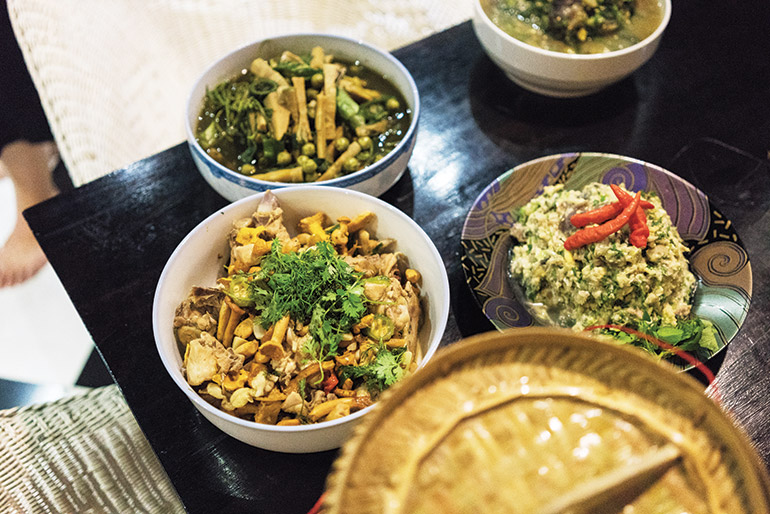 "What I am cooking for you now, or what a Laotian person cooks at home, is not going to be what you're served in a tourist restaurant, no matter how authentic they say they are," he says. At restaurants in the old town, the dish is served with plump, boneless chicken and doesn't have as intense and bitter a flavour as the one we're eating. We also feast on a baba ganoush-like paste of pounded river fish and eggplant and a wild mushroom, chicken and bamboo stir fry with sticky rice.
"There's no tourist market for real Luang Prabang food, but that doesn't mean it's cooked any less by us. What's more risky for ethnic Lao cuisine are the environmental issues: the dams, deforestation and disruptions to farming and foraging methods," he adds.
Sengta admits he bores easily; to remedy this, he spends time setting up intriguing side businesses that have added to his restaurant's success. Four years ago he founded a monthly 'clean up Luang Prabang' event, which has had as many as 400 people attend and averages 250 volunteers a month – 98% local, he says proudly. He also set up a Facebook page that focuses on current affairs, news and cultural events – Luang Prabang Moradok now has 40,000 followers and is "a way we can spread news living in a country that still faces heavy censorship".
Still, Sengta admits he has to adapt as Luang Prabang grows. "I've had to change my marketing tactics. More tourists are coming here, but they have an array of tours to go on so their time is limited. You need to stand out. The insect menu is one way, but so is being more visible. I've had to become comfortable being in the limelight, taking out food tours and building a persona. Travel consumers want that very immersive, insider experience now. Being a chef is also about being a performer."