Ahead of an imminent election announcement, Malaysia's main opposition party has been dissolved in what critics have described as a major abuse of power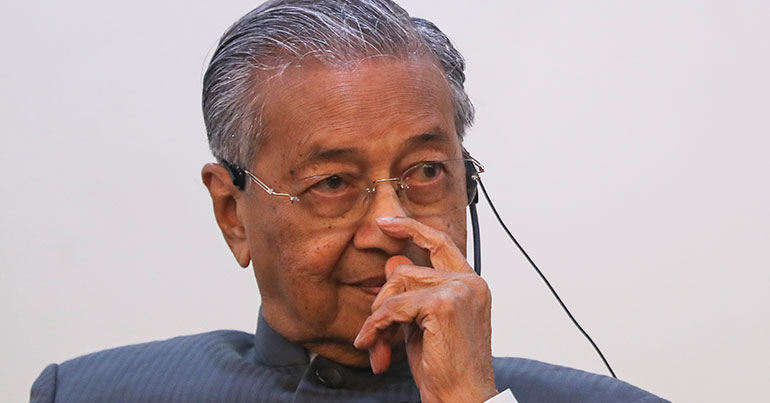 Malaysia's Registrar of Societies (RoS) has temporarily dissolved former prime minister Mahathir Mohamad's opposition party Parti Pribumi Bersatu Malaysia (PPBM) ahead of Prime Minister Najib Razak's widely anticipated decision to dissolve parliament and call an election on Friday.
The provisional ban means that PPBM cannot use its name or logo or conduct any activities.  
The registry's director-general Surayati Ibrahim announced PPBM's dissolution on Thursday at a briefing in Putrajaya. According to Surayati, the registry issued the order after PPBM failed to meet a deadline to supply certain information and documents, the details of which she did not disclose.
Malaysian law allows the RoS to dissolve societies that fail to provide requested documents within a given timeframe.
While the PPBM has 30 days to appeal the order, time is of the essence given members of parliament have indicated that Najib will call the election on Friday. 
In a briefing held late on Thursday, Mahathir, who maintains that he submitted all the necessary documents last week, said that while he would submit an appeal to home affairs minister Ahmad Zahid Hamidi, PPBM viewed the order as illegitimate and would consequently carry on business as usual.
The opposition coalition Pakatan Harapan's secretary-general Saifuddin Abdullah told reporters after the announcement that PPBM would circumvent the order by fielding candidates under the name of another party in the four party-strong coalition.
PPBM was formed by Mahathir in January 2017. The former prime minister was once  a member of Najib's ruling United Malays National Organisation (UMNO) party but left after Najib was accused of embezzling nearly $700m from Malaysia's 1MDB sovereign wealth fund, part of a wide-ranging global corruption scandal currently being investigated by at least six different countries.
Mahathir has since become Najib's most vocal public critic.
Related reading: