The race is on for the Philippines' presidency and current vice-president Jejomar Binay is a strong contender, although he is a somewhat polarising figure

Illustration by Victor Blanco
Jejomar is a name uncommon outside of the Philippines. Very much a Catholic construct, it combines the names Jesus, Joseph and Mary. This may well have been the exclamation flying from the lips of many opponents of the Philippine vice-president when they found out he will run for the top spot next year.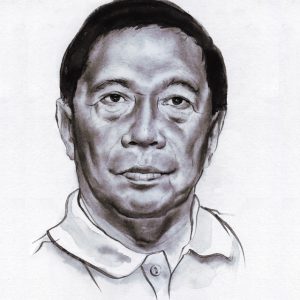 A controversial figure, Jejomar Binay has a significant following among the poor but is repellent to middle-class voters. His popular appeal, according to John Sidel at the London School of Economics, lies in the fact that he looks, sounds and acts like ordinary Filipinos "who don't have the Chinese ancestry that marks virtually everyone and anyone with any wealth or power in the country".
That earthy appeal does not play to the bourgeoisie who are put off by his "diminutive stature and dark skin", a result of the "racist association of height and fair complexion with beauty, wealth and status"
in the Philippines, according to Sidel.
Binay, or 'Jojo' as he is commonly known, is a Manila native. His librarian father and schoolteacher mother were both dead by the time he was nine. Adopted by an uncle, Binay took on menial jobs to support his schooling before going on to study political science and law in his home country. This was followed by a stint at the John F. Kennedy School of Government at Harvard University, before he completed a doctorate in public administration back in the Philippines.
Binay came to politics with strong credentials as a human rights lawyer and advocate for political prisoners during the Marcos regime in the 1970s, activities that resulted in a spell in prison. He then served as mayor of Makati, a municipality of Metro Manila and the Philippines' financial centre, and was a "charismatic pro-democracy ally of President Corazon Aquino in the mutinies against her in the 1980s", said Ronald J. May of the Coral Bell School of Asia-Pacific Affairs at the Australian National University. His efforts at that time earned him the nickname 'Rambotito' (Little Rambo). From 1990 until taking up the vice-presidency in 2010, he variously presided over Makati and the Metropolitan Manila Development Authority, yet it is his actions in these posts that may ruin his chances of becoming president.
"He has a reputation for making money off public works contracts through kickbacks and so forth," said Sidel. As mayor, he set up a formidable political machine that reaches from his Makati base into the rest of the country with "cleverly established 'sister city' links".
Corruption allegations stemming from his time in public office have come thick and fast, though so far he has been able to shake them off.
At the time of writing, Binay was bracing for impeachment charges, but will this be enough to derail him? Perhaps, says Ramon Casiple, executive director of the Institute for Political and Electoral Reform, based in Quezon City in the Philippines. "The corruption issue has already made its impact on his public survey ratings, and the record shows that he survived the political implications," he said.
If successful at the polls, Casiple reckons Binay's executive experience in public administration and as vice-president should serve him well. On the other hand he has little experience in foreign affairs and defence and, given the issue of contested claims in the South China Sea, and with the region arming at a rapid rate, he would need to learn quickly.
Back in the business hub of Makati, alarm bells have been ringing. Some fear that he is from the same mould as actor-turned-president Joseph Estrada, ousted in 2001 by a broad coalition sick of his corrupt ways. Sidel believes, however, that business leaders will not be as terrified of a Binay presidency as they were by Estrada's "because he is smarter, more politically savvy and more can-do".
"He also has the drive and decisiveness necessary for quick policy action," said Casiple. "If this is combined with a vision and a good programme of government, he may yet meet the demands of the office and be a good president."
Keep reading:
"Great expectations" – The president of the Philippines has entered his final year in office. Southeast Asia Globeanalyses whether Aquino has lived up to the hopes of his nation