Asean member nations seem determined to stick with their non-interference stance on not engaging with the affairs of other member states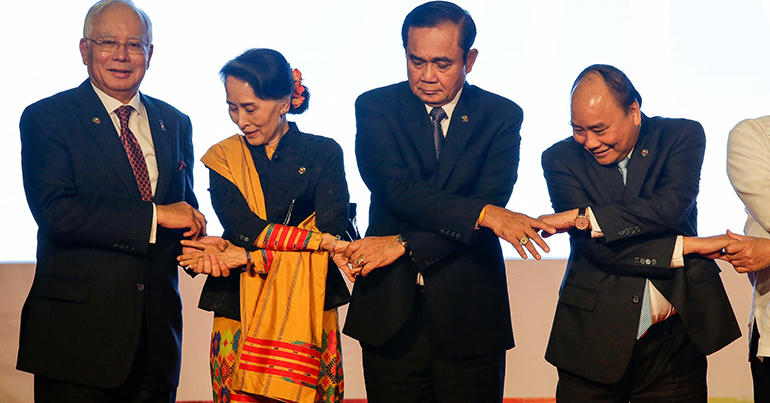 A statement that will be released following the Association of Southeast Asian Nations (Asean) summit has completely omitted mentioning the plight of Rohingya Muslims, instead deferring to call the 600,000 refugees 'affected communities' in Myanmar's Rakhine state.
According to Reuters, the statement failed to provide any details that expressed the complexity of the situation in Myanmar's northern state, and most importantly refused to use the term 'Rohingya' for the oppressed minority.
The statement was drafted when the leaders from Asean's ten-member nations – including Myanmar – met for a plenary meeting in Manila on Monday.
Refraining from mentioning the Rohingyas has been a reoccurring theme at this year's Asean summit. Myanmar leader Aung San Suu Kyi also failed to mention the persecuted minority group in her speech after arriving in Manila on Sunday and has specifically requested foreign leaders avoid using the phrase.
"Asean summits are not designed to actually construct policy responses to major human rights issues that affect the whole region," said David Mathieson, an analyst based in Myanmar, according to the Associated Press.
"Right now, Suu Kyi's government is benefiting from Asean's culture of inaction."
Despite Asean's tendency to avoid these controversial topics, previous Asean statements on the Rohingya crisis have not been met with total support from all of the bloc members.
A previous statement issued by the Philippines on behalf of Asean foreign ministers in September caused Muslim-majority Malaysia to voice concern.
Malaysia's Foreign Affairs Minister Anifah Aman dissociated Malaysia from the statement, claiming it misrepresented "the reality" of the Rohingya crisis because it "was not based on consensus".
"The statement omits the Rohingyas as one of the affected communities," he added.
The draft statement comes exactly a week after the United Nations Security Council unanimously published a presidential statement strongly denouncing the widespread violence. Suu Kyi's office later replied that it regretted the council's statement.
The crisis began on August 25 after Rohingya rebels attacked Myanmar police. Military forces countered with violent 'clearance operations' that human rights groups claim slaughtered hundreds of people and left widespread destruction on Rohingya villages.
Related reading: