Clothing the Loop is a recently launched platform that aims to spark discussion about the staggering amount of waste that has become the foundation of the global fashion industry. Its ambitious first project saw the team build three huge art installations using discarded textiles in a disused garment factory in Phnom Penh last October.
The project is a collaboration between photographer Benjamin Von Wong and Fashion Revolution Singapore country coordinator Laura François, who along with more than 50 volunteers worked for ten days to construct enormous sculptures of a tree, a tornado and a waterfall using only materials found in the factory. The installations were captured in a photo shoot before being torn down again.
François told Southeast Asia Globe she wanted to show people the "hidden cost of clothing". "The fashion industry is extremely wasteful and we wanted to shed some light on that and highlight the three resources that we overuse from our planet to support our shopping habits: water, air and trees," she said.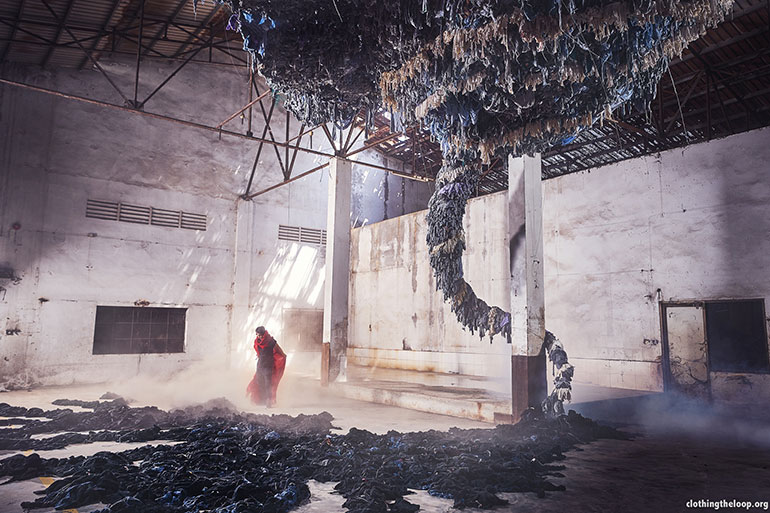 The idea was born when François met Von Wong at a TEDx talk in Malaysia at the beginning of last year, and the two realised they shared a passion for the topic.
"The goal was to [highlight the issue] in a beautiful way, rather than a preachy one… to hopefully educate through adventure!" said Von Wong, a conceptual photographer who is also known for his social activism.
"That shouldn't go away, but we absolutely need a greater sense of mindfulness and awareness of what kind of devastation our fashion habits are causing the planet."
François managed to track down a former garment factory in Phnom Penh that was abandoned mid-production eight years ago, leaving behind thousands of bags of unusable textile scraps. The space is currently being developed into a creative coworking space called the Factory, but when François first arrived it was filled with nothing but dust and must.
"The entire process was a challenge. We had no idea what to expect before we walked into the factory, so it was so hard to plan anything ahead of time," François said. "We knew what we wanted to highlight, what message it would be…but we had no idea what we wanted to create, even less how to do it. None of us had construction experience and the conditions inside the factory were harsh."
The result was three huge installations created using 2500kg of clothing – the average amount of clothing that one person will wear over a lifetime. And the other figures highlighted by the project make for equally alarming reading. 27,000 litres of water are used to produce one cotton t-shirt, while 70m trees are cut down every year to produce the fibres for our clothing. The production of clothing is expected to produce 2.8 billion tons of CO2 a year by 2030.
"Fashion is one of the largest industries on the planet, and it's very glamorous. It taps into our sense of creativity and fun," François said. "That shouldn't go away, but we absolutely need a greater sense of mindfulness and awareness of what kind of devastation our fashion habits are causing the planet."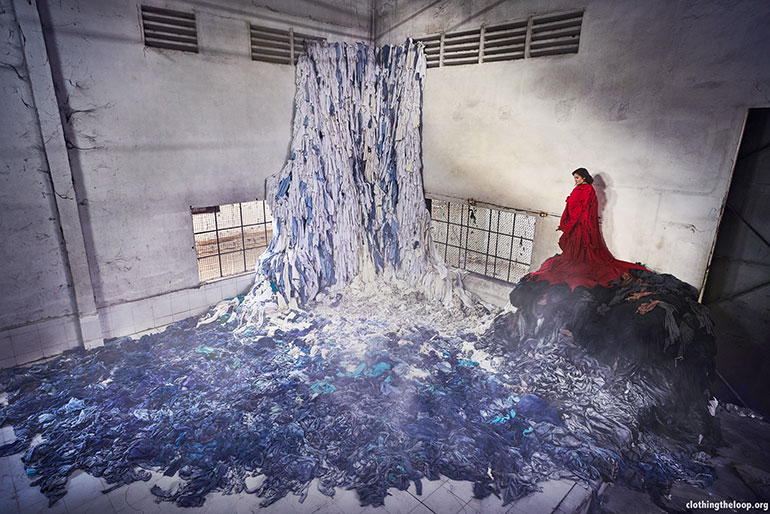 The group's vision is for the world to move towards a more circular economy in the production of fashion. This means reducing the amount of clothes bought, handing down old items and buying more long-lasting clothes. However, the task is not an easy one, with big brands thriving on the ingrained idea of clothes being disposable and replaceable.
"At the end of the day we're fighting with multi-billion dollar advertising," Von Wong said. "There is little incentive to encourage 'less buying' from corporations."
Despite the odds being stacked against them, the team remain convinced that through art and discussion they can change how people stock their wardrobes.
"We really want to start a conversation globally about how to redesign the industry to become more circular. The solutions have yet to be uncovered, and that's so exciting," François said.
"That means this isn't the end of this story. We want to bring awareness to the issue to then tap into the global knowledge of how to change the status quo."
Related reading: