The Qur'an, Islam's most holy text, advises women to "dress modestly and draw their veils over their bodies". Combining these religiously inspired guidelines with fashion-forward creativity, designers from Southeast Asia, particularly Indonesia and Malaysia, are beginning to make their mark on the fast-growing global market for Islamic fashion.
One of the most successful is Jakartan designer Anniesa Hasibuan, who made history during September's New York Fashion Week (NYFW), one of the most important fixtures in the fashion calendar, when she became the first Indonesian to show at one of the event's official venues.
Equally groundbreaking was the Islamic thread running through her collection, providing another first in the history of NYFW: all outfits in the collection were paired with a hijab.
Hasibuan's D'Jakarta collection was reportedly inspired by her love for the diverse vibrancy of her home city. Featuring modest, yet intricately designed, gowns and tunics, the showcase earned the designer a rapturous standing ovation. Notable fashion publications including Elle and Teen Vogue heaped praise on the designer in the aftermath.
Globally, the already significant demand for Islamic clothing is rising. According to Thomson Reuters' State of the Global Islamic Economy Report 2015-2016, revenues generated by purchases of modest clothing by Muslim women in 2015 were estimated at $44 billion. The same report predicts that by 2021, overall Muslim spending on clothing will reach $368 billion. As the report states: "The clothing may be modest; its success is anything but."
Beyond the critical acclaim and international catwalks, some Southeast Asian designers have achieved commercial success by tapping into this demand – in particular by meeting the needs of local markets.
Hanni Haerani, head of public relations at Indonesia's Islamic Fashion Institute, said that the Muslim-majority nation of more than 250 million people was particularly ripe for Islamic attire. "In comparison with other Asian countries, Indonesia has a huge market for Muslim fashion," she said.
Indonesian consumers spent approximately $13.3 billion on modest clothing in 2015, with data from the ministry of industry showing that about 80% of the clothing produced in the country was sold domestically. Consequently, Indonesia is a small player when it comes to global Islamic fashion, exporting $4.57 billion worth of the products in 2015. However, it is expected that overall exports for 2016 will increase, and the government – perhaps ambitiously – wants to turn the country into a global Islamic fashion hub by 2020.
Indonesia's closest regional competitor is, naturally, Southeast Asia's other Muslim-majority nation: Malaysia. Nurul Zulkifli, co-founder of Malaysian fashion house Mimpikita and self-described "style icon", said stylish Islamic fashion was on the rise in her country. "There has been great success for brands catering to modest wear," she said.
One of the best examples of Malaysian success is Naelofar Hijab, a family-owned powerhouse of Islamic fashion that produces headscarves in varying colours, styles and materials. Last year, the company reported record revenue of $11.8m, which accounted for domestic and foreign sales in major foreign markets such as Singapore, Brunei, the UK and the US.
Religious conservatism has been in ascendance in Southeast Asia's Islamic countries for decades, contributing to a warmer embrace of modest attire. Kate McGregor, a historian and Indonesia specialist at the University of Melbourne, is among the scholars to note a "rise of many conservative versions of Islam" in Indonesia. Nurul added that in Malaysia "people tend to wear clothes that are more covered up, more modest [than in the past]. They are more aware."
Alia Khan, chairman of the Dubai-based Islamic Fashion and Design Council, which aims to promote the modest fashion industry, concurred that religion plays an important role in the industry. She said there were a number of differences between consumers of Muslim fashion and consumers of mainstream fashion.
"They [Muslim fashion consumers] made their choice first and foremost for their creator. That is their entire reason for being the way they are. There are lots of extra factors that go into dressing up for us that don't affect the mainstream fashion consumer. Having said that, they do love to look beautiful, elegant, hip, cool, whatever," she said.
However, she argued that demand for Islamic fashion "is not a new thing", attributing increased spending instead to the proliferation of online shopping and social media.
"Nowadays, it is not unheard of for someone to create a nice ensemble or a clever, hip look that still stays compliant with their Islamic parameters. They'll take a selfie and post it and then let the admirers and appreciators come forth and hit the 'like' button. They will talk about it and give you shout outs. They will get excited and before you know it, your brand will be going viral," she said. "Awareness [of Islamic fashion] has become more profound and increased over time because of social media; people are seeing an opportunity and you now have more businesses catering to this thing. Spending is increasing, but that is because our options are increasing."
Nadya Karina, Istafiana Candarini and Afina Candarini, the Indonesian founders of Kami Idea, a successful brand also tapping into overseas markets in Malaysia, Singapore and Brunei, attributed the increased spending to the internet – specifically, the online presence of 'hijabista' culture. 'Hijabista' is of course a portmanteau of 'hijab' and 'fashionista', and is a term often used to describe trendy millennials striving for style within the parameters of Islam.
"In Indonesia, there was a group of hijabi that launched their [online] community in 2010, that included bloggers, fashionistas, socialites, designers and other young, influential hijabis," wrote the Kami Idea founders in a joint email. "Whatever they did or wore became an inspiration for other hijabi. Of course the trend spread really fast because of the internet."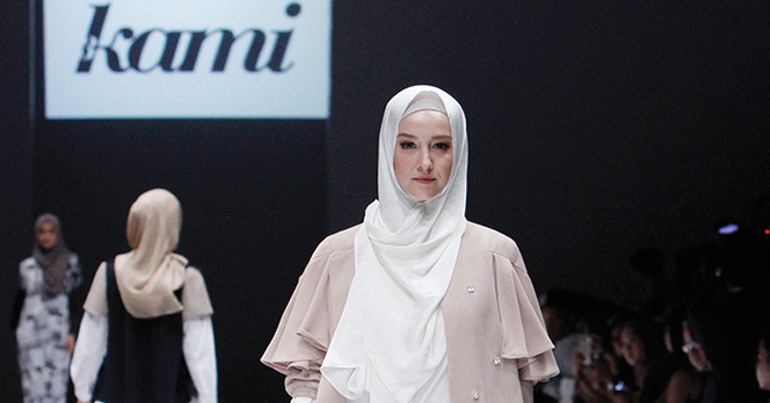 According to the aforementioned Global Islamic Economy Report, millennials in Indonesia have the most online engagement with modest fashion in the world, followed by Malaysia. To reach this conclusion, the report tracked worldwide Facebook interactions during a three-week period from 27 July to 17 August 2016. Islamic fashion brands are aware of this enormous online presence and, as such, make extensive use of social media marketing. Prolific designers can amass huge fan bases. Noor Neelofa Mohd Noor, the face of Naelofar Hijab, has 3.8 million Instagram followers and a further 1.69 million on Twitter. The founders of Kami Idea stressed that online marketing is central to their sales strategy. "What we love about marketing through social media is that we can engage directly with our customers," they wrote.
Offline marketing remains critical, however, and large shows such as Asia Islamic Fashion Week, Jakarta Fashion Week and Indonesia Muslim Fashion Week contribute to the Southeast Asian sector's continuing success. "In the fashion events here, there has been great focus on brands that cater to modest wear," Nurul said. As well as raising the public profile of Islamic fashion, Khan said that such events provide "creative inspiration" to designers, encouraging them to innovate further.
Unsurprisingly, the growth of the global Islamic fashion industry has caught the attention of mainstream fashion brands, with high-fashion labels such as Dolce and Gabbana, Prada and Tommy Hilfiger, as well as high-street apparel makers Zara and Uniqlo, among those proactively chasing a share of the market.
The effect of this on Southeast Asia's producers is unclear. Khan argued that much media coverage of the Islamic fashion industry has failed to paint "the complete picture" by presenting these typically non-modest brands as a menace to the industry. "We have deep regard and respect for them. They are not necessarily competition but someone to learn from and take example from," she said. "So far, the competition isn't quite there. It is still a nascent industry in that sense. It is still in the very humble stage of development. There is a lot of innocence and humility."
However, some Southeast Asian brands are concerned about the potential for giants of the mainstream fashion industry to drive down prices in what Nurul described as a price war. "One of the biggest challenges here is keeping up with the pace of other brands. They produce mostly for the masses and are very fast at producing their fashion. They are offering very low prices," she said, with particular reference to Uniqlo.
For the foreseeable future, it appears that Zara and its ilk will continue to tap into the modest fashion market in Southeast Asia and elsewhere. Khan expects to see Islamic brands undergo a "natural process of growth" that includes increased brand recognition. "Within Islamic fashion, we will see our own Armani, Dior, Chanel, but for now we don't know who those names are going to be," she said.