Elite British school Harrow currently has just three outposts in Asia. But according to CEO Simon Leung, plans are afoot for expansion in numerous Asean nations
By Chris Taylor
Harrow International Management Services (HIMS) CEO Simon Leung has his eyes on everywhere from Asean, where Harrow opened its first international boarding school in Bangkok in 1998, to Japan and as far afield as the Middle East. "Basically," as he puts it, "half the world's population."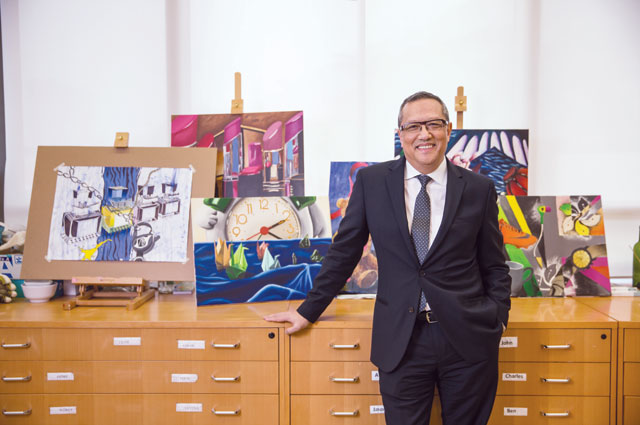 Founded in 1572, Harrow is one of the UK's most prestigious independent boarding schools for boys, with HIMS responsible for the school's strategic growth outside the UK. According to Leung, who took up his current position as CEO in 2012, the Hong Kong-based company's next step will be Shanghai.
"We're also looking at Japan and Korea… and we're looking at India, because India is the most obvious destination for schools such as Harrow due to the English-speaking colonial heritage and the emphasis Indian parents place on their children's education," he says.
But Leung adds that Asean will definitely play a role in Harrow's international expansion plans. "We started in Bangkok in 1998 and the reason for that was simple: A lot of Thai royalty had attended Harrow in Britain, making it the logical place to launch our Asia operations."
In terms of Asean, HIMS considers Cambodia to be interesting – "small but up-and-coming," as Leung puts it – though the company is more interested in Myanmar as a next step. 
"We think the market is ready," he says. "You're looking at a country with a population of about 55 to 60 million people, depending on who you're talking to, and a lot of expatriates are going in. The standard of English is much higher than it is in Thailand or Cambodia."
Describing the Bangkok Harrow as a "hub" school, Leung says the plan is to open a lower school in Myanmar and for the students to graduate and board with Harrow at the Bangkok hub. The advantage for Harrow of operating in education markets in which English is widely spoken is that they have higher student to teacher ratios. In Bangkok, where some 60% of the students are Thai and the remaining 40% of expat students are not necessarily native English speakers – Bangkok has a high number of Japanese and Korean expatriates, for example – the ratio of teachers to students is around one to eight. In Hong Kong, a former British colony, fewer teachers are required, with the teacher to student ratio at about one to 12. 
Leung admits that Singapore also makes sense for Harrow but points out the regulatory hurdles to opening a school in what he describes as a very crowded market. 
"We're open to the idea of Singapore, but the Singapore government doesn't allow boarding schools," he says. "Our added value is the boarding system, our pastoral care and the house systems. By opening in Singapore, we'd have to be a day school, which robs us of that value." 
According to Leung, the solution is likely to be the opening of a primary-level Harrow day school in Singapore and a boarding school in the Iskandar SEZ, which is located on the southernmost tip of Malaysia, adjacent to Singapore, in Johor state. 
With Cambodia, Laos, Singapore and Malaysia all attracting Leung's gaze in one way or another, it seems there is a bright future for Harrow in Southeast Asia.
"Everybody in the region is talking about education, from an online perspective to a bricks and mortar perspective," Leung says. "It's a fast-growing business, but we're not worried about competition – we're kind of arrogant in that sense. We're unique, and our target market is different from many other international schools. It's the top of the pyramid." 
Keep reading:
"Take it to the bridge" – Having made his mark in housing developments in Singapore and the UK, Ching Chiat Kwong, CEO of Oxley Holdings, is bringing the concept of 'SoHos' to the heart of Phnom Penh