Having made his mark in housing developments in Singapore and the UK, Ching Chiat Kwong, CEO of Oxley Holdings, is bringing the concept of 'SoHos' to the heart of Phnom Penh
By Christian Vits and David Hutt   Photography by Sam Jam
As the Phnom Penh skyline shoots up at a lightning pace, there is barely a neighbourhood in the capital that isn't set to welcome a lavish new apartment building.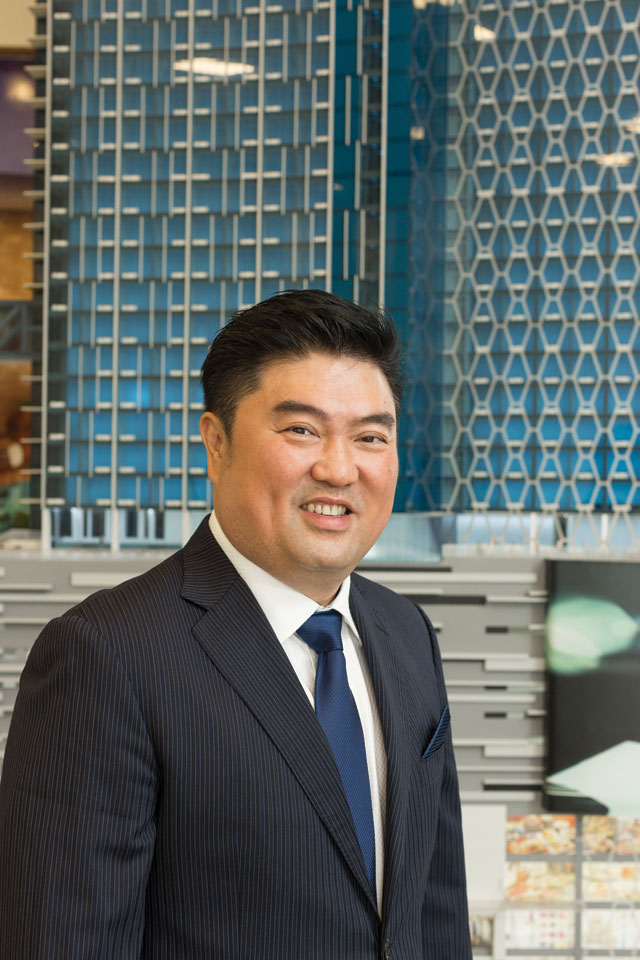 Currently rising from its prime riverside spot is the Bridge, a twin-towered, 45-storey complex that is set to raise the bar in the mixed-use sector when work finishes in 2018. A joint venture between Cambodia World Bridge Land and Singapore's Oxley Holdings, it will boast a four-storey supermarket, gym, swimming pool, several hundred residential apartments, as many commercial units and, for the first time in Cambodia, almost 1,000 'SoHos'.
A SoHo, or 'small office, home office', is where the CEO of Oxley Holdings, Ching Chiat Kwong, feels most at home. He became known as the "Shoebox King" in his native Singapore for developing small, compact apartments. 
The concept of a SoHo is that it provides both living quarters and a space for business. "It is a lifestyle apartment where young couples can stay in comfort and they have a small work section, which they can convert into a room when they have a child. And it's still very affordable," said Ching.
Ching's company has previously developed properties in Singapore, Malaysia, China and the UK, but the Bridge is his first business venture in Cambodia. "Since 2012, a string of harsh measures have been implemented against property developers in Singapore. That was the trigger for me to go abroad. In 2012
I stopped buying land in Singapore and continued developing the rest of my projects."
During a trip to Phnom Penh to visit a friend, Ching saw potential. "I said to myself: 'If the country keeps going this way there will be a middle class, which will evolve over time.' And for the past few years there has been good GDP growth… The world is focusing on Southeast Asia, and development is about timing."
As well as growing interest in the region as a whole, Ching cites Cambodia's young population, manageable staff turnover rates and business-friendly government as drivers of the country's growing reputation as an excellent investment destination. 
Work on the Bridge began this year and, so far, 60-70% of investors in the complex have been Cambodians. "Some buy the apartments for their children, some for investment reasons. The people who buy the units for investment usually buy the whole floor, and not the cheapest ones," he said with a chuckle. "So I have to deliver a good product. That is my moral obligation.
"I believe that for every young family there is a need to upgrade. If homes are affordable then it is likely that after a few years, prices will increase, [creating equity], so it will still be affordable to buy a larger apartment."
With prices starting at about $3,000 per square metre, the Bridge will be settling in among the growing number of high-end complexes in the heart of Phnom Penh. 
Ching says that he "always felt that Oxley Holdings should offer luxury products", and given his experience in building such properties in Singapore and the UK, confidence is high that the Bridge will be become a focal point of the Phnom Penh skyline. "If I can manage a wharf city in London I can probably also manage a lot of rich and middle-class people here in Cambodia," he said with a smile.
Keep reading:
"Let me entertain you" – RTL CBS Asia Entertainment is vigorously expanding into Asean states. CEO Jonas Engwall tells us why the company is tuning into the region