Alipay has signed a deal with Cambodia's PiPay that will allow customers to use their Alipay wallet to pay at PiPay POS payment systems across the country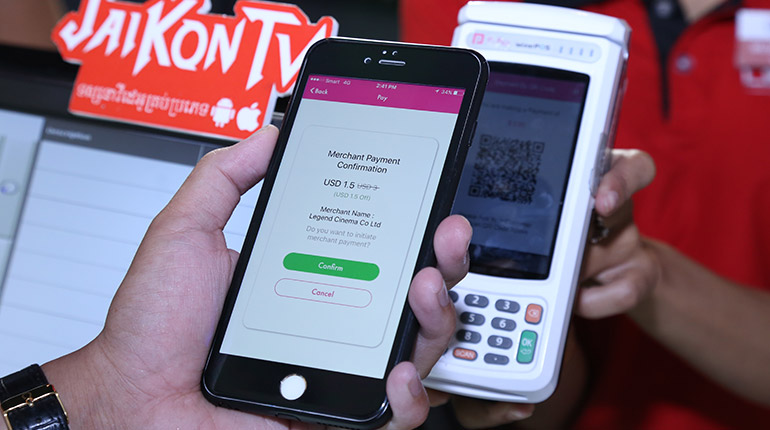 The Chinese mobile and online payment platform Alipay has inked a deal with its Cambodian counterpart PiPay, as it attempts to capitalise on the growing number of Chinese tourists visiting Cambodia.
The deal means that Chinese tourists visiting Cambodia – which numbered almost 830,000 in 2016 alone, according to Cambodia's Ministry of Tourism – will be able to use their Alipay mobile wallets at any one of PiPay's 1,400 point-of-sale systems installed in shops, spas, petrol stations and restaurants across the country.
The scheme – which will see Alipay operating in seven Southeast Asian countries – is initially to be rolled out in Phnom Penh, before being extended to Siem Reap and Sihanoukville "in the near future".
"Cambodia is one of the Southeast Asian destinations of choice among Chinese travelers, for its beautiful history, architecture, culture and scenery… This makes Cambodia an important market for Alipay to have a presence," said Cherry Huang, Alipay's general manager of cross-border business for South and Southeast Asia.
"Together with PiPay, we will be able to provide Alipay users the same convenience they enjoy back home when they travel in Cambodia."
Since launching in July, PiPay – a mobile application owned by Cambodia's well connected Anco Group conglomerate that allows customers to pay bills, buy goods and services, and transfer money to others using the app – has been downloaded 168,000 times, with users spending or transferring $27m during that time.
The company has predominantly attracted customers by offering a wide array of exclusive discounts at popular shops and restaurants to users of its app – part of a buccaneering business strategy that prioritises the pursuit of a dominant market share at the expense of short-term profits, and one that suggests that the company hopes to sign up enough users for it to become an attractive acquisition target for a larger player when they move into the Cambodian market.
Alipay is controlled by Ant Financial, an affiliate of Jack Ma's e-commerce company Alibaba, which made its first foray into the Southeast Asian market last April when it invested $1billion into the Singapore-based e-commerce platform Lazada.
Since then, Alibaba has doubled its investment in Lazada and brokered deals with a number of regional e-commerce and mobile money players, including Thailand-based Ascend Money, Mynt in the Philippines, Emtek in Indonesia and M-Daq in Singapore.

Alibaba, however, faces fierce competition in Southeast Asia, with Chinese rivals Tencent continuing to invest heavily into the region's startup ecosystem and US tech giants Amazon having entered the fray in July with the launch of its Prime Now service in Singapore.