The Royal Palace in Phnom Penh has just opened its doors for the day and Chinese tourists are already arriving by the busload, sporting bumbags and armed with expensive camera equipment as they queue for the first tour of the morning.
In Cambodia, these groups, like the many that will follow it, are indicative of the changing face of an evolving industry. Tourism is a key driver of Cambodia's economy, contributing 12.2% of GDP last year, according to a report from the World Travel and Tourism Council.
Once a destination popular with adventurous Western visitors, when Cambodia's government looks ahead nowadays its focus is increasingly placed on one nation: China.
Whereas many Europeans are tightening their belts when it comes to spending, China has millions of people who, for the first time, have the money and desire to get out and see the world. Last year, China overtook Vietnam to become the number one source of visitors to the Kingdom. And given its close relations with Beijing, Cambodia is in a prime position to cash in.
According to Cambodia's Ministry of Tourism, the country welcomed close to 830,000 Chinese visitors in 2016 alone, up almost 20% from the previous year and almost halfway to the government's goal of attracting two million Chinese tourists annually by 2020. Figures from the China Outbound Tourism Research Institute (Cotri), an independent research organisation based in Hamburg, estimate that about 270,000 Chinese tourists visited Cambodia in the first quarter of 2017, putting it on track to top a million this year.
Men Phearom, director of planning at the Ministry of Tourism, said that the government had implemented a policy of promoting mainly Chinese visitors as part of a wider economic strategy with Beijing.
"Through the strong relationship of both countries, it brings together the Chinese investors and Chinese tourists in Cambodia." he said. "So we have to catch this opportunity to attract more tourists and tourism investment."
Monks cross a street in front of the Royal Palace in Phnom Penh. Photo: Jack Kurtz / Zuma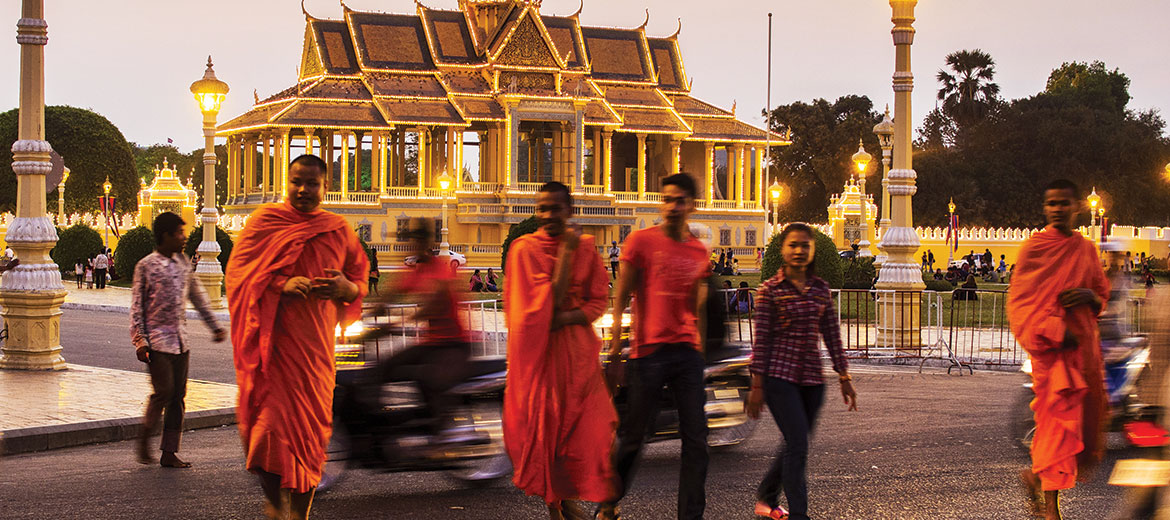 All signs point to a significant increase in tourist traffic coming into the country, but all visitors are not equal when it comes to the money and time they spend, and adapting to a Chinese-driven market could mean major changes to an industry that has been largely built around the demands of visitors from the West.
"As a hotelier I will of course be happy to see the overall numbers [of tourists] go up," said Pok Ratha Ming, senior sales manager at the Phnom Penh Hotel, a popular spot for Chinese visitors.
He does have reservations, though.
"Chinese and European tourists are different," explained Ming. "The Chinese come to Cambodia for four days. They stay in Angkor Wat for three days and Phnom Penh for maybe one. The Europeans spend longer and spend more."
Wolfgang Georg Arlt, the director of Cotri, said that despite the huge figures involved, a surge in Chinese tourists needs to be managed carefully.
"The Chinese are the biggest source of the growth of global tourism figures, but this does have negative effects," said Arlt, citing the island of Palau in the western Pacific ocean as an example.
"The divers put… money into the local economy," said Arlt. "Chinese tourists pay money to Chinese tour operators."

Wolfgang Arlt, Director, Cotri, on the island of Palau
Known as a diver's paradise, the island was until recently a hotspot for American, Australian and European diving enthusiasts. Then the "whole atmosphere changed", said Arlt, when Chinese tourists started to arrive en masse, thanks to cheap deals on chartered flight package tours.
"The divers put… money into the local economy," said Arlt. "Chinese tourists pay money to Chinese tour operators." If the tourist dollars are, as often happens, also funnelled into Chinese-owned hotels and souvenir shops, this often minimises the benefits to the local economy while simultaneously making the destination less attractive to visitors from other countries, who no longer feel catered for.
"So all of this is not really benefitting the local Palau people. They get this big group of tourists who are actually endangering the traditional customer base," said Arlt. "I used to be asked how to get more Chinese tourists. Now I'm asked: 'How do we get better Chinese tourists?'"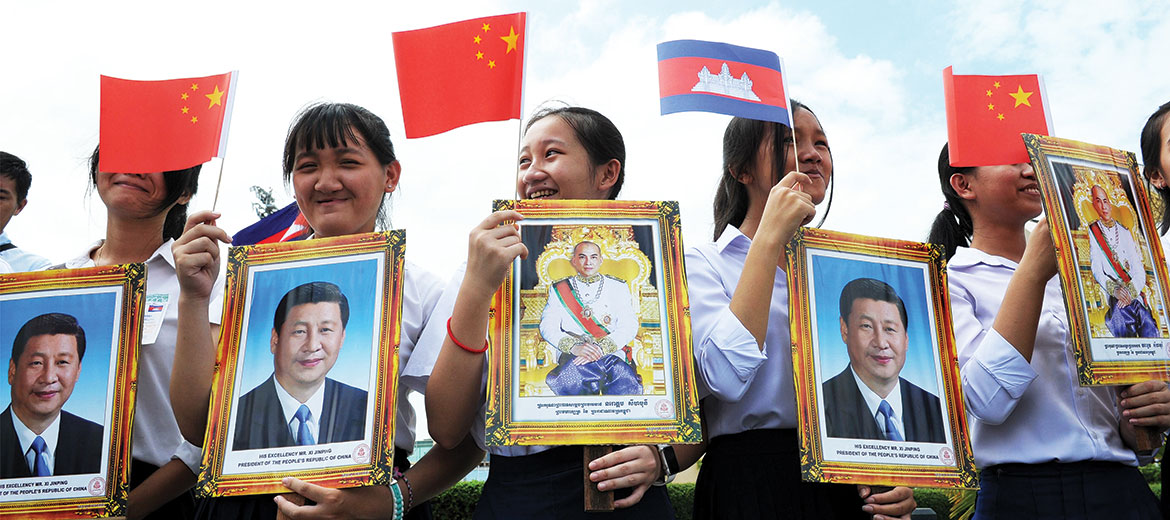 Students hold up portraits of Chinese President Xi Jinping and Cambodian King Norodom Sihamoni upon Xi's arrival in Phnom Penh in October 2016. Photo: Tang Chhin Sothy / AFP
In Phnom Penh, as in Palau, local traders say that money from Chinese tourists tends to bypass them.
"We get very little money from Chinese customers," said Pheap, a motorbike-taxi driver based outside the capital's gleaming Royal Palace. "It makes us sad, because we see big buses of Chinese tourists come who have a lot of money and we don't see any of it."
"We don't really get money from the Chinese tourists. They come mostly on a bus."

Sothear, Tuc Tuc driver
Nearby, another driver, named Sothear, took a break from teasing his friends by stealing their flip-flops to lament the drop off in visitors from the West.
"Most people we see coming to the palace are Chinese and Vietnamese. Five years ago it was all Europeans and Australians," he said. "Now we have about 40% less Europeans than before. I don't care what nationality, we will take anyone, but we don't really get money from the Chinese tourists. They come mostly on a bus."
While economic benefits often fail to trickle down to tuk tuks and motorbike drivers, opportunities are opening up elsewhere. A taxi driver based outside NagaWorld casino in Phnom Penh, who gave his name only as 'Mr Black'. "Many people worry that China is taking over our country, but we are happy because it is more customers," he said. "Most of our customers are Chinese or Western, but we make most money from Chinese… Chinese customers tip more than Europeans."
However, 'Mr Black' did have one gripe: having to pay a large portion of his income to the Chinese-owned taxi firm he works for.
While the pivot to China is currently a mixed blessing for the tourism sector, what it will mean for the industry's future remains uncertain and potentially fraught by over-dependence on one source of tourists.
China has been known to use tourism as a soft power tactic in the past, with Beijing stopping tour groups from visiting Taiwan and South Korea during periods of political tension, slashing both countries' tourism figures by about 40% in the process. The Philippines, on the other hand, has already seen a rise in Chinese visitors since President Rodrigo Duterte made moves to warm relations with Beijing upon taking office last year.
Card tables at NagaWorld casino in Phnom Penh. Photo: Nigel Dickinson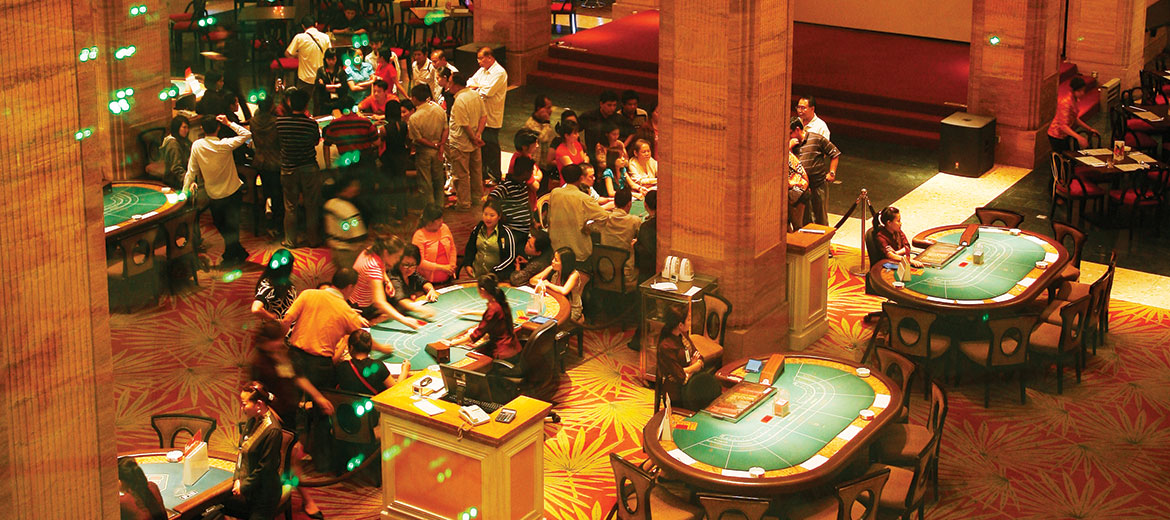 "China uses outflows of tourism as a tool to either curry favour or punish foes. What we're seeing in Cambodia at the moment is the former, with China now the country's main source of tourists," said Miguel Chanco, regional analyst for the Economist Intelligence Unit. "Outbound travel from China is strongly influenced by political factors, as Beijing can throw up informal bureaucratic obstacles that impede visits by its citizens to nations that are out of favour."
With Cambodia very much in China's good graces now and for the foreseeable future, it would appear wise to use this momentum to invest in other areas of the tourism industry.
The UN named 2017 the international year of sustainable tourism, with the impact of tourism around the world becoming a growing concern for travellers and destinations. China is not a market normally associated with sustainability but, according to Arlt, eco-tourism could prove to be a huge draw for Chinese visitors.
"If you go to China, you can do everything except breathe," he said. "If you live in Shanghai, kids will probably never see a goat or sheep except on their plate. They will almost certainly never have seen the Milky Way… But in Cambodia, after culture, nature is the draw for Chinese tourists."
In addition to its efforts to entice Chinese visitors, the Cambodian government has also taken steps to promote eco-tourism and undertake projects that feed into domestic development. Plans laid out this year by tourism minister Thong Khon include infrastructure development, managing social order and the widening and construction of new roads. In July, he also announced the creation of an inter-ministerial working group with the Ministry of Environment to promote eco-tourism, including the development of eco-tourism 'zones' in areas such as Prek Toal bird sanctuary and Kulen mountain, both of which are easily accessible from the tourist hub of Siem Reap.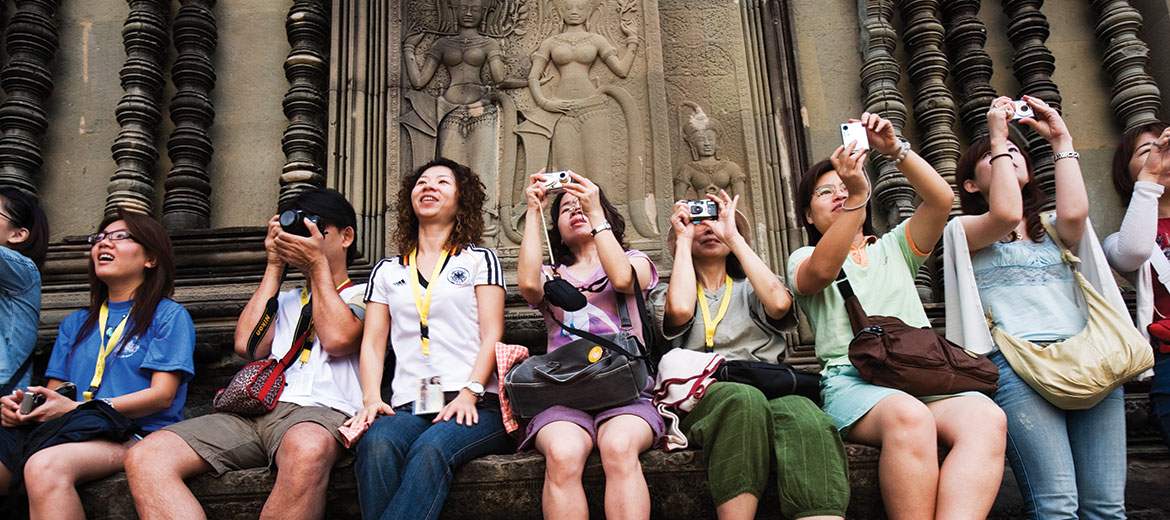 With eco-tourism and responsible travel also chiming well with visitors from Europe, the US and Australia, such moves could even be a useful bridge between East and West.
Carl Sladen, director of sales and marketing at Phnom Penh's Raffles Hotel, a brand that has traditionally catered to Western visitors to Asia, said that the property has experienced an uptick in visitors from China who are keen to experience the hotel's prestige and history.
"It's a fine balancing act of managing the expectations of Chinese tourists and managing the effect on other guests," he said, explaining that the hotel goes to great lengths to accommodate Chinese clientele. Both Cambodian branches of Raffles already have Chinese-speaking frontline staff, and the hotel also provides staff that lack these skills with 'frequently asked questions' cards in Chinese, which are given to inquiring Chinese guests. Knowing that language requirements will be accommodated is a must for the Chinese travel companies booking the trips, he says.
"It gives a lot of benefits to the whole sector that outweigh the drawbacks."

Men Phearom, Director of Planning, Ministry of Tourism
From the government's point of view, the challenges that come with the surge in Chinese tour groups are well worth the benefits.
"We do understand that the influx of Chinese investors can cause issues for small businesses," explained the Ministry of Tourism's Phearom. "But at the same time, this is providing jobs and raising revenue through taxation. It gives a lot of benefits to the whole sector that outweigh the drawbacks."
With the country's gross national income per capita still at a relatively low $1,070 per year, according to the World Bank, it seems highly unlikely that, regardless of the potential pitfalls, the government will hesitate in picking such low-hanging fruit any time soon.
This feature was corrected on 20 February 2018. The original stated that tourism contributed a quarter of Cambodia's GDP in 2016, according to a report from the World Travel and Tourism Council. The correct amount was 12.2%.