Cambodia is edging increasingly close to China, as the superpower lavishes aid on the Asean nation that has proved a robust ally in the South China Sea dispute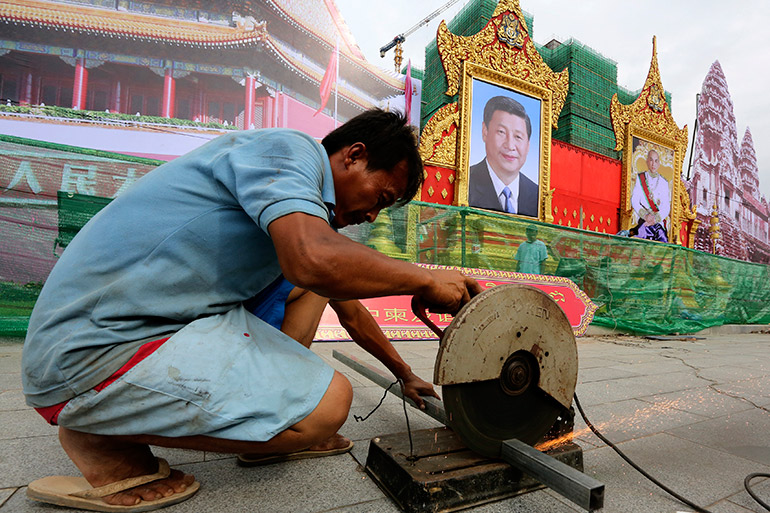 Chinese President Xi Jinping will arrive in Cambodia tomorrow for a two-day official visit, consolidating a far-reaching relationship between the two countries that has at times been mired in controversy.
The visit is a part of a larger tour through India, Cambodia and Bangladesh during which Xi will attend the 8th BRICS (Brazil, Russia, India, China and South Africa) Summit to be held in Goa, India, from 15 to 16 October.
Last week, Cambodian Prime Minister Hun Sen announced during a graduation ceremony at Phnom Penh's Royal University of Law and Economics that 28 documents would be signed during Xi's visit. The agreements are meant to promote cooperation in trade, tourism, investment and agriculture between the two countries, according to Chinese news outlet Global Times.
China has become Cambodia's largest source of foreign aid and investment. This aid has been increasing in recent years, with Beijing's donations increasing from less than $100m in 2007 to, in 2014, between $500m and $700m annually.
Cambodia has been drawing the ire of Asean countries and members of the international community for siding with China over territorial disputes in the South China Sea, twice blocking Asean statements critical of Beijing's actions.
Less than a week after his government's most recent intervention at Asean in July, Hun Sen announced that China would provide Cambodia with more than a half a billion dollars in aid. It was one of the largest grants ever awarded to Cambodia.
"At my request, our Chinese friends have agreed to provide funding for the electoral process, health, education and clean water, such as ponds and wells, that will benefit our people," he said in a Facebook post.
The strategic relationship between the two nations is rooted in Cambodia's desire for a big-brother figure within the region, according to Chung Chien Peng, a professor of politics at Hong Kong's Lingnan University.
"Politically, Cambodia is a one-party dominant state like China," he said. "[I]ts leadership believes that Chinese influence in Southeast Asia will make its immediate neighbours – Vietnam and Thailand – with which Cambodia has border disputes, more careful in respecting Cambodia's interests."
Julio Jeldres, an adjunct research fellow at Australia's Monash University and counsellor to the cabinet of Cambodia's King Sihamoni, said Cambodia's historical kowtowing to China was, in a way, forward-looking.
"At times, I feel we are observing a repetition of events that happened in the late 1950s when Cambodia established relations with China," he said. "Almost all of the countries in Asean… were critical of [then-King Norodom Sihanouk's] actions.
"Then, beginning in 1970 there was a rush to establish relations with China," he added, "because policy makers realised that China, even if it had a completely different political system, one that the West rejected, was going to be a powerful economy and a huge market for the West."
Tomorrow's visit marks Xi's first trip to Cambodia since becoming president in 2013. His last visit to the country was as vice president in 2009.