On 30 June, Rodrigo Duterte will take the oath of office to become the sixteenth president of the Philippines. During his campaign, the tough-talking Duterte showed considerable skill in launching himself from being the mayor of Davao City, situated in the far south of the country, into a nationally prominent figure. Already much respected in Davao for his success in fighting crime, he managed to tap into a widespread desire for law and order. But translating his experience as a local politician to the national level may be another matter.
"The president-elect is accustomed to getting things done quickly in a city administration and may have trouble adjusting to the more glacial pace of a national bureaucracy," said the Asia Foundation's Steven Rood.
As well his tough talk, Duterte has a reputation for cussing and inappropriate language, with a 'joke' about rape, calling the Pope a "motherfucker" and the country's Roman Catholic bishops "sons of bitches" among his recent utterances.
"I would characterise his presidency… as [being] a mixture of strong and straightforward," said Jan Robert R. Go, assistant professor in the department of political science at the University of the Philippines Diliman. According to Go, the president-elect's strength comes from what Duterte himself says is necessary to implement all his policies: political will. "His straightforwardness comes from his direct and accessible, but often regarded as profanity-laced, language. He made his promise to be more decent and proper in the future, [that is to say] presidential. But we'll have to wait and see."
Of late, Duterte has centred on official corruption. He recently stated that if there is "even a whiff or whisper" of graft by a government employee he will fire them or send them to some far-flung posting. During his stints as mayor, he has certainly came down hard on corrupt officials, but as Rood points out, it is much easier to monitor the administration of a city than of an entire nation, "but anybody found to be corrupt is likely to be on the outside"
With elected presidents of the Philippines only allowed to serve a single term in office, Duterte has a six-year one-shot chance to make his mark. But, despite winning the election with 6 million more votes more than his nearest rival, more than 60% of the electorate did not choose him. And he was more popular in urban areas – where people face crime daily – than rural, because of his anti-crime stance, said Rood.
That anti-crime crackdown appears to have got off to a flying start, even before Duterte has been sworn in. Since being elected, he has vowed to bring in late-night curfews on karaoke bars and children, as well as localised bans on the sale of alcohol. And Manila's police force seem to have taken him at his word, recently carrying out a night-time crackdown, leading to the arbitrary arrest and detention of children, even those accompanied by their parents.
"The tough talk goes down well – and events since the election, where almost 50 suspects have already been killed nationwide – tend to suggest that anti-crime drive will kick into high gear," said Rood. "So 'progress' will be evident from the start, but it will take some time before people see the results, or lack of results, in their daily lives." And, he added, although corrupt officials will "quickly adjust to realities" and get on with things, "it is those on the outside, [those] who are accustomed to using corruption to get what they want or need, who are likely to be most angered".
The new president will take office at a time of national prosperity, with annual GDP growth at just over 6%. While the economy may be booming, one of the main issues for rural voters was the fact that its benefits had not spread to them. To address this, Duterte has a social reform agenda focused on helping the poor and the marginalised, said Go.
"Aside from extending the provision of basic services such as education and health, he has instructed his cabinet to work on particular areas such as distribution of the coco levy funds to the coconut farmers, the distribution of farm lands as part of the agrarian reform programme and other related areas," he said. "However, I find this move contrasting with his economic ideas, that is, very liberal in the sense that he intends to open the market to 100% foreign ownership of enterprises here."
Indeed, Duterte's pro-business policies may run into some opposition, not least in his pick for the head of the Department of Labour and Employment, Joel Maglungsod. He is a representative for Anakpawis, the political wing of a militant trade union – no friends of foreign capitalists.
People may be disappointed at Duterte's policies at first, said Ramon Beleno III, a political science professor at Ateneo de Davao University. However, as they realise his programmes and policies are bringing change, they will support him. But he will need to be quick. "The honeymoon period for Philippine politics is only two years," Beleno said. "After that, if they don't see any development, they will start hating him."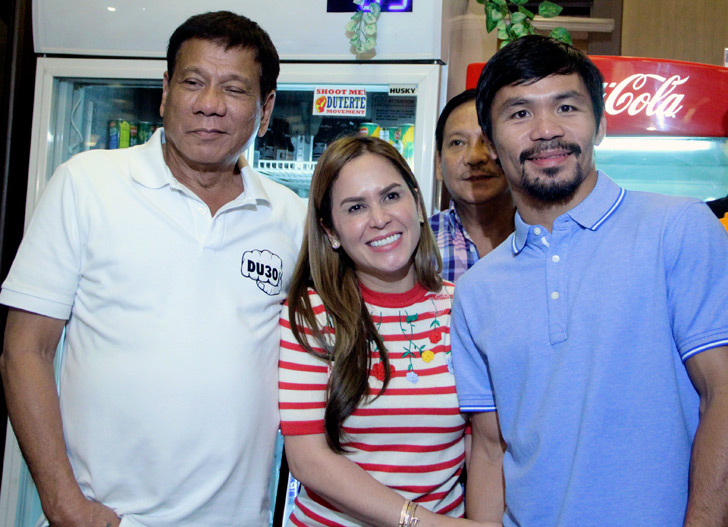 Looking away from domestic matters, the president-elect has plenty to contend with on the foreign stage, particularly over the South China Sea, in which the Philippines has overlapping territorial claims.
Overall, looking at his media statements, it is hard to gauge what exactly his foreign and defence policies will be. He has sent mixed signals to China, the US and Australia. But, his words do reveal certain characteristics, according to Eric Batalla, professor of political science at De La Salle University in Manila. Duterte will likely be "unpredictable, nationalistic, and pragmatic," he said.
"While expressing warmth and friendship to China at one time, he has also stated at another time sailing to one of the disputed rocks in order to assert national sovereignty.
Warming up to China does not however mean alienating the Philippines from the US," said Batalla, adding that he may even increase military links with the US. "The president-elect is a pragmatic politician with a keen sense of the national interest. This suggests that foreign and defence policy decisions would largely be based on what is most advantageous for the Philippine interest."
But we can be sure than relations with China will loom large early in his presidency. An UN-mandated arbitral tribunal is about to give a decision on Beijing and Manila's overlapping territorial claims in the South China Sea.
According to Carlyle Thayer, an expert on Southeast Asia based at the University of New South Wales, Duterte is likely to take a tough stance on an area known as the Scarborough Shoal "as most international legal experts feel this is the strongest case for the Philippines."
"Duterte will come under strong cross-cutting pressures from China to move beyond the tribunal's finding and enter into talks. Duterte will also come under pressure to uphold the tribunal's findings," said Thayer. "[The tribunal] will not resolve all outstanding issues between China and the Philippines and this may provide Duterte with the opportunity to engage with China with the view of getting Beijing to behave less assertively."
---
Additional reporting by Logan Connor and Paul Millar