It's often said that there is no silver bullet for the world's worsening environmental crises, so it's probably just a coincidence that Cambodia's first electric car looked virtually identical to one. The shining new Angkor Car EV 2013, sporting sliding – if somewhat shaky – scissor doors, fingerprint-activated entry and a retail price coming in somewhere just south of $10,000, was unveiled in a Phnom Penh showroom on the auspicious date of 7 January, the anniversary of the defeat of the Khmer Rouge regime more than three decades earlier.
The stubby car, launched by local Heng Development Co, headed by wealthy tycoon Seang Chan Heng, was a far cry from the ramshackle contraption that first lurched from mechanic Nhean Phaloek's workshop more than a decade earlier. Now, with a top speed of 60km/h and the power to go 300 kilometres after a single three-hour charge, the Angkor Car was finally ready to hit the streets.
"The reason I started the electric car project was because of my curiosity since I was young – and the fact that I have my own workshop as well," inventor Nhean Phaloek told Southeast Asia Globe. "The project is important because my family and people around me have supported it, and I also would like to create something new and different."
Anyone who's ridden a moto through the clotted haze of Phnom Penh, though, knows only too well that electric cars have not exactly caught on in Cambodia's crowded capital. And despite a whirlwind of publicity and years of popular support for the project, it seems the Angkor Car never quite made it out of the showroom.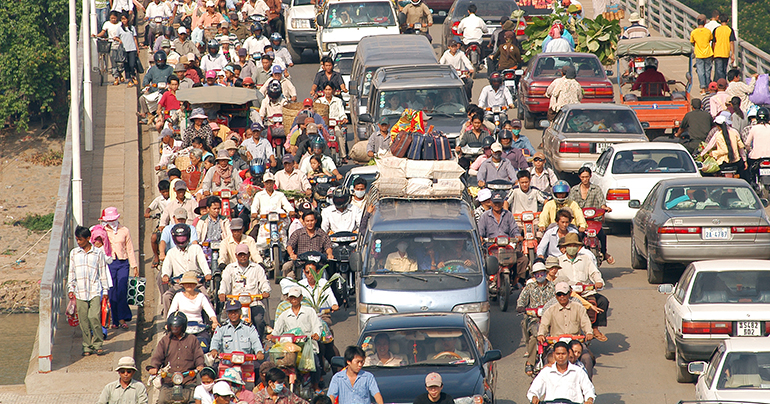 Despite a series of glitzy videos of the Angkor Car cruising the streets of Phnom Penh uploaded to YouTube days after launch, a stray comment shared by Seang Chan at the event painted a more realistic picture of the car's future. Although the tycoon had just a few years earlier announced a $20m deal with the Hong Kong-based Chau Leong Enterprise Group to help produce up to 1,000 models, Seang Chan was frank about the partner company's shortcomings.
"We had signed an agreement with Chau Leong Enterprise Group to provide the electrical appliances for the Angkor Car, and he told me he had a factory in Hong Kong that produces cars," she said during the car's unveiling in 2013. "But when I went to Hong Kong to visit his company… I was disappointed – he had no factory."
Instead, Heng Development Co was forced to produce the first handful of cars by itself using parts sourced from as far afield as Germany and China. And beyond an extravagant launch ceremony complete with rows of saffron-robed monks scattering sacred flowers to bless the slick vehicle, it soon became clear that without an international partner to provide more funding, the project would remain stalled.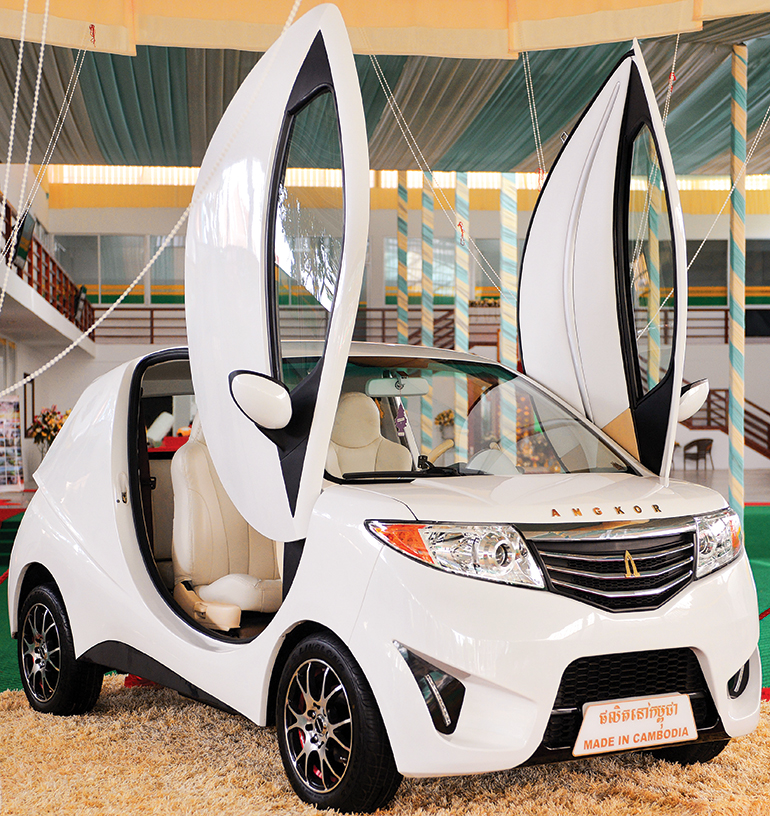 Alongside rumours of repeated mechanical difficulties at every step of the car's development, Seang Chan would soon be caught up in a series of land disputes across the Kingdom. After failing to convince a court that rival businesswoman Lim Khy had forged land titles to more than 100 hectares of land in Kampong Chhnang province, Seang Chan was promptly convicted of forging those very same documents herself by the Phnom Penh Municipal Court. And earlier this year, the tycoon had her US visa cancelled after a widely publicised land dispute involving the enormous new airport being built in Cambodia's Kandal province, with almost 300 families arguing that they had lived on the proposed site for decades before Heng Development Co laid claim to it.
Whether or not the finished model of the Angkor Car had ever managed to iron out the mechanical defects that had plagued earlier iterations of the car was also an open question – one that Phaloek is still not prepared to talk about.
"Even in bigger companies such as Honda or Toyota, there tend to be problems with their creations," he said. "As we can see, they have to call back many of their cars on some occasions for such a big company, and since we just started, of course there will be some problems. So let's not talk about this, and focus on what we can do and our purpose."
For all the Angkor Car's apparent shortcomings, Phaloek appears not to have given up his quest to steer Cambodia away from environmentally harmful forms of transport – even down to the most humble. A familiar sight along the streets of Cambodia's cities, the motorised carriages affectionately known as tuk tuks, a phrase borrowed from neighbouring Thailand, have taken the place of the colonial-era rickshaw to provide cheap transportation to locals and tourists alike. It is this informal industry, which has undergone its own quiet revolution following the influx of ride-sharing apps into the Kingdom, that Phaloek has set his sights on next.
"I want to invent a tuk tuk to use in Phnom Penh and Siem Reap using both electricity and gas," he said. "We are looking for a collaborator who is passionate about this sort of project, whether in terms of creative ideas and skills or funds to support the project."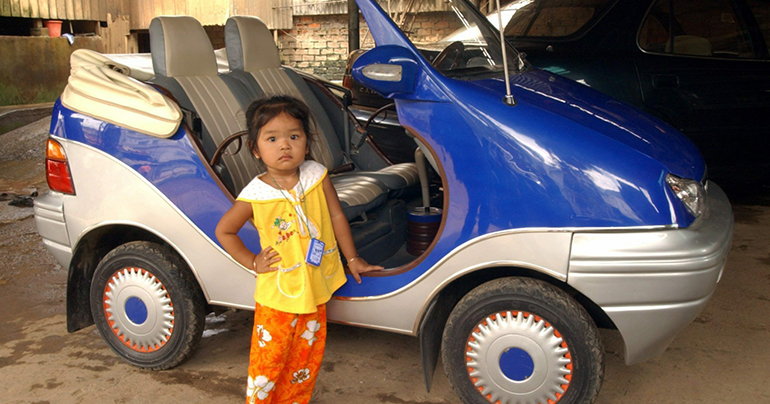 For a nation now doubling down on coal-fired power plants to solve its rising energy woes, though, it seems Cambodia still has some way to go before its citizens are ready to leave their gas-guzzlers by the roadside.
"There are many obstacles that prevent Cambodia from using electric transportation in Cambodia," Phaloek said. "Many Cambodian people do not like to accept change, and the living standards are still low – Cambodia is still a developing country. However, the main challenge is that the Cambodian government has not yet initiated or provided support in this area."
While Phnom Penh's growing air pollution problem still falls short of the cloying smog of megacities such as Bangkok, Phaloek is adamant that unless the Cambodian government is willing to invest in sustainable transportation, there is little incentive for people to seek eco-friendly alternatives.
"The government should help to encourage people to turn to use these sorts of renewable energy so that we can cut down environment pollution as well as expense," he said. "The government should help to encourage inventors and support them in terms of funding in order to start these sorts of projects in Cambodia. If the government looks more into this initiative, then it will help us to progress more smoothly."
But despite criticisms that his long-cherished dream of an eco-friendly alternative to the gas-guzzlers favoured by Cambodia's growing middle class stalled at the starting line, Phaloek has not given up on the idea that the electric car may make a return to the streets of Phnom Penh.
"For the Angkor Car project, we will keep pushing forward in the future," he said. "If I have a collaborator and a big fund to invest, I will make it happen."