As the US ramps up sanctions against Prime Minister Hun Sen's closest allies, Cambodian political analyst Lao Mong Hay discusses the power of international pressure
With the Cambodia National Rescue Party dissolved and its leaders jailed or exiled, the US has stepped up its criticism of Prime Minister Hun Sen's 33-year-long rule, passing an act of Congress that would level heavy sanctions against the premier and members of his cabinet and inner circle, barring them from the US and blocking their assets and property. Speaking ahead of last Sunday's national election, in which the Cambodian People's Party won all 125 National Assembly seats, long-time Cambodian political analyst Lao Mong Hay shared his thoughts on how the spirit of change can live on over the next five years of CPP rule.
US President Donald Trump and his predecessors have fostered strong relationships with Chinese President Xi Jinping, the Saudi royal family and now apparently Russian President Vladimir Putin – who all have a blemished record on human rights. Why has Cambodia been singled out for censure?
During the debates and discussion about the situation in Cambodia, there was frequent reference to the Paris Peace Agreements. No other countries have an agreement of that type that Cambodia has undertaken. So as to avoid a repeat of the past, Cambodia and all the parties to the Paris Peace Agreements that ended the war in Cambodia in 1991 have joined in undertaking to ensure there would be democracy, pluralism, the respect for human rights – and an independent judiciary to enforce those rights.
America is not just an ordinary party to those agreements, it was and still is one of the five who worked out those agreements among themselves. And in the end, the security council and those big five that were actively involved approved those agreements. All those under those agreements have obligations to help Cambodia put in place democracy, pluralism, human rights and the rule of law – all spelled out clearly in the peace agreements. And in the case of grave violations of human rights, they have the obligation to raise these issues with a special UN organisation with jurisdiction over human rights to prevent those grave, serious violations and to put an end to that violence. To put an end to it – not just to express concern over it.
Of course, those targeted leaders, they are my leaders too – the leaders of all Cambodian citizens. When they are all named and shamed and shunned internationally, how about myself? Do I feel happy? No. I feel shamed as well. Our nation is also named and shamed.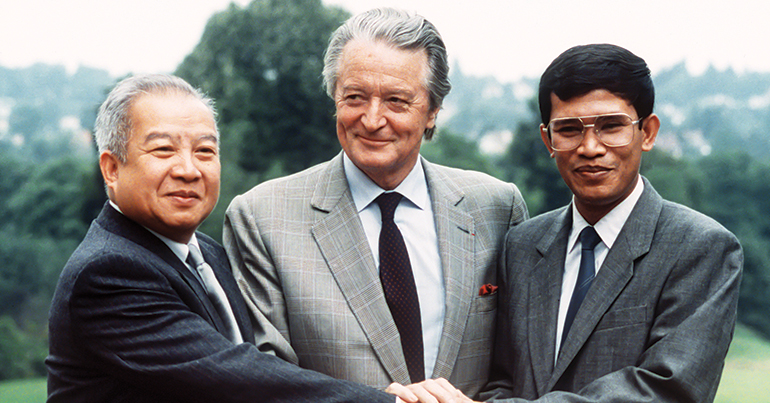 Do you think that these sanctions, if they are put into effect, will be effective?
They are effective. There's an example already – the American sanctions against the commander of our prime minister's bodyguard unit [Hing Bun Heang]. That made a dent into the pillar that supports the office of the premier. It hasn't broken it yet. In Venezuela, after the election, there was pressure and sanctions from many countries to ensure that the regime was following the democratic path. To ease off that pressure, some opposition party activists who had been jailed were then released.
Those prisoners may have been released, but the political situation in Venezuela appears largely unchanged. Beyond minor concessions post-election, what real impact can these measures have?
First, those targeted – who have not honoured their international obligations to respect human rights, to adopt liberal pluralistic democracy governed by the rule of law – are now being dishonoured. Their image and their reputation are badly affected. What is next? There could be more actions to name and shame them internationally. What kinds of difficulties are diplomats, especially the targeted minister of foreign affairs, going to face when attending international conferences? In America, his ability to travel would be limited by the American authorities: "Okay, you can go to New York to attend that general assembly at the United Nations – but not beyond that." They would not feel at all comfortable. And if the American president or top leaders meet these people at an international conference, they could just turn their back on those leaders who have been targeted, and refuse to shake hands with them, in public, deliberately – just to shame them.
And remember, those sanctions include economic sanctions against those individuals. Look at those targeted individuals – they are, more or less, the government of Cambodia. If the Americans were to go further and succeed through international financial organisations – ADB, the World Bank, IMF – to squeeze them, what would happen? For perhaps the first time, tycoons, the business elite, have been identified [in a Global Witness report] – and in the list suggested by the congressman, there's one CEO of a big company. This regime and Hun Sen himself has been supported loyally by those CEOs and tycoons.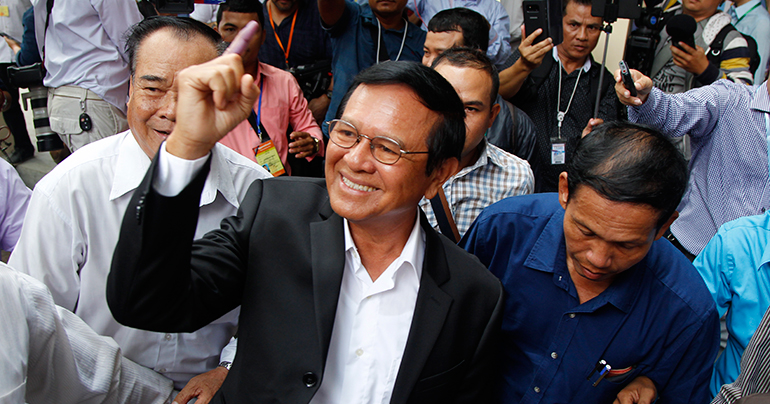 Unlike the post-election protests of 2013, the arrest of opposition leader Kem Sokha and the dissolution of the CNRP seem to have been met with very little public protest. Will international pressure be enough to effect change without that internal pressure from Cambodia's citizens?
It's quite understandable inside the country. When the opposition party was dissolved, they made sure there were no offshoots – they banned not just their 55 parliamentarians, but 118 top leaders, both at the provincial and national level to ensure there were no local leaders left. And those 5,000 [CNRP] commune councilors likewise – they are being watched, controlled, and some have had to flee the country.
Look at the control of the people. It goes as far as the people's fingertips. Can you imagine your big finger without a nail? Because this government was trained in a communist coup. Look at Eastern Europe, the Russian people and all that [under the Soviet Union]. How many decades before they had a voice? There were discreet activists working against the regime, publishing secret news bulletins. But if anyone stood up, the regime would nip it in the bud. They'd send you to a mental hospital, or in Stalin's time just to Siberia, to the Gulag. That schooled our ruler, and our police officers, our security forces. What chance do we have? Only Facebook, social media.
But there are flaws in the system. The rising expectations of a changing people. The old communistic mentality of our rulers, their antiquated institutions, have not advanced in parallel with the aspirations of our people. A generation ago, in the Untac time, our people were like a child, and they wore a child's clothes, that mentality, those institutions. But now we have grown up – and our clothes are still the same size. People are more aware of those flaws. Corruption, land-grabbing – injustices. The wealth gap. The education gap. The justice gap. All growing.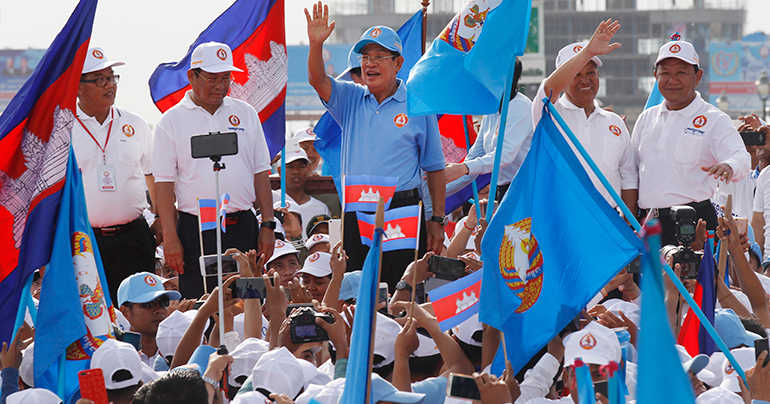 It's worth mentioning that both Hun Manet and Hun Mana, children of Prime Minister Hun Sen, were named on that list. Do you see any hope for change in the next generation of the ruling party?
Among those named, there are no people whose performance so far seems to be good in terms of both human rights or even in their own field, their respective jurisdictions. In their daily responsibilities! There's been so much nepotism for so long.
It's a big party, with a big leadership pool, with many people who are a lot cleaner than those singled out, just the same as in the business sector – people who earn their wealth more licitly than those named in the Global Witness report. No doubt about that. Perhaps those people are more moderate, and could accommodate people from outside the party. Not placing so much emphasis on party loyalty, but put that emphasis on skill, meritocracy. Perhaps I'm being too optimistic. But the country has to survive – so why can't it change for the better as well?
After the election, with the CNRP gone and no obvious challengers to the ruling party rising to take its place, do you think we will see more conflict within the CPP about the party's direction moving forwards?
At the moment in this election there are 20 parties, including the CPP. But this election is more like the sky at night – there are a lot of stars, surrounding the moon. And who knows? Perhaps they could learn from this experience, and join forces. It's happened before, with the merger of Kem Sokha and Sam Rainsy's parties. Time will tell – and time also favours that kind of merger. And what about the ruling party? Without change, I'm not so sure it can digest and dissolve the spirit of change that has been ingrained in the hearts and minds of many Cambodians. If they want to gain more acceptance from those people, and eventually their support, then they have to change.