Cambodia's ruling Cambodian People's Party (CPP) has claimed all 125 parliamentary seats in yesterday's national election, cementing Prime Minister Hun Sen's unrivalled control over a nation that the former Khmer Rouge commander has ruled for nearly 33 years.
The tensely awaited election, which the now-outlawed Cambodia National Rescue Party (CNRP) has described as a "sham", comes after a slow-burning campaign from the government that has seen the main opposition party dissolved, more than a hundred of its politicians banned from politics and its leader Kem Sokha locked in a remote prison on charges of treason.
The resulting poll pitted the CPP against 19 minor parties, none of which received more votes than the number of spoiled ballots cast yesterday. Chief government spokesman Sok Eysan told Reuters the ruling party won 77.5% of yesterday's vote. Preliminary results suggest as many as 82% of eligible voters turned out, a drop from last year's local election turnout of more than 90% – though still a respectable showing to allay government fears of the CNRP's "clean finger" campaign, which called for supporters of the now-defunct opposition to boycott the election.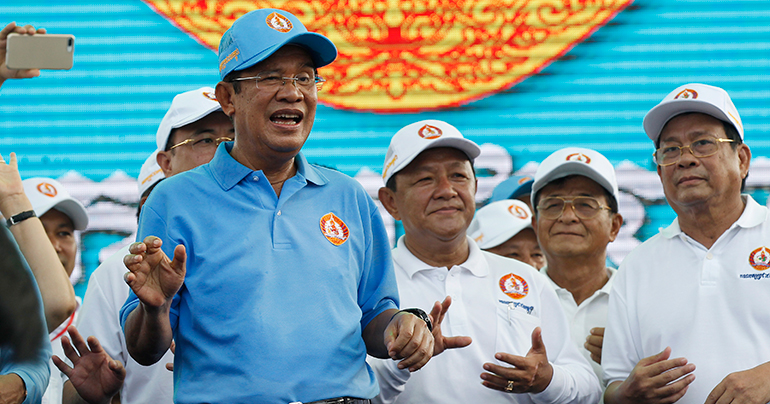 But in polling booths across Cambodia, it is reported that more than half a million voters turned in invalid ballots, many scrawled with symbols of discontent to protest an election that many Cambodians have said was no election at all. As the count began across the Kingdom, officials pulled out reams of papers marred with X's striking through all 19 parties, or bearing the rising sun of the CNRP.
A number of Cambodians interviewed by Southeast Asia Globe in the lead-up to the poll suggested that many of those who decided to scratch their ballots were afraid of the consequences of failing to show up on election day. The weeks leading up to the election have been rife with reports of both local government officials threatening to withhold basic services and employers promising to sack workers who refused to vote. In Cambodia, where voters have their right index finger marked with indelible ink at the polling booth, it was a chance that many opposition supporters were apparently unwilling to take.
A former CNRP voter in the opposition stronghold of Kampong Thom, who spoke with Southeast Asia Globe on condition of anonymity before yesterday's election, said his decision to spoil his ballot rather than boycott the vote was for fear of reprisal.
"They threaten you indirectly – when you go for papers, the commune officials will target you," he said. "So we'll just try to go and show that we support them, but that doesn't mean you'll support them in your hearts – it's just for show."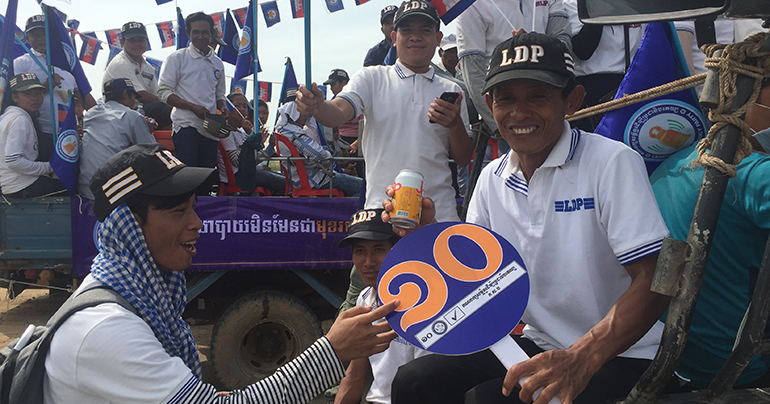 Although final results have still not been tallied, early information from the NEC suggests the only two parties to come anywhere close to a seat on the National Assembly were Funcinpec – a declining royalist party whose leader, Prince Norodom Ranariddh, remains in hospital after a devastating car crash in June that claimed the life of his wife – and the League for Democracy Party (LDP), an insurgent minor party whose supporters marched through the streets of Phnom Penh last week with a fervour unseen in the carefully choreographed rallies of the ruling party.
We'll just try to go and show that we support them, but that doesn't mean you'll support them in your hearts – it's just for show
Speaking on the final day of the campaign, a supporter at the LDP rally in Phnom Penh who declined to give his name was adamant that his party – which received less than 2% of the national vote in last year's commune elections – could topple Hun Sen's government.
"We use our own money for this campaign. I bought these stickers, flags, shirts and hats," he said. "I don't think we will win, but we might gain some seats in the parliament. I think only the LDP can dismantle the government."
With Hun Sen's CPP laying claim to every seat in the National Assembly, though, it's hard to imagine any remaining party posing much of a challenge to the ruling party's authority. But for the LDP supporter, the prospect of change in Cambodia remains a source of fervent hope.
"My entire family used to vote for CNRP. I was the one to convince them to join LDP," he said. "We want to have a system like other foreign countries, where the leader is chosen by the people, voted in by the people – and voted out by the people."
---
Additional reporting by Tom O'Connell and Phavine Phung