Asia Foundation of Cambodia launches VXW Award to recognise three young Cambodian women's efforts to promote gender equality in the Kingdom

By Logan Connor
A trio of talented Cambodian women were winners of a VXW Award – a new initiative to recognise young innovators in the field of women's rights – launched this morning at the Cambodia-Japan Cooperation Centre.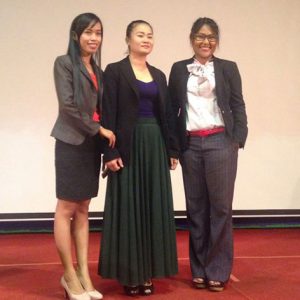 Throughout the year, the award will provide tech support and money to the winners to develop, test and perfect potential apps.
Receiving a VXW award today were Sum Dany, Phat Sreytouch and Bunn Rachana – three young women who have each used their respective organisations and community presence to further their visions of a gender-equal Cambodia. The women all showed commitment to finding new solutions to ending violence agaist women, being creative problem solvers capable of engineering their visions in reality and having entrepreneurial qualities to see opportunities for change and innovation.
Sreytouch has advocated women's safety and security in the workplace in her role as a committee member of the Solidarity Association of Beer Promoters in Cambodia. "Our society doesn't give value to women," Sreytouch said. "Lower-class women work in the entertainment industry, so society thinks they can do what they want to them."
Sum Dany recently graduated from the Royal University of Law and Economics and currently works for the NGO Silaka in the field of community mobilization and women's empowerment.
Bunn Rachana has worked in civil society and is now programme officer with the NGO ActionAid, where she works with poor communities.
Mobile technology in Cambodia is growing at an annual rate of 30%, according to Silas Everett, Country Representative for Asia Foundation of Cambodia. In three years, he said, all mobile phones in the Kingdom are expected to be Khmer script-enabled.
As mobile phones become a household item for more and more Cambodians, app developers are finding innovative ways to use the technology for social issues, rather than just for entertainment or communication purposes.
The "Circle of 6" app, released in 2012, allows users to program six contacts that can be easily reached in case of an emergency. Users can quickly send pre-programmed SMS messages, such as "come and get me, I need help getting home safely" to contacts in their circle.
Her Excellency, ING Kantha Phavi, Minister of Women's Affairs of Cambodia, attended today and said that ending gender-based violence is not only the responsibility of women like those recognized at the launch, but of Cambodian men as well.
Also in attendance was Bill Longhurst, British Ambassador to Cambodia, who said that women's safety is a "truly global problem."
And the effort doesn't stop with the VXW Award. "We want other people to get involved," Everett said. The Asia Foundation of Cambodia plans to present another round of VXW Awards later this year.