Luke Nguyen is on a mission. The celebrity TV chef wants to show the world that Vietnamese food is Asia's most refined cuisine; that it is fragrant, balanced and diverse; and that the delicate noodle soups and other delights served up by the country's virtuoso street-side chefs can be transformed into haute cuisine.
Born in a Thai refugee camp to Vietnamese parents, Nguyen grew up in Cabramatta, a predominantly Vietnamese suburb less than an hour's drive from the centre of Sydney. His father was a high-ranking lieutenant in the south Vietnamese army, so when the south of Vietnam fell to the northern communist forces in 1975, Nguyen's parents were forced to flee Ho Chi Minh City by boat. After Malaysia refused them entry, they continued their journey to a Thai refugee camp, where Nguyen was born in 1978.
Not long after, the family migrated to Cabramatta, where Nguyen's parents set up a restaurant and began selling bowls of steaming pho. Nguyen remembers his parents enlisting his services as soon as he was able to walk. He says he enjoyed the work and knew from a young age that he wanted to pursue a culinary career of his own.
"Working and being raised in the restaurant – that's where I fell in love with Vietnamese cuisine and where my passion for cookery came about," he says. "When I was 12 years old, I knew I wanted to open my own place one day. And so, at 23, I opened my first restaurant, Red Lantern, in Surry Hills in Sydney."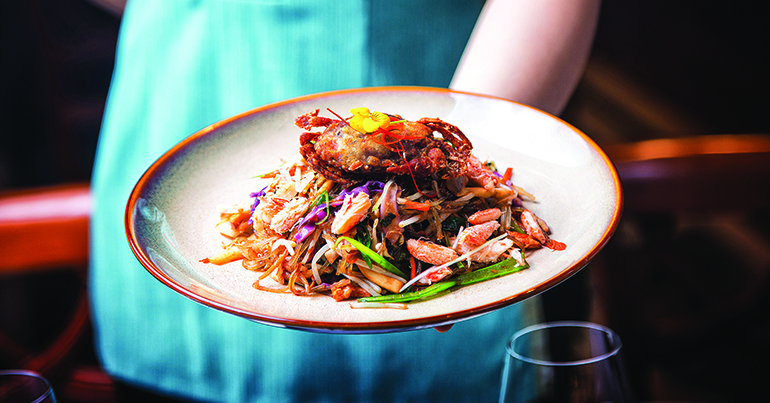 Nguyen opened the restaurant two years after his first visit to Vietnam, a trip that left him in total awe of the smells, sights and sounds emanating from the country's roadside hawkers and bustling markets. The theatre of street food captured his imagination so completely that he decided he would return to the country at least once a year to find inspiration for his upscale interpretation of Vietnamese cuisine.
And so, every year, Nguyen would close Red Lantern for one month and explore Vietnam.
"At the time, all I knew how to cook was food that you'd find in Saigon, as that's where my parents were from. But I knew there was so much more to Vietnamese food," he says. "I started in the north, in the mountains, where a diverse range of ethnic minority groups live… I discovered a lot of new ingredients and dishes because, looking back in history, these groups are from Laos, Thailand and China, right? They help to make Vietnamese culture and cuisine so rich and diverse."
Red Lantern, which has since relocated to Sydney's inner-city neighbourhood of Darlinghurst, won Nguyen legions of fans and a host of accolades, including six Best Asian Restaurant gongs from Australia's Restaurant and Catering Awards. The success served as a springboard for Nguyen, who has since published more than ten cookbooks, hosted six television series – a seventh will be aired in 2018 – and appeared as a guest chef and judge in the Australian and Vietnamese versions of the global TV phenomenon Masterchef.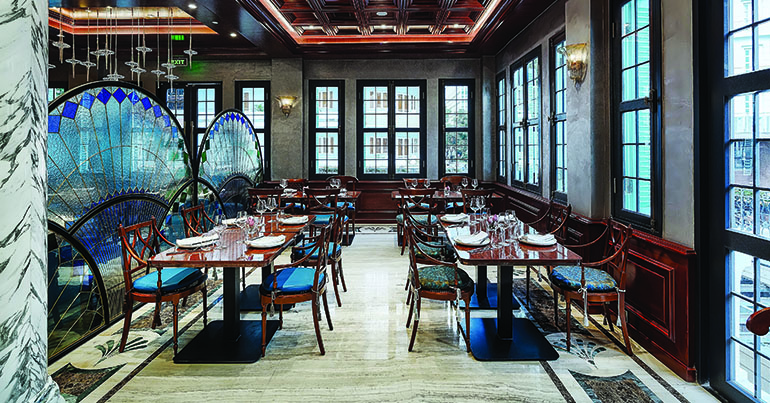 Now in his late 30s, Nguyen is as passionate as ever about "elevating" Vietnamese cuisine. This quest led him to open Vietnam House last July, a high-end Vietnamese restaurant in Ho Chi Minh City aimed mainly at Vietnamese patrons, in a building that stole his heart on his first trip to the country 18 years ago.
As with Red Lantern, the menu at Vietnam House pushes the boundaries of traditional Vietnamese cuisine with modern techniques, state-of-the-art Josper charcoal grill ovens and premium produce from around the world. According to Nguyen, the concept has been well received by Vietnamese, though the celebrity chef admits that locals often proclaim indignantly: "That's not how my mum cooks that dish." To which he says he replies: "You're right, it's how I cook it."
"I'm not going into Saigon with my first restaurant and trying to compete with all the great cooks and street food vendors. I just wanted to bring some of my personality into the restaurant, a bit of my Australian accent to the food… And I wanted to change people's perception of Vietnamese food as only a cheap and cheerful cuisine," says Nguyen.
"A classic Vietnamese dish, for example, is pork ribs marinated in coconut juice with oyster sauce, soy sauce, fish sauce and garnished with spring onions. When I make it, I use beautiful Australian ribs – that's the premium part – and then I vacuum pack them with a typical Vietnamese marinade, and cook it in a water bath for four hours at 60 degrees. You're guaranteed to have meat that falls off the bone when you use that technique because it's so consistent; it can't overcook.
"Traditionally, you would also chop some big chunks of carrot and throw them in the pot roughly 20 minutes before the ribs were ready. But I make a sweet carrot puree and serve the ribs on the puree on a beautiful plate instead of in a bowl."
Nguyen's take on banh xeo, the sizzling rice batter pancakes eaten with fresh herbs, is a further example of his culinary upscaling. Nguyen's rice flour, turmeric and coconut milk batter conforms to tradition, but he serves the popular dish with Iberico pork and Alaskan king crab.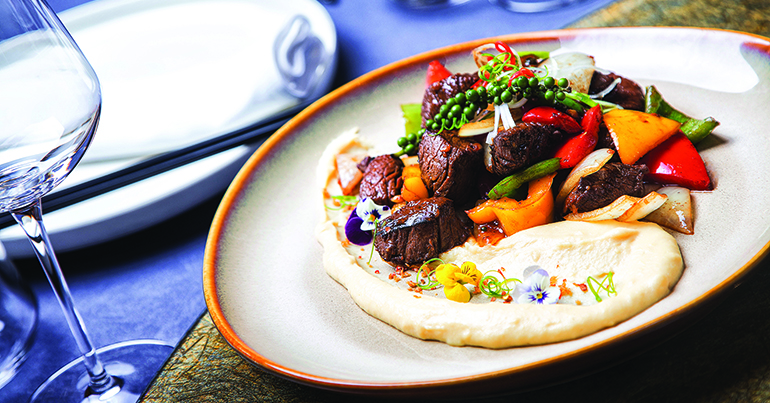 The nouveau riche Vietnam House is but one of many new high-end Asian restaurants across Ho Chi Minh City. Just a hop, skip and a jump away from the modernist establishment, the flashy Reverie Saigon hotel recently hired a Michelin-starred chef to helm its in-house Chinese restaurant, the Royal Pavilion, while Sorea, the chic sushi joint on the 24th and 25th floors of the centrally located AB tower, has been making a splash serving up spectacular sashimi in an equally impressive setting.
Nguyen speaks of the city's recent culinary developments with a boyish excitement and seems genuinely enthused by the potential for growth in the country's food and beverage sector. And the country's economic forecasts suggest Nguyen is right to be excited, with the Boston Consulting Group predicting that Vietnam's "middle and affluent class" is expected to double to 33 million people by 2020.
"In Saigon, I used to struggle to find somewhere when friends from abroad came over and said: 'Hey, take us to a really great Vietnamese restaurant, we want to drink red wine and be in a nice space,'" says Nguyen.
Today, however, opportunities for lavish dining abound.
"[The Royal Pavilion] serves incredible Cantonese food, better than some I've tried in Hong Kong, and I'm thinking: 'How great that this is in Saigon?'… This is why I thought: 'You know what? It's time for Vietnamese [people] to have a high-end Vietnamese restaurant in an iconic building,'" he says. "So many people want to come into the Saigon market, which is great for me and great for the locals. The dining scene is going to be incredible. It's a very exciting time for Vietnam."