US presidential hopefuls Hillary Clinton and Donald Trump have presented foreign policy platforms that swing from interventionist to isolationist. And voters' final choice could have far-reaching consequences for Southeast Asia, a region with much at stake in US politics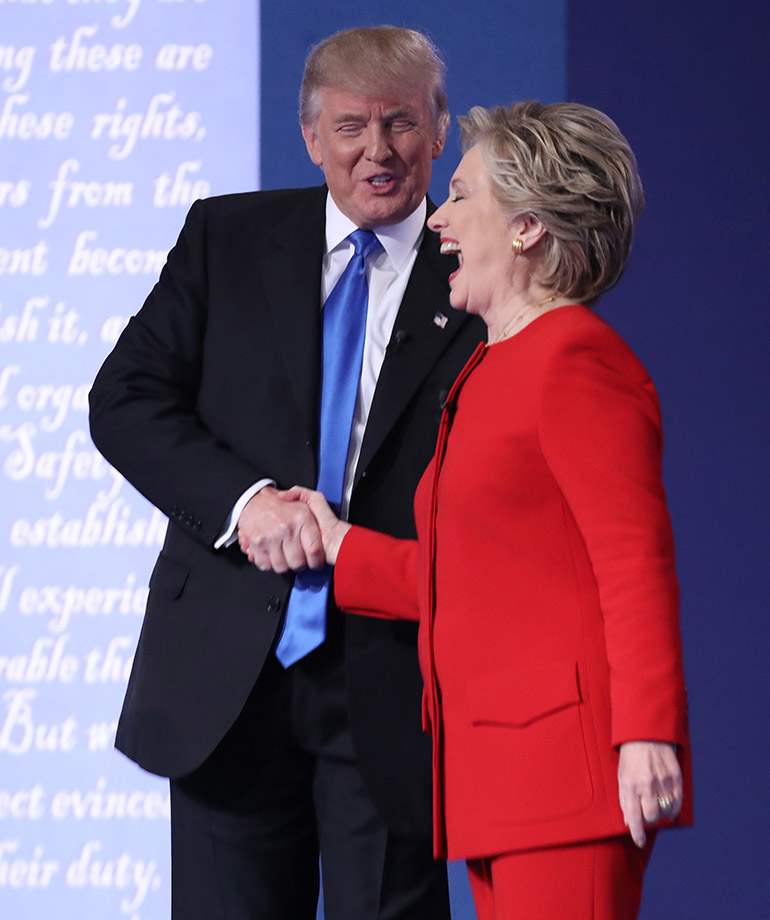 In November, US citizens will make their way to the polls to choose a new president. Many around the world will look on with a mixture of terror and curiosity at the culmination of a process that has taken almost 18 months and spawned extreme displays of public vitriol, dangerous populist pandering and a silly red hat emblazoned with "Make America Great Again".
The race began with 17 main Republican candidates and six notable Democrats. After an extensive primary election process, the playing field was narrowed to two choices: Donald Trump, the divisive real estate mogul campaigning on the Republican ticket, and Hillary Clinton, a former first lady and career politician who has clinched the Democratic nomination. Their views on Southeast Asia are as divergent as their domestic policies.
Hillary Clinton: year of the hawk
As a key engineer of outgoing President Barack Obama's so-called 'Pivot to Asia', Clinton saw the region as an important strategic interest of the US foreign policy machine. She made diplomatic trips to all ten Asean countries during her time as secretary of state and hailed Asia as a "key driver of global politics" in a 2011 article for Foreign Policy entitled "America's Pacific Century".
"Just as Asia is critical to America's future, an engaged America is vital to Asia's future," Clinton wrote. "The region is eager for our leadership and our business – perhaps more so than at any time in modern history."
Harry Sa, a research analyst with the S. Rajaratnam School of International Studies' US programme, said the policy shift had been "basically her brainchild".
"With Hillary Clinton, we're obviously going to see a lot of continuity with policies that started under the Obama administration, and I could imagine a lot of Asian nations being somewhat happy with that," said Sa, adding that "for the most part, US military presence has promoted stability and peace" in Southeast Asia.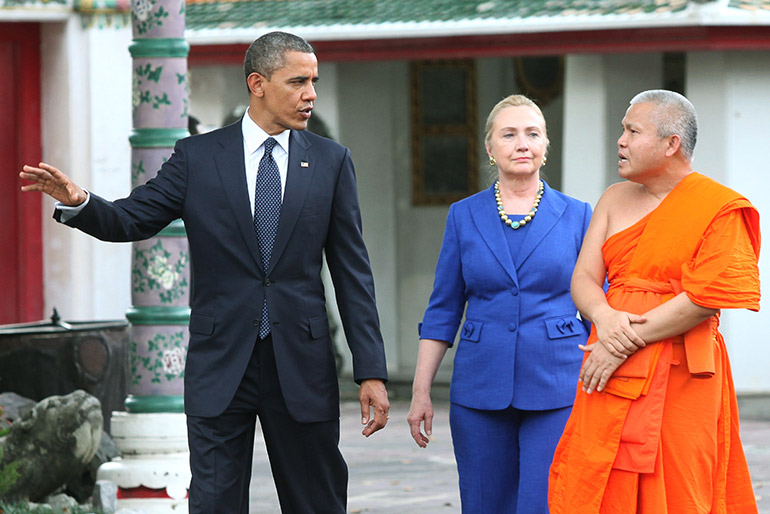 It seems unlikely that Clinton will enjoy the same personal popularity as Obama in Southeast Asia, and the two have certainly disagreed on related issues, including the Trans-Pacific Partnership (TPP), a free trade deal involving a dozen Pacific Rim countries.
In 2012, Clinton referred to the TPP as the "gold standard" of trade agreements. However, by the first Democratic debate of the primaries, Clinton had changed her mind. "[I wanted] to make sure that I can look into the eyes of any middle-class American and say: 'This will help raise your wages.' And I concluded I could not," she told debate moderator Anderson Cooper.
In April, the New York Times published an article entitled "How Hillary Clinton Became a Hawk". The lengthy piece details her relationships with high-ranking military commanders and calls to mind several occasions on which Clinton advocated the use of force when others were more cautious: voting for the US-led invasion of Iraq in 2002 and calling for military intervention in the Syrian civil war, for example. The author of the article, Mark Landler, describes Clinton's foreign policy as being "grounded in cold realism about human nature".
"Unexpectedly, in the bombastic, testosterone-fuelled presidential election of 2016," Landler writes, "Hillary Clinton is the last true hawk left in the race." The article was published while several Republican candidates were still in the running.
A combative US president could aggravate an already delicate situation in the South China Sea, where a geopolitical tug-of-war between the US and China is already underway. Beijing will have noted Clinton's comments at a 2010 security summit in Hanoi that open access to the South China Sea was a US "national interest" and "pivotal to regional security".
"If she does choose to exacerbate tensions with China, it might lead to a scenario where various nations are going to have to choose sides," said Sa.
"[I]n Southeast Asia, non-alignment is the name of the game," he added. "Asean is very vocal about their insistence on staying out of great power politics, and they just want stability and peace so the countries can continue to develop and industrialise."
Donald Trump: madman theory
Since announcing his candidacy last year at Trump Tower in New York, Trump has garnered an impressively large legion of followers, having received the most votes in a presidential primary of any Republican candidate on record. His fan base, largely composed of working-class white people, has been drawn to his unfiltered oration style and image as a 'political outsider'.
Many others are highly unimpressed, accusing him of foregoing facts and exploiting fear and xenophobia, particularly with his suggestions of building a wall along the border with Mexico and banning Muslims from entering the US. In June 2015, he kicked off his whirlwind tour of mudslinging with a now-infamous statement on illegal Mexican immigrants: "They're bringing drugs. They're bringing crime. They're rapists. And some, I assume, are good people," he said.
Jamie Gillen, a professor at the National University of Singapore who writes on US-Asia relations, says that many in Southeast Asia worry about Trump's erratic behaviour. "The Southeast Asian governments are so unpredictable themselves," said Gillen. "If there's one thing to be gained from the United States, it tries to be as predictable as possible, in a more consistent way than a lot of the governments in Southeast Asia."
Many analysts have accused Trump of lacking a succinct foreign policy. However, the candidate would likely disagree. His foreign policy, he might say, is actually quite simple: "America First".
"America First will be the overriding theme of my administration," Trump said during a major speech outlining his foreign policy in April. "Under a Trump administration, no American citizen will ever again feel that their needs come second to the citizens of foreign countries."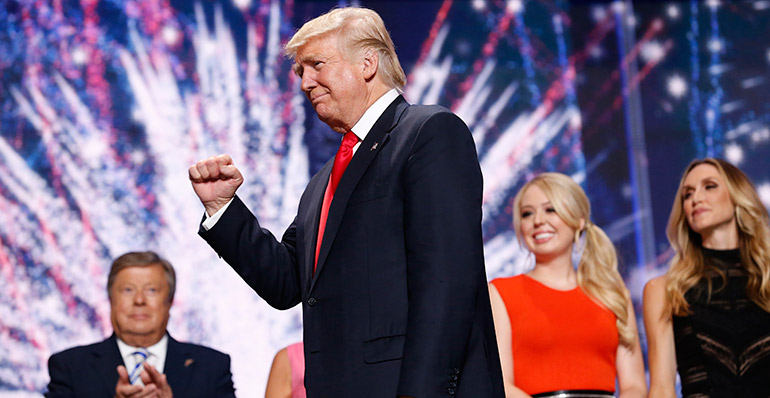 Trump has voiced scepticism about international institutions, saying that Britain would be "better off" without the EU, and criticising trade deals such as the North American Free Trade Agreement for outsourcing jobs that he says should have been allocated to US citizens. His isolationist attitude, some say, would lead to a swift withdrawal of US troops stationed on bases in Southeast Asia. Gillen posited that Trump could perhaps see Southeast Asia as unworthy of US attention, especially given tensions with China. "I could actually see him removing himself from the Southeast Asia story," Gillen explained. "He would say: 'Why do we have a dog in that fight?'"
Though Trump has yet to  directly comment on the region, Nick Bisley, a professor of international relations at La Trobe University in Melbourne, said that Trump's "America First" policy would reverberate across it, adding that US diplomatic ties in Southeast Asia would likely "diminish, if not disappear altogether".
Sa, on the other hand, was more cutting: "I don't think Donald Trump even knows Asean exists."
A report by analysts at Japanese brokerage firm Nomura entitled "Trumping Asia" says a Trump presidency "would no doubt hurt Asia's GDP growth and could ultimately drive cost-push inflation, impart smaller trade surpluses and looser macroeconomic policies". The report cites the Philippines as bearing a particularly large share of the Trump burden, claiming that tighter US immigration policies would lead to fewer workers going to the US, which currently hosts 34.5% of the total overseas Philippine population and accounts for roughly 31% of total worker remittances. According to the Philippines Central Bank, remittances amounted to $25.76 billion in 2015, or 9.8% of the country's GDP.
During Trump's appearances in interviews and debates, the billionaire has advertised "unpredictability" as a cornerstone of his proposed military policy, telling talk show host Hugh Hewitt last year that "you want to have a little bit of guesswork for the enemy".
Sophal Ear, professor of diplomacy and world affairs at Occidental College, Los Angeles, and author of Aid Dependence in Cambodia: How Foreign Assistance Undermines Democracy, said Southeast Asia would see US military partnerships wither under a Trump presidency. "I know that in realpolitik, there are no permanent friends or enemies, only permanent interests, but Trump takes it to another level," said Ear. "Southeast Asian US allies will be left twisting in the wind if he decides that they're not worthy of American support."