A fact-finding mission by the United Nations has alleged that Myanmar's military committed war crimes and crimes against humanity in its crackdown on its Muslim Rohingya ethnic minority in 2017. The report extends these allegations to the country's civilian leadership as well, which it holds culpable for denying and justifying the violence.
The UN report cites conclusive evidence that the alleged systematic violence carried out by the country's military, known locally as the Tatmadaw, had exhibited "patterns of gross human rights violations and abuses" that "undoubtedly amounted to the gravest crimes under international law" – not only in Rakhine state but also in the states of Kachin and Shan.
The violence sparked off last year after a militant Rohingya group attacked a military outpost, killing 12. Observers and rights groups have subsequently accused Myanmar of using that attack as an excuse for its anti-Rohingya campaign. A report released by Fortify Rights in July alleged that the Tatmadaw had been preparing for the crackdown for months before the attack, systematically disarming Rohingya households and arming Buddhist Rakhine communities in the lead-up to the violence.
An estimated 25,000 Rohingya people have been killed, 700,000 have fled to Bangladesh and hundreds of villages have been burned and looted, according to UN research that includes satellite imagery. Interviews with survivors have revealed rape, sexual slavery, mass murders, torture and other crimes allegedly carried out by government forces.
The new report also contradicts decades of assertions by the Myanmar government that its repression and violence against religious minorities have been in direct response to security threats posed by these groups.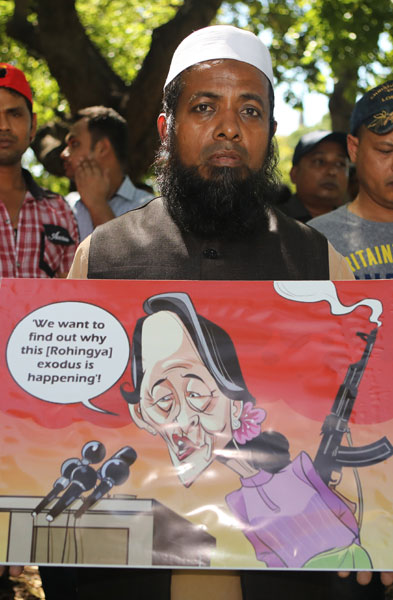 "Military necessity would never justify killing indiscriminately, gang raping women, assaulting children, and burning entire villages," the report states. "The Tatmadaw's tactics are consistently and grossly disproportionate to actual security threats, especially in Rakhine State, but also in northern Myanmar."
The report concluded that the UN found "sufficient information" to pursue a war crime and genocide investigation against Myanmar's military leadership. It also extended culpability to the civilian government of Myanmar, which is led by former Nobel Prize winner Aung San Suu Kyi. The report said the civilian government failed to protect or even speak out about the violence – and even spread "false narratives", destroyed evidence, and blocked investigations by independent parties.
Through their acts and omissions, the civilian authorities have contributed to the commission of atrocity crimes
The US State Department is expected to release its own findings on the violence. Secretary of State Mike Pompeo tweeted on Sunday that the US would "continue to hold those responsible accountable", and described the Tatmadaw's actions as "abhorrent ethnic cleansing".

Immediately after the UN report was released on Monday, Facebook removed 18 accounts, 52 Facebook pages and an Instagram account that together were followed by 12 million users – a rare move by the social media behemoth which has been accused of inaction as its site has been used to spread hateful messages against minority groups and activists.
"International experts, most recently in a report by the U.N. Human Rights Council-authorised fact-finding mission on Myanmar, have found evidence that many of these individuals and organizations committed or enabled serious human rights abuses in the country," Facebook posted. "We want to prevent them from using our service to further inflame ethnic and religious tensions."