Behind the scenes in downtown Ho Chi Minh City, Tuýp Pho No, a young artist-entrepreneur is subverting tradition in the one-party state
By Daniel Besant
Ducking into an alleyway off the traffic-snarled Lê Thánh Tôn in Ho Chi Minh City's increasingly swanky District 1, the atmosphere changes immediately. Outside in the sun, it's all plate-glass windows, coffee shops and plush hotels for those that can afford them. Off the main drag and in the shade, office workers grab a quick massage and pedicure, snaffle some lunchtime pho or chat over a café coffee.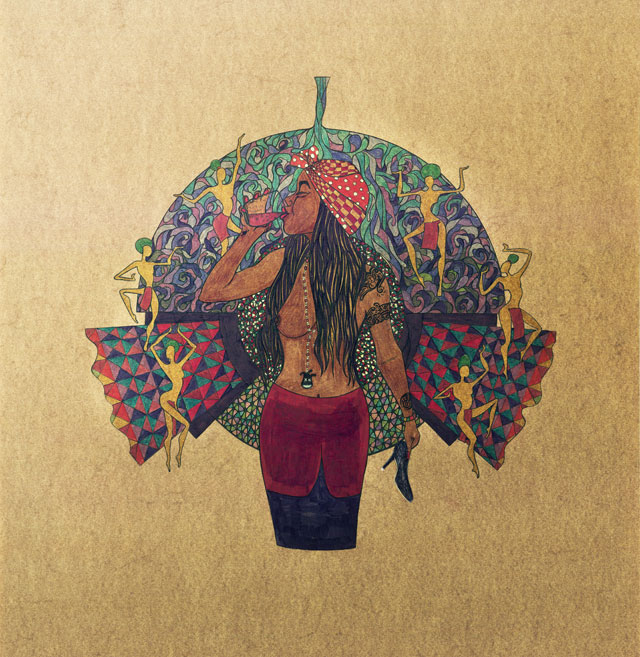 Through an entrance on the first floor we arrive at the city's hipster central – Mayhem Saigon. Inside this tucked-away boutique, staff are busy arranging neat racks of vintage clothing ahead of a grand opening for the shop – their new location – the following day.
Sitting on a battered sofa on artfully stripped-down floorboards, with distressed green plaster walls as a backdrop, sits the ever-relaxed 27-year-old Tuýp Pho No, part-owner of the shop. "When we decided to rent this place, it was all newly decorated," Tuýp says with a mischievous grin. "So we messed up the walls and scuffed up the floorboards." It looks great, but hopefully they have an understanding landlord.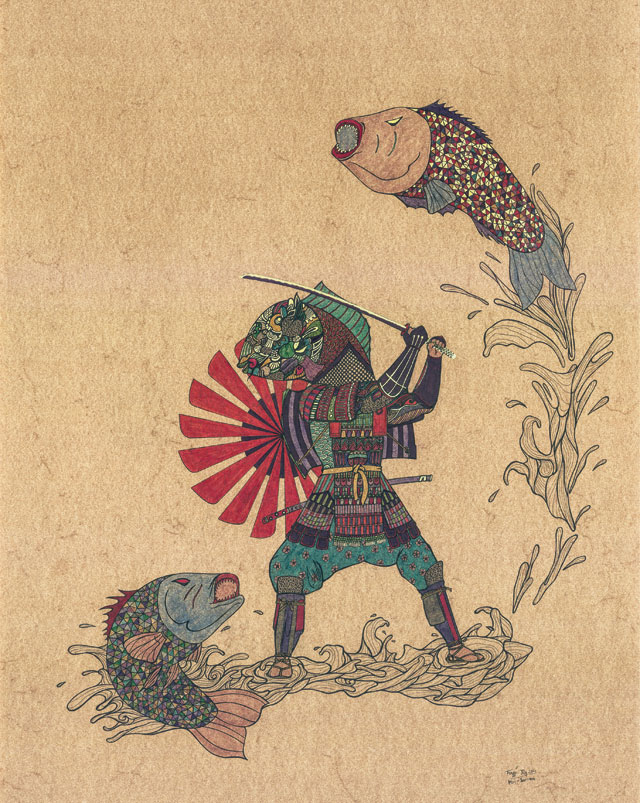 But we're not here to talk about their vintage clothing business, despite its success. We're here to talk about Tuýp's art, examples of which – in all their colourful, intricate, swirling psychedelic glory – are hung on the wall behind him. It's certainly not what you see on sale in and around nearby Ben Thanh Market in the shops stuffed with copies of Klimt paintings and generic washy watercolours of bucolic scenes.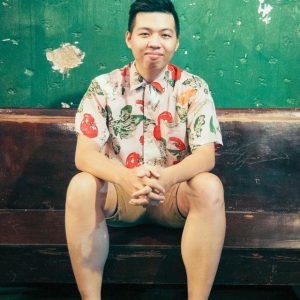 "I really don't care what people think about my art, " says Tuýp, who showed his work for the first time last year. "And I don't know where I got the urge to draw from." There's no doubt he's got the urge though, as he talks us through a score of his best work.
Born in a small town two hours from Hanoi, Tuýp moved to Ho Chi Minh City with his parents at an early age. Throughout school and most of university – studying business – in Thailand, there was little evidence of his artistic talent other than when he was "you know, bored in class". However, sometime in 2010, his muse descended and he began to produce drawings.
When he finished university, he worked for one year in an office. "I found I didn't want to work there. I just wanted to get out," Tuýp says. "I got together with three of my friends and we got the idea to open a shop selling vintage clothes." They opened Mayhem in September 2013 but, although it became successful quite quickly, that didn't stop the drawing. In fact, that was when he began to produce more and more work. "I don't find it a problem mixing art with running a business," he says.
The interactions and relationships of men and women are a theme in his work. "I'm interested in drawing the human body, the connections between men and women," Tuýp says. "But my images have to be extreme in some way, to make them different."
Asked where he gets his inspiration from, Tuýp says it flows from one initial thought to others. "My art is a collection of ideas," he says. "When I begin I have one idea, but then I change my idea, maybe many times before I finish."
Motifs taken from religious art – the Buddhist circle of life, Hindu deities – pervade his pieces, but Tuýp is not religious. "Religious art is very rich and detailed, so why not take from this,' he says. "It's beautiful."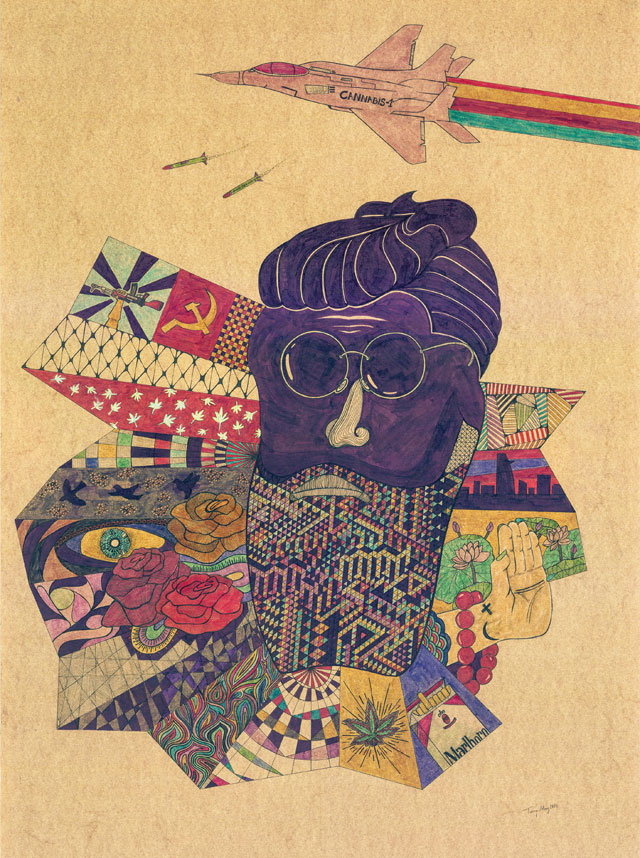 The first work he sold – at his recent show – is entitled "Pussy Diver", a picture of a burly figure in a diving helmet covered in a purple, mauve and blue mosaic pattern. Atop the helmet sits an outsize penis – with a head finished in luminous paint – drooping towards the front. The image amazingly manages to be subtle and confrontational, traditional and modern, all at once – the same feeling one gets from Tuýp himself.
"In five years time, I want to be successful in the vintage clothing business. I want to be famous, maybe not too famous," Tuýp says. "But as much as a businessman as an artist"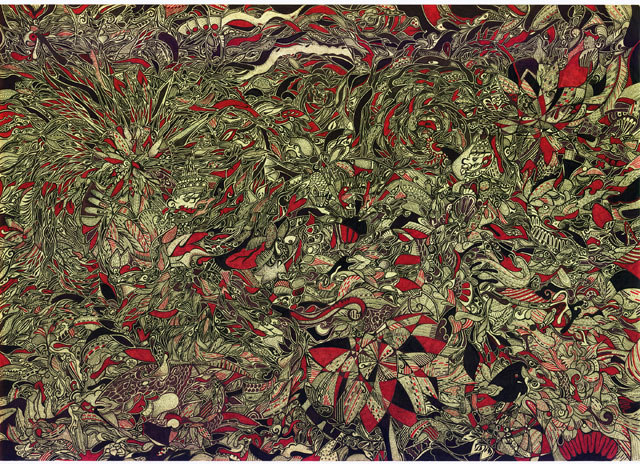 We leave Tuýp to his plans for another show in June or July. As we depart, he's back to the job in hand – preparing for the next day's official opening. The clothing – the same garb as Tuýp wears himself – may not seem so different to what you would see worn by twentysomethings in Shoreditch or Williamsburg. But in Vietnam – just as in Tuýp's work – there's a definite sense of confronting norms. Out on the streets, in the back alleys, Vietnam is changing fast. 
Keep reading:
"Where the kids are hip" – There's a revolution happening in Vietnam, one that prefers bow ties to guns and flannel shirts over placards. Cast aside your copy of Vogue and get down with the hipsters of Ho Chi Minh City