The Flappy Bird frenzy is pushing mobile app developers to take on the world
By Colin Meyn
Sompom Creative Studio is located on the sixth floor of a repurposed mall in Phnom Penh. It is a sparse office: The walls are white and there are two long dark tables and two dark desks, which are mostly bare except for electronics – laptops, desktop monitors, smartphones and a couple of tablets.
Jeremy Mum and Rudy Rosamont, the founders of this mobile app startup, are designers and developers from France and have a staff of three Cambodian programmers. Last year, the studio released an educational mobile app for children, called Numbees, which teaches users mathematics. It became, for a short time, the top-selling educational app in Japan. A less educational logic game sold well in Russia.





"We target globally," says Mum, sitting in Sompom's conference room. "Monetisation is difficult, because you need to reach volume. Right now we have ideas, ideas that would take a lot of time, but we need better staff – and cash." Sompom plans to hire two more staff soon, and is working on a new Numbees game, a word guessing game and an arcade game.
Rosamont describes Sompom's business strategy as this: "We look at other apps and decide what people find fun, and then come up with our own idea." In most ways, being located in Cambodia is no different to being anywhere else in the world – locked into a computer – he says. "The drawback of doing it here is finding staff that have experience. It takes a lot of time for training."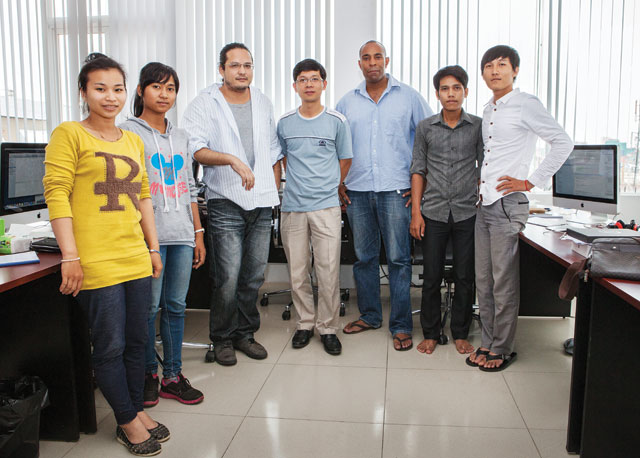 The popularity of Flappy Bird, the creation of Vietnamese programmer Dong Nguyen and published by .GEARS Studios, was beyond compare. Nguyen claimed to be making $50,000 per day from advertisements that appeared at the top of the screen as users played. In January, the game was the most popular free app in both China and the US. But even in Cambodia, with one of the least developed tech industries in Southeast Asia, app developers are joining the global race to catch the attention of a rapidly expanding population of smartphone users.
"Flappy Bird is an anomaly," says Anh-Minh Do, a Vietnam-based editor at the website Tech in Asia. "But a few other studios [in Vietnam] are selling well worldwide." VNG, the largest internet and technology company in the country, is aggressively looking for mobile apps worth investing in. "They still make a lot of money off online-based games, but they have to get [to the mobile app market] before it's too late, so they are not totally disrupted."
About a quarter of the world's population own smartphones, which amounts to about 1.75 billion prospective consumers – a rather large market for anyone selling their goods through smartphones. "There is a growing bunch of products and mobile studios that are global," says Anh-Minh. "The problem is gaming is hard to monetise."  Developers can either ask users to pay for games up front, charge them for upgrades or offer free games, all in the hope of attracting enough traffic to sell ads. With tens of thousands of developers competing for popularity and profit, turning creativity into cash is a struggle.
Nonetheless, companies in the region's more developed countries, where smartphone usage is high and the infrastructure exists for digital transactions, companies and banks are searching for profitable apps and innovative studios.
Alvin Ng, a Malaysian developer living in Chiang Mai, says that about three years ago the mobile industry took off in the region, with Singapore leading the way by hosting the region's biggest tech conference, E27, which connects startups with investors. Singapore's government, along with private investors, has created a climate in which startups are an attractive investment. As a global tech centre, "Singapore is better [than other countries in the region] for finding investment. This allows people to work in an environment where they don't have to worry about money, they just need to be a passionate developer," says Ng. "But it doesn't really determine the success of the tech company or the development itself.
"Developers can actually create their own application, can actually become a business owner. It's just whether you want to work a nine-to-five or you do something more than that and you go outside the usual," adds Ng.
While design may determine part of a game's success, exposure is equally important. There is a booming industry of mobile app publishers, who take care of the marketing of an app once it has been released. Appearing on tech websites, blogs, or possibly on the landing screen of the iTunes App Store, Google Play or Android devices can be a critical boost that allows a game to become profitable. Global tech conferences, as well as workshops and techie retreats held across Asia, have helped to form a well-connected community
of developers.
"People join the events and know things and they get in touch with people who are doing awesome stuff, like in the US. At least for me, its no longer a very hard thing for Asian developers to do something good," says Ng.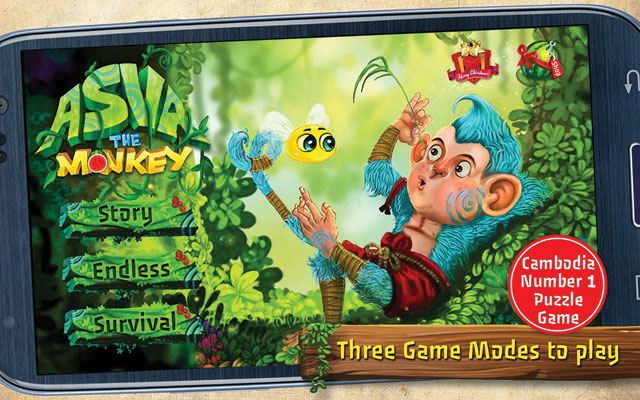 In Thailand, mobile phone companies are racing for a share of the mobile content market. About 36% of mobile users in Thailand were using smartphones as of December, according to a survey conducted by Telenor Group, an international provider of communications data. The country's population of 66 million is big enough to support a niche market of games made for a domestic audience. Companies pay for some games as part of branding campaigns, while others are independent projects made purely for entertainment. During the anti-government protests led by former Democrat MP Suthep Thaugsuban, a Thai developer who calls himself Nong Dev created a memory-matching app in which users are shown a series of cards with the faces of 'sexy' female protesters on them. Transport minister Chatchart Sittipunt, the star of a number of mobile games, was featured in Chatchart Crush, a variation of the infamous Candy Crush. "Some people even pay 30 to 60 baht [$1 to $2] for these games, which are created by individual developers," says Arthit Suriyawongkul, who runs the Thai Netizen Network. "These games are created and released by individual developers. Most companies stay away from politics."
Most of the money going into mobile content studios is for apps that integrate a company's products or services into the lives of smartphone users. But for developers without financial backing, it is still possible to create a game that goes viral. "Games can spread on Twitter, Facebook and then mainstream media," says Suriyawongkul. In the wake of the disappearance of Malaysia Airlines flight MH370, an app called Bomoh: Rescue Run that mocks the behaviour of a now infamous shaman who investigated the plane's whereabouts was number five on Google Play's free download list in Malaysia, beating even the world-famous photo app Instagram.
Even in Cambodia, some developers see opportunities down the road in the domestic market. Ear Uy, who founded Cambodia's first mobile app development studio, Osja, manages about ten developers and designers, who work on the ground floor of a house in central Phnom Penh. The studio's flagship game was Asva the Monkey, in which a monkey must move through a series of puzzles set in a secret forest near Angkor Wat. It became the most downloaded game in Cambodia soon after its release in November 2012 – after just two weeks it had 3,000 downloads on both Android and Apple platforms. That number is now in the tens of thousands.
But such interest is not enough to support a globally competitive studio. "It's impossible to get funding for tech companies," says Uy of banks and investors in Cambodia. With very limited use of credit cards and scant digital services provided by banks, most smartphone users have no way of purchasing products online, even if they want to. "There is no system or platform for people who want to get funding. In other countries, the support of the tech industry is there."
So for now, Uy is travelling as often as possible to attend regional tech conferences to show off his games and woo foreign investors. "It's weird when you go outside [the country] and say: 'I'm the first game developer in Cambodia.' It's not easy. We don't compete in the country – we compete internationally."

Keep reading:
"Sharing is caring" – Are Indonesia's young digital natives amusing themselves into a state of political antipathy, or will the latent capacity of social media be unleashed in next year's elections?
"Pushing the boundaries" – A young Cambodian woman harnesses social media