Are Indonesia's young digital natives amusing themselves into a state of political antipathy, or will the latent capacity of social media be unleashed in next year's elections?
By George Steptoe
Amusing Ourselves to Death is the title of professor Neil Postman's book, published nearly three decades ago, in which he set out the argument that a constant torrent of inanity in national media outlets had diluted credible journalism to such an extent that state censorship was no longer necessary. In an era of viral YouTube 'cat fail' clips, but one that has also seen the rise of 'the fifth estate', the explosion of social media in Southeast Asia has given rise to starkly different trends.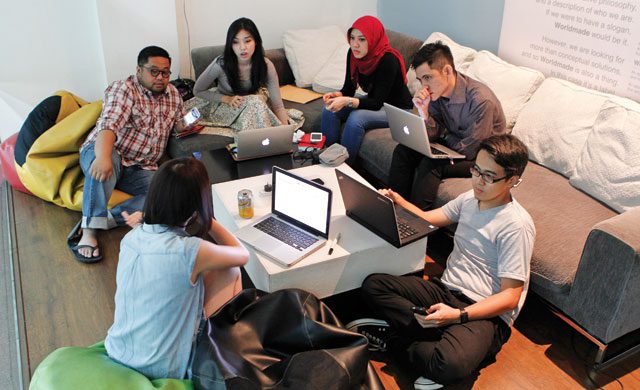 The Vietnamese government has erred on the side of censorship, passing a law that came into effect on September 1 outlawing the sharing of anything other than "personal information" in a bid to stifle the viability of social networking sites as a tool for dissent. In Cambodia, a uniquely Khmer brand of cyber activism has defied Postman's binary pigeonholes: YouTube and Facebook continue to be instrumental in organising an opposition youth movement that is more informed, engaged and outspoken than ever before.
Indonesia's love affair with social media is well documented, but that makes it no less staggering. The archipelagic nation has 65 million active Facebook users and almost 30 million Twitter users. Jakarta was declared the world's "Twitter capital" in the most recent research conducted by Semiocast, a social media analytics company. The city single-handedly publishes 2.4% of the world's tweets which, in Indonesia, are pounded out at a rate of 15 per second.
This boom is unlikely to abate any time soon, with growth fuelled by the availability of cheap Chinese mobile devices and smartphones, which currently facilitate 62% of internet use. Mobile penetration is set to exceed 100% by 2015 – representing at least one mobile device for every person.
The 67 million first-time voters who will be joining the electorate in time for Indonesia's national elections next year are highly tech-literate: nine out of ten people between the ages of 15 and 19 go online regularly, and 80% of Indonesia's internet users are under the age of 35. However, figures released by Yahoo! and TNS suggest that 90% of traffic is directed to social networking sites, while a recent Indikator Politik Indonesia survey found that just 6% of internet use was to access political news.
According to Arief Rakhmadani, director of strategy at XM Gravity, a Jakarta-based digital PR firm, politics and social media needn't be mutually exclusive. "It is one of the main touch points that a political leader or party has to engage voters or start a dialogue with their constituents. In Indonesia, where elections still resemble a beauty contest, viral content on social media can surely bring a level of political influence," he said. "There is a huge opportunity for political leaders and parties to start engaging Indonesia's internet users."
Social media campaigns are becoming an increasingly indispensible tool that would-be lawmakers neglect at their peril. "Social media has become a must for any political campaign," said Sony Subrata, former campaign advisor to the governor of Jakarta and founder of PoliticaWave, which monitors millions of online conversations around the clock. "In the 2014 campaign, we will see how the digital-savvy candidates will benefit."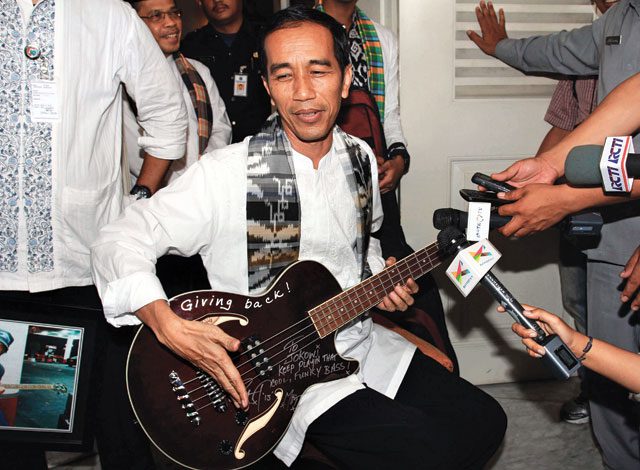 Joko Widodo, Jakarta's current governor, who is affectionately known as 'Jokowi', understands this more than most. The heavy metal-loving former Mayor of Solo, who has an army of more than 700,000 Twitter followers, has successfully cultivated a clean, down-to-earth image that is resonating with a young electorate. Jokowi is yet to comment on whether he will run for the presidency, but he is already the bookies' favourite, with a recent Kompas newspaper poll putting him in the lead with 32.5% of the popular vote, up from 17.7% in December.
In the lead-up to the Jakarta gubernatorial election, the virtual volunteer community Jokowi-Ahok Social Media Volunteers (JASMEV) recruited thousands to bombard Twitter with a million tweets in support for their candidate. Jokowi's online popularity, gauged by PoliticaWave's logging of his positive mentions, proved an accurate barometer of wider public opinion, and the electorate returned a 53% majority. According to Subrata, PoliticaWave used the same methods to correctly predict the results of seven out of ten other major provincial elections a week before the official count.
Other public figures are starting to cotton on to the value of social media, all the way up to the president, Susilo Bambang Yudhoyono. "[Yudhoyono] has taken enthusiastically to Twitter since joining earlier this year. He frequently personally signs his tweets and now has a Facebook page," said David McRae, a research fellow at the Lowy Institute for International Policy.
Further down the political chain, cash-strapped candidates faced with expensive traditional campaigns will eagerly look to exploit new media, said David Hill of the Southeast Asia Research Program at Murdoch University in Perth. The parliamentary elections will be a "mammoth undertaking" according to Hill, with dozens of parties and hundreds, if not thousands, of candidates all jockeying for profile.
"From among this melee will emerge interest groups and smaller political parties trying to promote themselves in ways that are low investment and high return," said Hill. "They'll be depending on networks of voluntary supporters to use whatever social media they can to mobilise voters among a dispersed and loose network, rather than through a top-down central
party mechanism."
As well as cost-efficiency, a further logistical consideration is the new General Election Committee (KPU) regulations that will slash public displays of electioneering material by restricting it to designated billboards.
In a bid to maintain proportional coverage – given that at least two of the nation's media moguls have declared intentions to enter the presidential race – new rules mean that campaign television advertisements must be crammed into a three-week window immediately before election day. Cyberspace, then, will become an increasingly important domain for parties and politicians to flaunt their electoral wares.
The intersection of traditional and social media has created a unique "media ecosystem" according to Enda Nasution, a TED fellow, social media expert and founder of the Go Blog Media Network. Nasution believes the feedback loop between the mainstream press reporting on online campaigns – and vice versa – has created a climate where viral trends can drive the agenda and enact real social change. For example, when the Indonesian Corruption Eradication Committee (KPK) came under fire from the Indonesian police force, President Yudhoyono was forced to step in after the #SaveKPK hashtag, which criticised his inaction, reached 9.4 million internet users.
Indonesia is experiencing a situation of real tension between a democratic system and an established elite "that is endeavouring to protect its influence and maximise gain in the increasingly transparent political system that is emerging", according to Hill.
The role of new media formats, and their capacity for public dialogue, will become increasingly prominent as the political landscape shifts towards more accountable governance, both on the campaign trail and beyond.
Also view:
"School's out…" – An online movement sweeping the world has the power to change education as we know it
"Shaking up the party" – Many Indonesians are hoping that Joko Widodo will spearhead a new era of clean politics once the current president wraps up his maximum second term in office