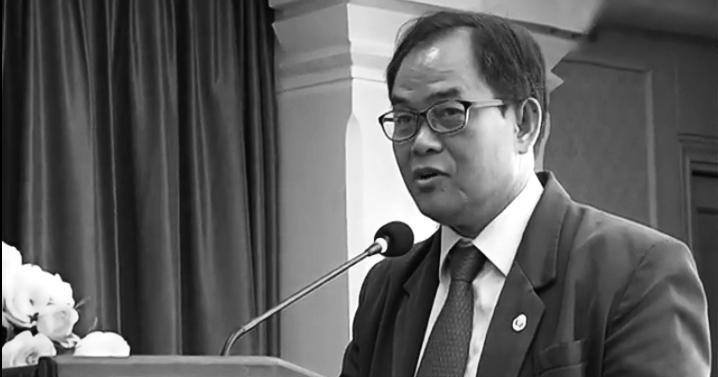 Last week we looked at Cambodia's $80 billion construction project known as Dragon City. Here, an in-depth interview with Sophean to discuss making the leap from dream to reality
When it comes to "Dragon City", how did you come up with the idea, and why choose to build a second capital city?
We know that in Phnom Penh now, there is a lot of traffic, and this is a very important problem. We have a lot of difficulty to go anywhere. At the same time, Phnom Penh is an old city that has been set up since the 16th century. [King Father Norodom] Sihanouk built this city to accommodate about a million people, but now we have two million already. So this means that we have a lot of big cars and bikes here, and we need to think about the development of a new city. It is the progression of our country.
We had a meeting with a member of Zaha Hadid's architect firm about five years ago. They wanted to change Phnom Penh to make it a more commercial city, and I said in my opinion, I said it's not possible. It would be like putting a new engine in an old, wooden car. So I think it's better to set up a new one. I informed the land minister at the time that I think it's not possible to renew Phnom Penh because, for example, we cannot go more than five or six metres deep without hitting water.
So you said, essentially, "It's impossible to fix Phnom Penh, let's move the capital elsewhere"?
Yes, yes. For my idea to set up a new city, I studied the history of our old cities like Nokor Phnom, south of Phnom Penh. At the same time, we had another business city set up in what is now Vietnamese territory by the Kampuchea Krom. So sometimes these cities had business from Europe, they were multicultural cities… I can't remember the whole history, I wrote it in my proposal and it has been a long time since then. But I have studied the history, and historians say that every 100 years or so, Cambodia built a new city.
But now, from the 14th to the 16th centuries, we haven't set up a new city. This is a problem in our country, but nobody is trying to think about this problem. I thought of Prime Minister Hun Sen's zodiac sign, the dragon, which also connects to the mythology of the land with the Cambodian naga. And this land where we build, it looks already like the head of the dragon.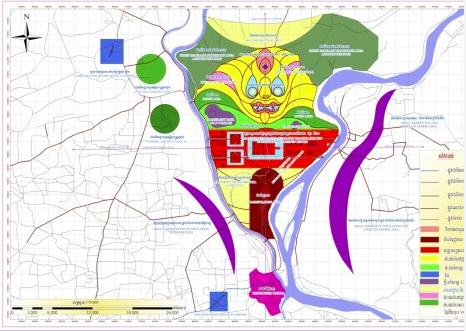 You mean the land kind of looks like it's shaped like a naga?
Yes. So we have here the Mekong River, and this is Route 6. Then this is Pursat River, at the same time we have this one road, road number 61, which leads from Road Number 5.  So we have the design already that looks like a snake head, and I have the idea to make this land look like a Cambodian dragon. Because the snake is important to our Khmer mythology, the naga. It is a really good natural design already.
How do you plan to genuinely make this project look like a Cambodian dragon head?
So here, you can see the eyes of the naga, those will be illustrated by two buildings that are symmetrical, built in the same style and colour. At the same time, you have the main building here in the forehead between the eyes, and this is the residence of the Prime Minister – the diamond of the dragon. We would also build residential apartments here in the mouth, and this is the concept, to create a structure from the sky that looks like a dragon coming up out of the ground. It will be attractive for tourism in Cambodia, so we can fly in and see this land, see these eyes, all lit up.
I think this is going to be an international city, anyone who wants to come to buy the land and build a building, it is up to them to do. All foreign people should be allowed to come here, but the team wants it to look like a dragon. The eyes, the nose, the teeth – they look like the picture of the dragon from the earth. Companies can come to invest in Cambodia and can come to live here because this is going to be an international city. This is our philosophy.
Is there much development on that land yet?
Not yet – it is now still to be developed according to my idea. The Ministry of Wildlife and Fisheries used to be responsible for this land, but now some Oknha [a royal title given to wealthy businesspeople who make a substantial donation to the government] who are rich have come to set up some new residences here, which cuts into the land.
Do you think the Oknha who have developed these residences will eventually contribute to the building of Dragon City?
I think they might not contribute, but we can still do my idea with these residences there, no problem. But we need this land to make a new city because there is fresh air, new transportation underground – we can do a subway or metro, like in Europe. Before we set up a new city, we must set up the infrastructure inside the earth. We can have different sectors of the city where there are different activities, so we can have business compounds, an education compound… we can have administration, business and residential sections.
So we can set up the new compound like this, to have the government be a hub of activity. Today, if we want to go to the Ministry of Interior, we go one way. If we want to go to the Ministry of Defense, we go another way. They're not in the same place. But we want to have all the ministries in the same place, and to have the metro travel between them.
At the same time, now we have a lot of Chinese investment in Cambodia. And China… has the same sign of the dragon. So this means that I develop this idea to have a connection with China, to help develop this new city. We also have a historical connection with China… and this relationship continues now, with our king and prime minister. This is the concept to set up this new city and to have the connection with Chinese companies.

So you're reaching out to Chinese companies. Are you seeking out direct funding from the Chinese government as well?
Well, we start with this one, with the Chinese companies. And we have some companies backed by the Chinese government, some state companies have an interest in this project. But we still have difficulties, because we cannot bring a lot of money to complete this project. We must make it sensible to the Chinese government. This is the state cooperation that we need.
So you have to cut back on costs?
We can do this. I know… $80 billion is a lot. We have other companies, from England or France or Malaysia, who continue to look at this new city and will maybe invest. We have a connection with a Chinese company and they wanted to set up just one project, an Asean convention centre. So we set aside land for just this project, more than 9,000 square metres. We can start on this project, and then after continue to develop the rest of the city.
So when do you think you could break ground on just this convention centre?
Now we have difficulty, because the land there is partly free, but also some is occupied by the people.
That leads me to another question – how do you expect to move the locals from the land? Will you pay them?
Yes, normally if we have the ability to pay, this is good. This is the new policy of our government. But some people who live there could be benefitted from the project, also: the city is intended to have living space, and jobs too. At the same time, we have a law… it means the state can take the land to build or create a new project for the country. So it means the people who bought the land already, it can be bought back from them at the same price, and the government can use this land to build or create the new project for the country. We can do it like this.
We cannot start on the convention centre now, though, because the company doesn't yet have the support from the Chinese and Cambodian states. But we must make this project sensible to the government to understand that we need a new city now in our country. We continue to live in the old city set up by the last king, in the 16th century. We must develop a new city to support our life.
How do you make this investment very interesting to Chinese companies and to the state?
My idea is to make this new city look like the international city, with laws. With the Khmer law now, foreigners cannot buy the land with our regulations. They can only buy the land from the first floor up. With this policy, we can have, for instance, French people come to buy, and have a new law to control the land. A new law for a new city. It means that foreigners can buy the land to set up the building. But I mean, of course, under the control of the chief architect of the city project – they cannot build freely but have to have some concept to have the city look like a dragon from above.
So say, if I wanted another country to invest in this project, then I could sell them a section of the land? I could, for example, feasibly sell a section of Cambodian land to the Chinese state, and encourage the Chinese government to invest in the overall project that way?
Yes. Yes, yes, yes. This is our idea, our concept to develop this new city.
Have there been changes to the initial design for the city?
The plans are always changing, but they are all controlled by the team. We continue to work because for a project like this we need more than 500 people working together, foreigners and locals – anyone who has the capacity to invest in this project.
If we have another company that is interested in building this project, we can allow it. But we must have the relationship form between China and Cambodia first. This is the plan… focus first on China, because now, the relationship with China is very strong. We can also cooperate with Japanese or European companies, no problem. But China is better. Because now… China has a lot of developments, you know, like in Sihanoukville. So this means we open our door to cooperate with any company, but sometimes… other companies don't understand the concept of this project very well.