Leang Syna is arguably Cambodia's top makeup and beauty professional, having worked on films sets with award-winning directors such as Rithy Panh and, more recently, Hollywood giant Angelina Jolie. She talks about the art of special makeup effects and why the perception of the beauty industry is changing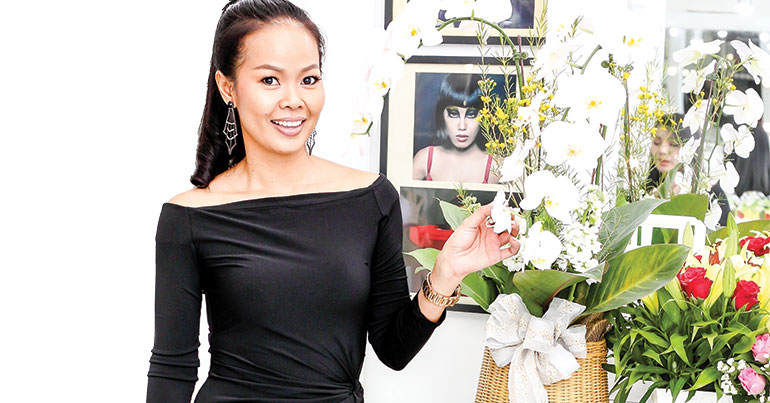 What's your favourite project?
[The] Angelina movie. My best. I'd wished for a long time to meet her, so I feel like [through] working with her I built my confidence… For me it was exciting to learn something different [compared to] the movies that I'd worked on in the past, like [special makeup effects for] explosions, like [cut off ] legs, something I've never seen before.
What's it like working on a movie?
Working on a movie takes a long time… For people that aren't used to working on movies they feel it's hard work because we need to get up so early in the morning, we need to stand by the whole day with only a one-hour break for lunch. It's hard. Working on an island on a movie is not like here – here we have air conditioners. It's hot and you cannot stop. You need to follow the schedule.
What do you enjoy most about working in the field?
I like special makeup effects. I feel like it's different from beauty… It's always developing, so I feel I always need to develop myself too. I want to learn more – I watched Game of Thrones and [thought]: I want to do that. I read that [some of the makeup work] takes eight hours. Before, I thought that makeup couldn't take that long. For each movie the makeup is always different. It makes me want to learn more about special effects. Here, not many people learn about it.
Do you think the reputation of the beauty industry in Cambodia has improved in recent years?
In the past people always judged makeup artists. They always thought that it was not a serious job. In the past, when I told people that I'm a makeup artist they thought that it's cheap work for Cambodia. But now they think that makeup [artists] can earn good money… People know me, because they know that I always like to create makeup by myself. And people think it's cool and contact me to do photoshoots, interviews on television, stuff like that. Before, people didn't know about it. In the future I think people will be more interested to learn about beauty, even the boys. They join makeup classes. They want to become makeup artists.
What is your advice for aspiring makeup artists?
If you want to become a professional makeup artist you need to always learn more and more. It's not only [about] completing the course. It's about learning the skill, learning about the product and also how to deal with the customer and always keep professional. Some customers are not easy, so I teach people to be patient when you do makeup on someone. If you want to become a professional makeup artist, you cannot get angry.
This article was published in the April edition of Southeast Asia Globe magazine. For full access, subscribe here.
Related reading: