"I'm Malaysian," says the young man while greedily licking yoghurt from a spoon, "so it'll get done," he continues between slurps, "just probably not on time," he says as his dairy-coated tongue makes yet another unwelcome appearance.
What should one do in that situation?
When the yoghurt is being guzzled by one of Malaysia's finest mixed martial artists, one should smile and nod, despite having no idea what he is talking about.
A few minutes later, after attacking the breakfast buffet with gusto, I notice that the man on the table next to me is Bakhtiyar Abbasov, the stern-faced Azerbaijani welterweight. My plate houses bacon, sausages, fried eggs, baked beans and toast. Abbasov has plumped for five bananas. Which he eats while staring at himself in the mirror that encircles the restaurant.
During the next few days, the sight of muscular men doing muscular things will become the norm at the Copthorne King's hotel in downtown Singapore. One Fighting Championship is in town and that means Asia's top mixed martial artists are here too.
Mixed martial arts (MMA) is rapidly becoming a global phenomenon. One FC has tapped into the mainframe and, led by CEO Victor Cui, become Asia's largest MMA organisation with 90% market share. Mainstream media coverage in Asia has boosted the sport's growth across the continent and One FC has signed a mammoth ten-year cable television deal with Fox and Star Sports. According to Cui, the organisation's events are broadcast in 70 countries to a billion people.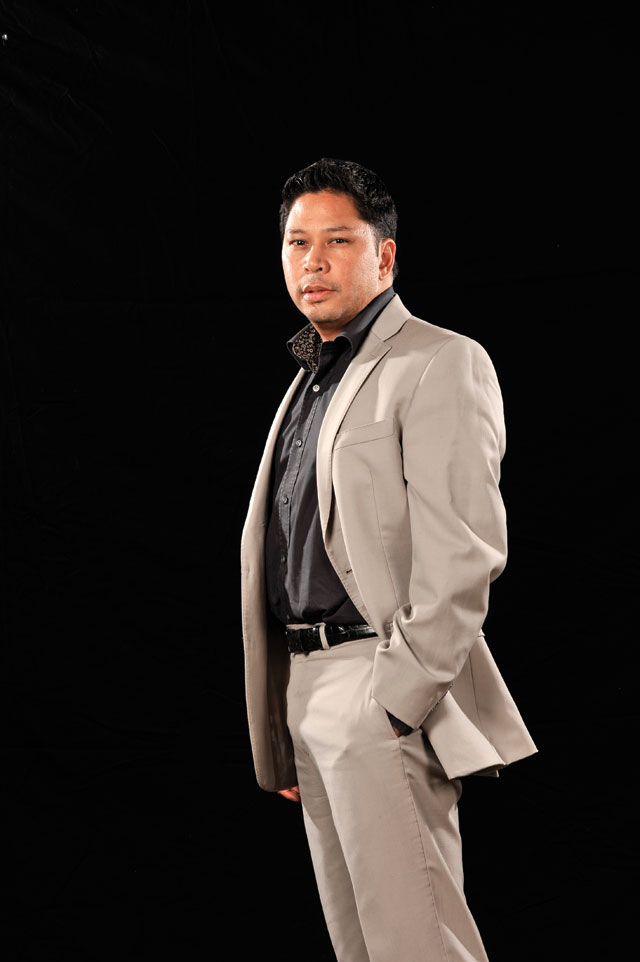 "Two-and-a-half years ago I called a press conference at the Singapore Indoor Stadium to launch One FC," remembers Cui, a Canadian of Filipino descent.
"I said: 'We're gonna fill out this stadium. MMA is gonna grow and people are gonna talk about it.' And the media were like: 'M-M-what? Muh-Muh-Eh?' But in the past eight years, zero sporting events have packed this venue. Apart from us. We fill it to capacity consistently."
MMA has only existed in its current form for about two decades and has come a long way from the days when it was commonly referred to as 'cage fighting' and considered a brutal spectacle for audiences heavy on testosterone and light on intellect. It is now a respected discipline and One FC counts Muay Thai world champions, judo black belts and combat sambo champions among its roster. The organisation's biggest recent signing is Ben Askren, a former Olympic wrestler from the US who has won all 13 of his MMA fights and is widely considered one of the top five welterweights in the world.
"I think I can bring even more credibility to One FC. Obviously, I've had a lot of success – everywhere I've been, I've won," says Askren, who brims with a playful confidence. "Bringing in a homegrown guy, people could argue he can only beat guys in that organisation, but if you bring in a guy from outside who's won everywhere else, then it brings extra credibility. Especially if – somehow – I lose, they will say: 'Well, obviously the guy who beat Ben is really good too, because Ben had beaten everyone else.'"
The bill for the Singapore event, christened One FC: Honor & Glory, includes two Singaporeans, two Malaysians, a Mongolian, a Hong Konger and a Filipino. It is a veritable Asian pick'n'mix, but there are two fighters who stand out more than most as they mill around the hotel. Alain Ngalani was born in Cameroon and is approximately three metres wide. If he lived in Cambodia, his arms would have been illegally logged by now. He is also flexible and quick; a Muay Thai world champion. Looking at this specimen, it is impossible to contemplate a human being who might be able to beat him up. Then Chi Lewis Parry walks in.
Parry is a former bouncer from London who has taken "a few bottles round the back of my head". How anyone reached his head to administer said bottling, however, is a mystery. Parry is 206cm tall (6'9") and built like a Range Rover. As we talk, I look at his fists. To borrow an idiom from his home country, I believe that Parry might genuinely be capable of knocking my block off. He speaks frequently about MMA's growth as a sport; about the "skill set" needed to compete.
"I couldn't just be a pub brawler and go out there and compete in One FC," says the former professional basketball player. "I believe that, like most sports, after a certain level of skill is reached, mental strength is what sorts the champions from the also-rans in MMA. When I get close to a fight I start thinking about the opponent: what he smells like, or what he sounds like when he's breathing and he's close – real minute detail. So then, when I'm presented with it, nothing's new. Or I think about how big this person is going to be, how physically imposing they might be. Then when you meet them, they're not physically imposing, so it gives you a bit of a mental edge."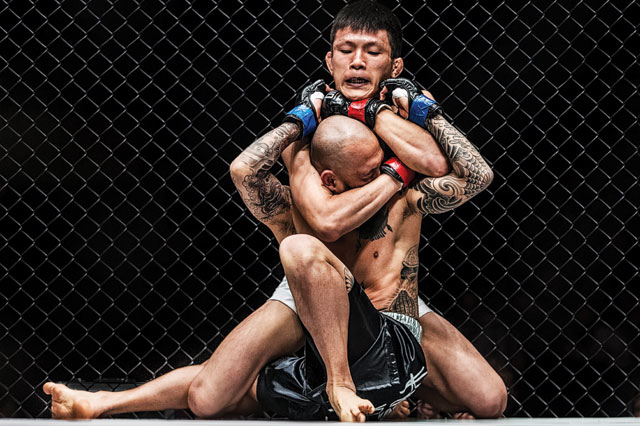 The night before the event the mind games have already begun. The centre of Clarke Quay, Singapore's drinking and dining hub, has been commandeered by One FC and its fans. The official weigh-in is a show in itself, with lights, cameras, music and plenty of aggressive posturing as the fighters size each other up in front of the crowd. At one point a local fan unexpectedly spots Rich Franklin – an MMA legend who has recently signed up as One FC's vice-president. The fan stops in his tracks, holds his chest and mouths the words: "Oh. My. God."
Backstage, Radeem Rahman is looking relaxed. He will be fighting in front of his home crowd tomorrow and his enthusiasm is infectious; even a little touching.
"A lot of people recognise me and say: 'Hey Radeem, good luck,' or they ask to take a photo with me," he says with a broad smile. "That's good, it means that people are taking notice of MMA. I started training about four years ago. Back then, MMA was just starting out in Southeast Asia, so most Singaporeans only knew boxing or Muay Thai. But the change has been huge – huge! People are becoming familiar with the rules, the different ways we can win, how the fights are judged. We even have housewives learning MMA at our gym."
Such growth is not limited to Singapore. One FC events in Manila regularly attract crowds of 20,000, while Kuala Lumpur and Jakarta are also regional hotbeds for the sport. In September, One FC will attempt to break a brand new market when it pitches up in Cambodia. Simply put, it will be the most spectacular, professional sporting event in the country's recent history.
"I think what you're seeing everywhere we go around Asia is that for the first time in two or three decades, in the sporting world at least, we're delivering Asian heroes to Asian people. And we're delivering them at a level that the rest of the world wants to see," says Cui excitedly.
"This region has been so hungry for heroes that Tiger Woods comes over and he's, like, one-twentieth Thai and everyone's going: 'He's Thai! We love him! He's Thai, Thai, Thai!'

Victor Cui
"We haven't had many Asian sports heroes on a world stage because we just haven't had a sport that's able to showcase them. There are physical differences; experience differences. Baseball, basketball, soccer, golf – it's hard to catch up with countries that have playing these sports for hundreds of years. That's not the case with MMA. It's not so much of a stretch if a Muay Thai fighter wants to transition into MMA – he's probably got 300 fights under his belt, he understands combat. It's the same for a Cambodian fighter, or a Myanmar fighter."
Fight night. Singapore Indoor Stadium. Twelve thousand people. Every fighter makes an entrance worthy of a rock star, accompanied by a kaleidoscopic blaze of graphics, pyrotechnics and booming songs that range from "The Baddest Man Alive" by the Black Keys and RZA to "Give Up the Funk" by Parliament and "Rock You Like a Hurricane" by Scorpions. It is big. It is brash. It is incredible fun.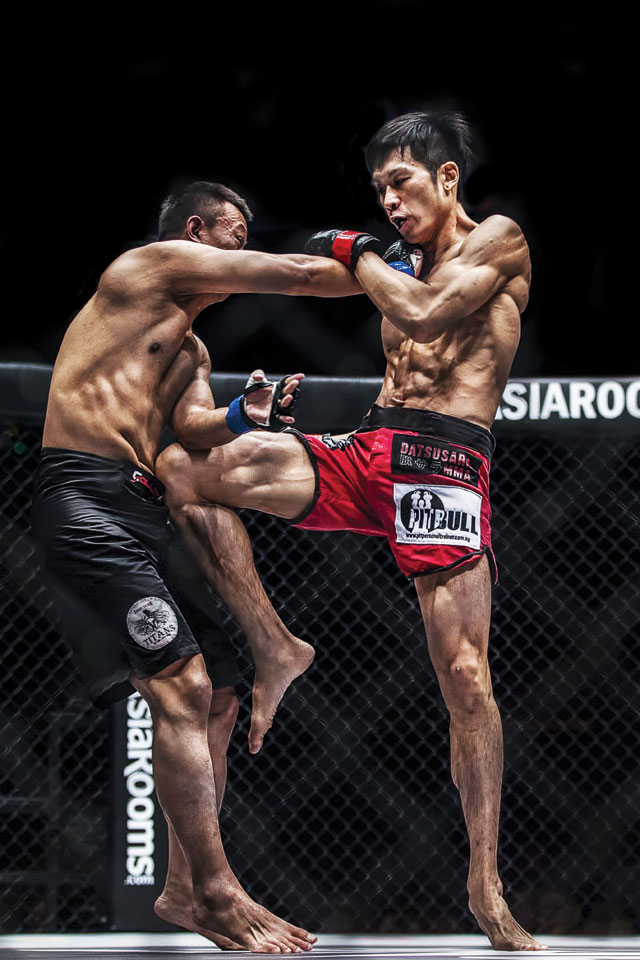 There are technical contests that go the distance; there are slugfests that end in brutal knockouts. There are disappointing bouts; there are others that have supposedly impartial members of the press out of their seats. One fighter, Malaysia's Nik Harris, fractures his foot but fights on and wins; another, the Cameroonian rock Alain Ngalani, throws in the towel after taking a relatively innocuous blow to the pebbles. The evening's abiding sound is undoubtedly the sharp crack of foot on thigh when a kick connects.
It is Radeem Rahman, in his first fight for two years after a gruelling battle with injuries, who provides the fans with the night's best match. His Malaysian opponent, Raymond Tan, dominates the first round, battering Rahman to the brink of defeat. The local boy's mouth is visibly bloodied but, when the fight goes to the mat in the second round, he stages a miraculous comeback. A quick shimmy and suddenly Rahman is on top of his opponent, pounding him until the referee intervenes to stop the fight. The atmosphere is electric. I look at the crowd, who are all going flipside. An Asian woman in her 40s and wearing a white blouse is pumping both fists, eyes screwed up tight, letting loose a primal scream. It is equal parts amusing and astonishing. MMA really has arrived in Southeast Asia.
One FC's golden boy, Ben Askren, dominates the main event against Azerbaijan's Abbasov, winning in the first round after choking out his banana-loving opponent. Askren is interviewed in the cage immediately after the fight and stokes up the crowd like a true MMA professional, taunting Nobutatsu Suzuki, the current One FC welterweight champion.
Suzuki's got my belt. He can either bring it along and put it in the ring for me – or I'll have to take it the hard way.

Ben Askren
Backstage after the event and the fighters are wandering around in various states of devastation. Parry has an ice bag pressed on his knee. Rahman's face has a newly corrugated finish. Harris hobbles around on crutches. I spot Victor Cui. He is visibly pumped. I ask him to describe a One FC event for somebody who has never attended. His words stream out like a swarm of bees.
"We bring the excitement, we bring the adrenaline, we bring the red carpet, we bring the celebrities, we bring the VIPs and we throw all of that together in a rock concert atmosphere over a fight night," he says in a single breath. "One FC is Las Vegas in your home town."