Samabe Bali Suites and Villas occupies a tranquil seaside pocket of southern Nusa Dua, where the ancient secrets of Balinese culture are written in the vast open sky and rolling blue ocean

By Jemma Galvin
"Everyone should have a love affair in Bali," purred Javier Bardem as the swaggering Brazilian Felipe in the film Eat, Pray, Love. While Liz Gilbert got her fill of South American lovin' while in Bali, Felipe's sentiment could just as easily be applied to falling in love with the island itself.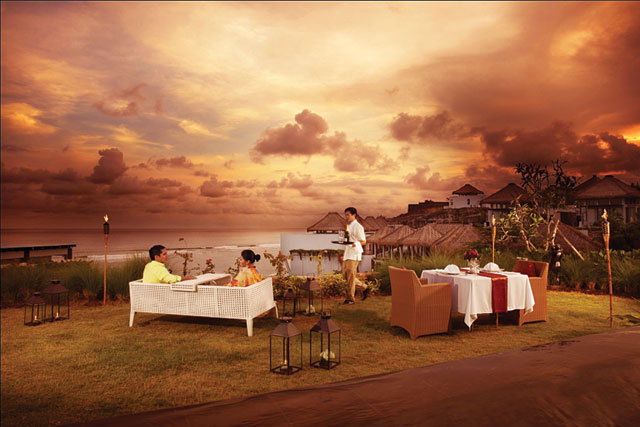 It's not called the Island of the Gods for nothing, and everyone from 1930s Vanity Fair caricaturist Miguel Covarrubias to Mick Jagger and Jerry Hall (who tied the knot on the island) have been bewitched by its heady mix of sun, sea, spirituality and, well, shopping.
The ancient Balinese believed their island rested on the back of a turtle, Bedawang, who was brought into existence by the meditations of the world serpent, Antaboga. Bedawang carries the weight of the world on his back, and Bali's frequent earthquakes are attributed to his restlessness.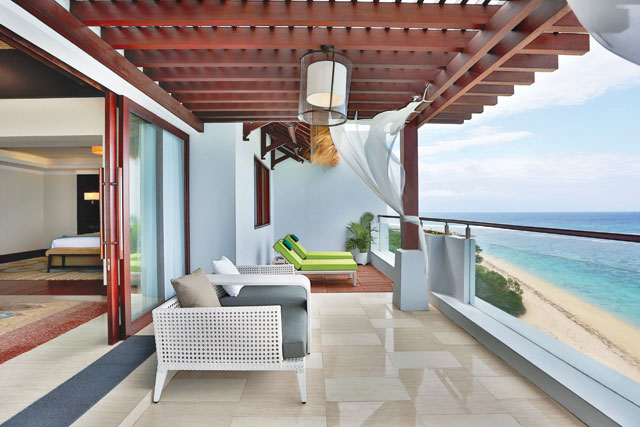 It's this heaven-on-Earth feeling that permeates the atmosphere at Samabe Bali Suites and Villas. Perched atop a sweeping cliff in southern Nusa Dua, its grounds take in eight hectares of lush, tropical vegetation and overlook the twinkling waters of the Indian Ocean. From an Ocean View Pool Villa, one can watch soft clouds roll in over the sea and the main infinity pool below from the villa's breezy terrace or its private pool. Inside the free-standing villa there's a spacious living area, grandiose bathroom and plush bedroom, all decorated in a refined drawing-room style (a telescope for star gazing sits in the living room) while vibrant Balinese influences reign throughout.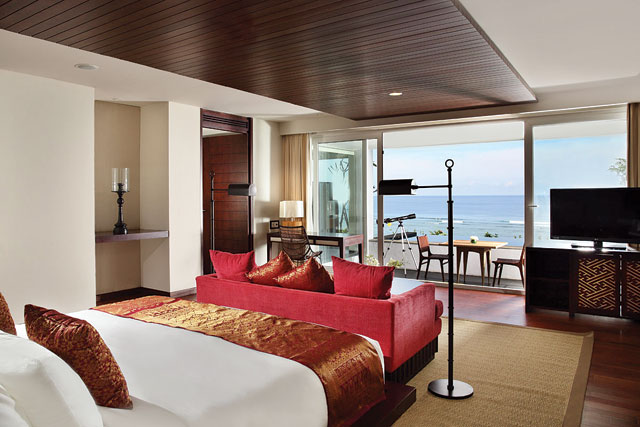 If divinity is one half of Samabe's infinite appeal then decadence is certainly the other. The resort's Unlimited Privileges model allows guests to enjoy a 24-hour in-villa butler service, watersports such as kayaking and windsurfing, a choice of a daily activity such as a Balinese cooking class, a treatment at the Galangal Spa or a batik painting class, and cocktails and champagne from 5pm until midnight each evening, as well as gourmet, a-la-carte meals all day long.
Chauffer-driven motorised golf carts and bicycles are on hand to navigate the sprawling grounds – either means making for a lovely journey to Samabe's main dining space, Rempah-Rempah, or "rich spices". For breakfast, the restaurant offers an a-la-carte menu featuring goodies such as Wagyu steak with sautéed mushrooms, as well as a buffet with chefs on hand to cook guests' eggs just to their liking.
With every detail attended to so gently and thoroughly, Samabe Bali Suites and Villas really does let the ancient beauty of the Island of the Gods shine its brightest.
***
 Seaside scrumptiousness
Unlimited Privileges guests at Samabe can take advantage of the resort's chauffer service and explore other corners of the magical island. The Legian Bali hotel in Seminyak has recently welcomed Australian executive chef Luke Macleod, whose 15-plus years of experience with Michelin-starred chefs such as Michel Guérard has resulted in a delectable fusion of European techniques, fresh, local ingredients and a true respect for Balinese dining culture.

Let's get married
At Samabe's Pearl Chapel, couples can tie the knot with the feeling of being smiled upon by Bali's gods of Earth and sky. At the pyramidal glass structure, which could pass as the cousin of IM Pei's Louvre pyramid, blushing brides walk down an illuminated isle before saying "I do", surrounded by loved ones and 180-degree views of the moody coastline below.

Show-stopper
To get a taste of the archipelago on a limited schedule, the Devdan show at the Bali Nusa Dua Theatre is just the ticket. Following two young children as they explore the cultures of Sumatra to Java and everywhere in between, it is a spectacle of elaborate costumes, pyrotechnics, song and dance. The performers take to the stage every Monday, Wednesday, Friday and Saturday evening at 7pm.

Hey, big spender
Adjacent to the Bali Nusa Dua Theatre is Bali Collection – a shiny assembly of shopping, dining and entertainment outlets. Surfer kinds are well catered for with stores such as Quicksilver and Billabong, while a cinema and numerous art galleries will keep the rest of the family amused for hours.

Essentials
Tel: +62 361 8468633. Website: samabe.com. Rates: From $382 per night for an Oceanfront Honeymoon Suite. Suggested accommodation: From $579 per night including Limited Privileges for two people, cozy up in a One Bedroom Ocean View Pool Villa. Unwind in the bathtub built for two.
Keep reading:
"The duality of beauty" – The Shinta Mani Club offers tired temple-trekkers and loved-up couples a central Siem Reap retreat dedicated to delicious details and the development of the Kingdom