With the ease born of decades of practice, the Asan (master) twirls a staff so fast it's hard to follow the trail as his expert hands shift it, drawing fluid circles in the sky. Asan Anbananthan remains lithe and flexible at 66 years of age, and with consummate control, he can bring the bamboo rattan (Malay for stick) to a lightning halt just millimetres from his target.
"Always remember that surprising the opponent is key," he says with a hearty smile, as he puts the stick to rest against his left shoulder.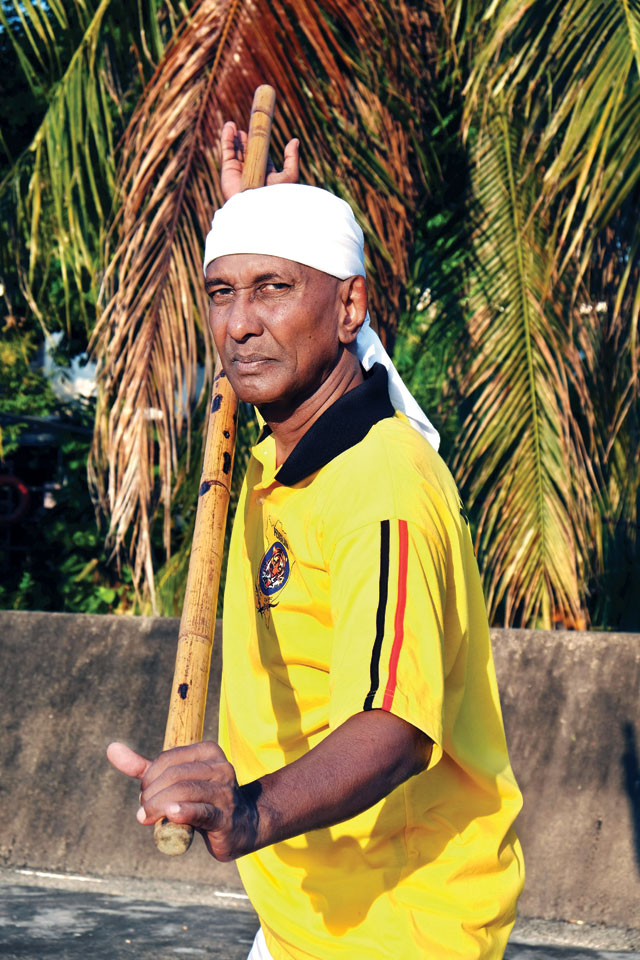 Anbananthan continues the lineage of silambam nillaikalakki, a sub-sect of silambam, the most ancient form of weapon-based martial art in India. Nillai means 'posture', and Kalakki 'to disturb or shuffle', which hints at the style's rapidly shifting patterns, intended to confuse opponents. A 1.7-metre-long stick, the simplest of weapons, is placed in the hands of the practitioner, who learns to twirl it around his body in a powerful matrix. A silambam practitioner is soon able to apply the style to any object at his disposal.
The art orginated some 5,000 years ago in the Kurinji hills of India, a region that takes its name from a purplish blue flower that blooms once every 12 years. Local tribesmen used a staff (or silambamboo) to defend themselves against wild animals and as a weapon of war. Today, the area is a carpet of tea and cardamom plantations set betwixt the waterways of Kerala and the deserted prairies of Tamil Nadu. The original art has slipped through the cracks of time. "I travelled to India to look for other nillaikalakki masters," says Anbananthan. "But the styles of all the men I met there are different, more aggressive."
Today, he preserves this supremely mobile art of self-defence in Penang. Upon seeing him, one would not suspect him to be such a skilled fighter. In fact, with his baseball cap and simple, loose-fitting clothes, Anbananthan looks a gregarious fellow. His eyes shine with the kindness and positivity of one who has found his purpose in life. A disciple of Asan Mariapakkiam from Madurai, Tamil Nadu, Anbananthan started his training in 1962, at age 14. "I pestered him for two years before he taught me the basic twirl," he says.
Mariapakkiam initially had hundreds of students all over British Malaya, but had nobody to follow in his footsteps – most couldn't cope with nillaikalakki's intensive seven-year syllabus. "He left me, but I kept practicing alone for six months," says Anbananthan, before breaking into a belly laugh. "Once he saw me hard at work all by myself, he finally accepted me as his new student. I learnt from him for 15 years. Now it's my turn to pass the art onto the next generation."
Asan M. Thiruselvan, 54, has practiced with Anbananthan since he was 13. He has a serious gaze and a thick moustache, but smiles warmly whenever he starts talking.
"Master is a great man because he will teach anyone without thinking of profits," Thiruselvan says, revealing that no students are ever required to pay for classes. "The secrets of silambam will be revealed to those with the willpower to stay long enough, as nillaikalakki is a gift from the Gods."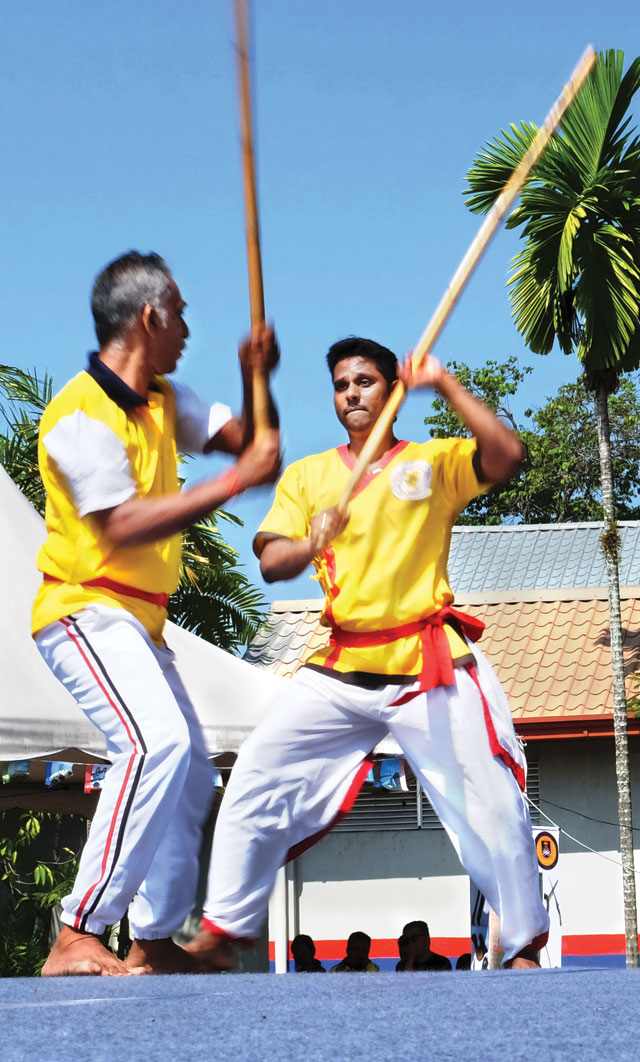 Asan Amuthan Arjunan, 36, confirms silambam's spiritual aspect. He runs a printing shop by day and discovered the art by chance at eight years old. "The stick's twirling helps open the body's chakras, and meditation connects you with the divine," he says. Indeed, silambam's initial posture represents a salute to Mother Nature. "To excel in silambam, one must follow the master's discipline. Refraining from drinking and smoking, eating vegetarian food and learning to meditate, you will become a better person, able to overcome many of life's problems," Amuthan says.
Anbananthan and a small group of students gather four times a week at dusk on the rooftop of a sports hall in Bukit Gelugor, a residential neighbourhood in George Town. Extending between the southern part of George Town and the grounds of Universiti Sains Malaysia, the area hosts one of Penang's three largest Indian communities.
Saravanan Ramasamy, 32, started training at 17 and has almost completed the syllabus. "Most Indians of my generation get bored of silambam quickly because fighting isn't the main focus, but I never gave up," he says. Nillaikalakki stresses the use of geometrical movements, which provide a strong cardiovascular workout.
Young Tamils are often stereotyped as a savage and uncultured bunch in Malaysia. The country's Indian community is the smallest of its major ethnic groups and, as such, struggles to integrate. "By learning silambam, the young can become more disciplined, live a better lifestyle, and possibly get off the streets," says Anbananthan, who has done his best to alter the Tamil stereotype for the past 40 years.
Truth be told, there are not many children twirling their sticks on the rooftop. Shaktivel, 10, is one of the most dedicated pupils. He comes twice a week after school. In less than two years, he has picked up the essentials of the discipline and participates in the group's demonstrations. "Since my first time," he says, "I knew that silambam was special, and I wanted to succeed."
Anbananthan fears for the future of the art. "Today, Malaysian Indians are more worried about working and making it up society's ladder, rather than preserving their own culture," he says. "The young seem especially distracted by computers and technology." Anbananthan had to avoid making silambam's daily training compulsory in order to not scare off youngsters.
"We don't receive many invitations to festivals and events, making it harder to spark new interest in nillaikalakki," says Saravanan. "I feel that Indian arts are not kept on par with the rest of Penang's heritage." This could be a consequence of nillaikalakki's scant local fame – even the squash players who train in the hall below don't know what happens on the rooftop.
Nevertheless, a handful of foreign martial arts enthusiasts from around the world have come to study nillaikalakki. "These Tamil men looked after me as if I were a part of their own families," says American Devin Wilkey, who studied with Anbananthan during the early 2000s.
Saravanan, who also manages the group's website, is confident that anyone can learn. "We've had people from the US, France, Japan, Italy and even local Malays and Chinese studying with us," he says. "Some ended up opening silambam schools in their own countries, which makes us immensely proud."