The 501st Legion is made up of Star Wars fans dressing up in authentic stormtrooper costumes to raise money for charities around the world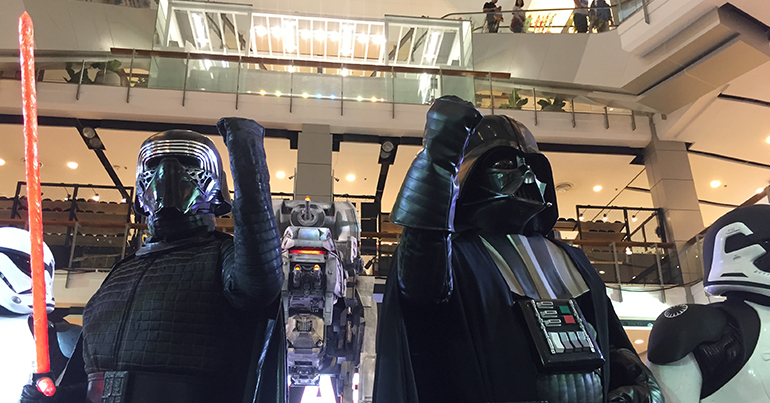 They are not Star Wars re-enactors, and whatever you call them, do not call them cosplayers. They are superfans of the hallowed George Lucas science fiction franchise, and they dress the part—authentically and to the nines, and with the approval of Lucas himself—and then show up at events to raise money for charity.
They are the 501st Legion, and they have spread to all corners of the globe from the United States, where the group was founded in 1997. The Thailand chapter marched on CentralWorld mall in Bangkok on Wednesday night ahead of the press screening of The Last Jedi, along with a few Thai television stars. 501st chapters have appeared at Last Jedi screenings around the world.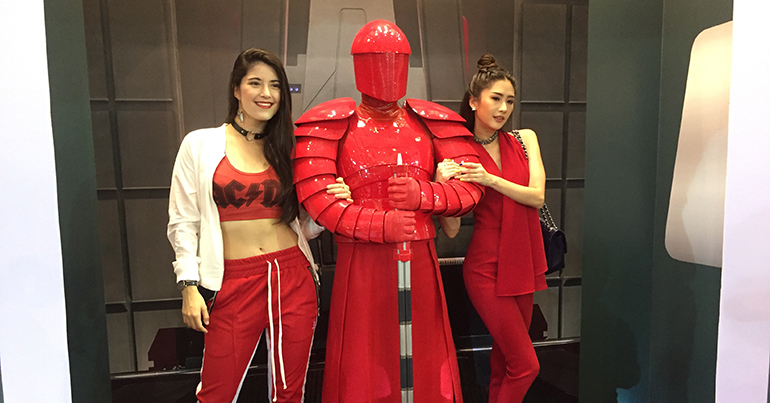 "We're big fans, and we have a deep passion about Star Wars," explained the 501st's Kenny Nitasnajarurul, who answered questions before suiting up for the event. Nitasnajarurul, 31, has rolled with the 501st since 2014. "We think this is a good way to show our passion, our love, and so people can see us and become more aware about our causes."
The 501st special-orders their stormtrooper costumes overseas for around 20,000 baht, or $600. They fashion any fabric components themselves, but the hardware needs to be officially approved by Lucas to be 'scene-accurate,' according to Nitasnajarurul. Photos of their costumes have to be submitted and approved.
"When we are in this costume, we have to keep to character," Kenny said, "so if you're Kylo Ren, you're not posing with, like, the two-finger peace sign."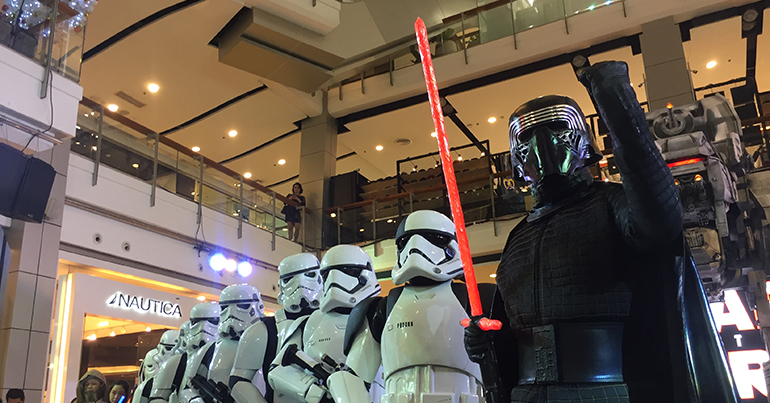 Although they dress as the villains from the Star Wars universe, the 501st's motto is "Bad guys doing good". The Thailand chapter donates money to groups like Operation Smile, which operates in 24 cities across Thailand and has offered free reconstructive surgery for children with cleft palate since 1997.
The Last Jedi event included an auction of individually painted models of the BB-8 droid, including one made up as a pink and purple unicorn, which was introduced in 2015's The Force Awakens.
Atis Ruchirawat, who has been with the 501st since its founding in 2006 and handles the group's public relations, may be Thailand's most famous Star Wars fan.
"I'm sort of the go-to guy [for all things Star Wars in Thailand] because in 2001 I went to a television game show called Number One Fan," said Ruchirawat, 46. He won the title of 'number one fan' on the show for his Star Wars fandom, and became "sort of a Star Wars celebrity in Thailand".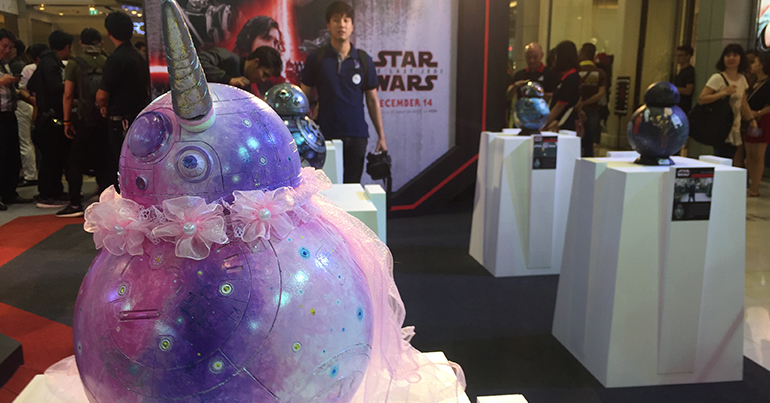 Ruchirawat writes magazine columns about Star Wars, and was even hired in 1997 to translate the subtitles for the Thai theatrical and DVD special edition release of the original trilogy.
"It's great to see Thai fans appreciating the movies more and more," said Ruchirawat.
"We have bigger and bigger events every time. I remember 15 or 20 years ago, I thought I was the only guy who liked Star Wars in Thailand, but now the fans are embracing it more—and we're off to a good start, with Disney promising one movie almost every year."
Related reading: