The trip comes after the Nobel laureate has been criticized by the international community for her lack of action on the Rohingya crisis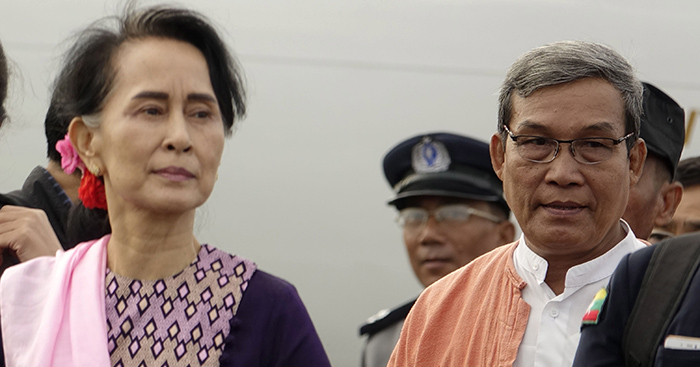 Myanmar leader Aung San Suu Kyi made an unannounced trip to western Rakhine state on Thursday and is visiting areas of the country that have been the site of violence that has triggered an exodus of minority Rohingya Muslims to cross the border into Bangladesh.
This trip marks the leader's first visit to the region since a brutal military offensive launched on 25 August caused at least 400,000 Rohingya to flee the country to neighbouring Bangladesh.
Numerous reports, supported by pictures and videos posted online, suggest Myanmar's military, or Tatmadaw, has indiscriminately raped and murdered innocent civilians. Despite substantial evidence of such human rights violations, Suu Kyi has previously denied that the Tatmadaw has been given free rein to act as it sees fit.
"The state counselor is now in Sittwe and will go to Maungdaw and Buthiduag too. It will be a day trip," government spokesman Saw Htay told AFP, mentioning areas that have been epicentres for the recent bloodshed.
Suu Kyi has come under criticism for her handling of the Rohingya crisis in recent months, with particularly heated remarks coming from the international community after she failed to mention the allegations of ethnic cleansing in a speech she gave last month.
In her speech from September, she was clear in pointing out the an exodus was indeed occurring, but refused to condemn the military's actions. The term ethnic cleansing was notably absent from her address.
The UN has described the situation as "textbook" ethnic cleansing, but the Myanmar army claims their operations in Rakhine state are part of an ongoing military strategy to root out militants like the ones who attacked their army outposts last August.
They have also denied targeting civilians.
Rohingya Muslims are a stateless group who are a minority in the Buddhist-majority regions of Myanmar. The group has long been persecuted in Myanmar, where the majority of citizens has consistently maintained that the Rohingya are illegal 'Bengali' immigrants.
Related reading: