Activists claim Myanmar's leader is 'denying our existence' after she once again omits mentioning the Rohingya refugee crisis during a speech to foreign delegates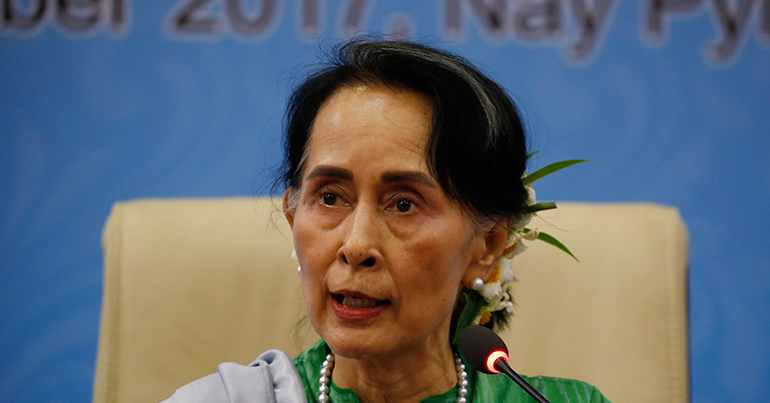 Aung San Suu Kyi has blamed 'instability' for the spread of terrorism and illegal migration on Monday in a speech likely to diminish any optimism that the leader will oversee the immediate return of the hundreds of thousands of Rohingya refugees who have fled Myanmar.
Myanmar's de facto leader failed to directly mention the persecuted Rohingya minority and instead spoke about how illegal immigration was in part responsible for the spread of terrorism during her welcome speech to foreign ministers at the 13th Asia-Europe Meeting (ASEM) in Myanmar's capital Nay Pyi Taw.
"Today we are facing a new period of global uncertainty and instability," stated Suu Kyi. "Conflicts around the world are giving rise to new threats and emergencies: illegal immigration, spread of terrorism and violent extremism, and even the threat of nuclear war."
Her speech echoed the views of many in Buddhist-majority Myanmar who view the Rohingya Muslims as illegal Bengali immigrants and cite them as the cause of the nation's terrorist attacks. However, the speech also received widespread criticism from Rohingya activists who claim she was once again trying to divert attention away from the crisis in Rakhine state.
Rohingya activist Ro Nay San Lwin told Al Jazeera the speech was nothing short of a calculated move aimed at pleasing the military and a total "denial of our existence" despite Rohingya support of Suu Kyi in the past.
"Rohingya were recognised as citizens after independence in 1948. Our citizenship was snatched in 1982 by the military regime," he stated. "When Suu Kyi's party, National League for Democracy was established in 1988, many Rohingya supported her."
Suu Kyi's speech came one day after European delegates toured the refugee camps that Rohingya Muslims have been forced into, and just hours after EU foreign policy chief Federica Mogherini announced that she had "extremely encouraging" talks with Suu Kyi over the crisis.
"Stopping the violence, stopping the flow of refugees and guaranteeing full humanitarian access to Rakhine state and safe, sustainable repatriation of the refugees is going to be needed," Mogherini stated.
Mogherini further announced that she and the group of foreign delegates attending the meetings plan to address the situation in Bangladesh through an open dialogue.
Suu Kyi's refusal to denounce the violence against the persecuted civilians has impaired her standing and incited calls for renewed international sanctions on Myanmar. Despite international condemnation – including a recently issued United Nations presidential statement – refraining from mentioning the Rohingya in international discussions has been a widespread occurrence.
A draft statement issued last week from the Association of Southeast Asian Nations summit completely omitted mentioning the plight of Rohingya Muslims, instead calling the 600,000 refugees an 'affected community' in Rakhine state.