Amid the various contingencies of November 8, the date of Myanmar's highly anticipated national election, most observers agree that the National League for Democracy (NLD) is likely to poll well. Helmed by Aung San Suu Kyi, the world-famous democracy icon and daughter of the country's founding father, the party is primed to tap into a deep reservoir of resentment towards the military complex that has run this country of 51 million for decades.
Since the start of campaigning on September 8, Suu Kyi has crisscrossed the country, urging large crowds of supporters to put their faith in her party to deliver longed-for change. The Lady's main pitch? Herself. A potent signifier during years of military rule, Aung San Suu Kyi's image has now been refashioned into an indelible – and powerful – electoral brand. Like a secular saint, her face dominates the party's campaign posters and materials. At rallies, supporters wear headbands bearing the words: "We love Mother Suu."
While the NLD will undoubtedly win a huge number of votes, the main question is whether it will do well enough to unseat the incumbent Union Solidarity and Development Party (USDP), the electoral avatar of Myanmar's military, the Tatmadaw. Behind this looms the larger question of whether the NLD, which was founded in 1988 amid nationwide protests and leans heavily on the exalted status of Suu Kyi, is prepared for life after 'the Lady'.
Pending a last-minute revision, Myanmar's military-drafted 2008 constitution bars Suu Kyi from holding the presidency. By the next national election in 2020, she will be 75 years of age, and it is far from clear who will replace her once she leaves active politics. This is reflected more broadly in the party's greying upper ranks. Tin Oo, the party's emeritus chairman and one of Suu Kyi's closest allies, is 88; Nyan Win, the party's long-time spokesman, is 72; Win Tin, the famous dissident journalist who co-founded the NLD, died in 2014 at the age of 84. In an interview in mid-2014, Win Htein, a 73-year-old member of the NLD's central executive committee, openly admitted the double-edged nature of his party's reliance on Suu Kyi: "She's the exception. There's nobody who can match her charisma and who can match her leadership."
At the same time as Myanmar has entered a period of reform and flux since 2011, the NLD also faced its own fraught 'transition' – from a band of besieged activists to a cohesive political organisation capable of winning power and wielding it effectively. "This is a big weakness, a very huge problem for the NLD," said Yan Myo Thein, an independent political analyst based in Yangon. "Party institutionalisation is very weak."
The past year has exposed the party's overreliance on Suu Kyi, both in symbolic terms, as the party's main electoral drawcard, and in terms of party decision-making, where she is frequently accused of high-handed, authoritarian tendencies. After years of solidarity, more and more democracy activists are heeding George Orwell's dictate that saints should be judged guilty until proven otherwise.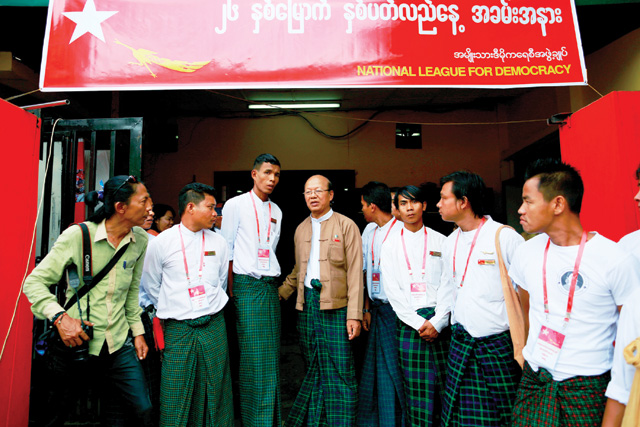 "The goal is still democracy, but her behaviour is authoritarian," Myo Khin, a long-time democracy activist, recently told the New York Times. "She is losing people like us who have been strong supporters for a very long time."
Myat Thu, a former political prisoner and founder of the Yangon School of Political Science, was blunt when asked about the state of the NLD's internal decision-making: "There is no debate. Suu Kyi dictates everything."
Intra-party rifts broke the surface after the NLD released its candidate lists in August: many grassroots NLD members were angered at the absence of a raft of popular figures, including charismatic '88 Generation' student activists such as Ko Ko Gyi. Suu Kyi's response: "The NLD is a political party, and we have rules. If you can't follow these rules, you can't work for the NLD."
While disagreements seem to have been put to one side now that campaigning is underway, it was a significant moment in the transition from Suu Kyi: living saint, to Suu Kyi: politician. Criticisms of the Lady and her decisions are no longer taboo.
Sithu Aung Myint, another former political activist, who now works as an independent analyst and political columnist, reeled off a list of what he described as Suu Kyi's political missteps: her hoped-for partnership with Thura Shwe Mann, the USDP's powerful house speaker who was purged as party chief in August in part because of his closeness to the Lady; her decision not to make an alliance with ethnic parties; the lack of new leaders brought into the party. "I don't think there is a Plan B in the NLD," he added. "If Suu Kyi was to go or something, the situation for the opposition party would not be strong."
Party spokesman Nyan Win denied that Suu Kyi dictated the party's policies singlehandedly, saying that "every decision comes after sitting in a meeting". As for bringing in fresh blood, he pointed to the young figures, such as blogger and anti-hate speech advocate Nay Phone Latt, who are standing as NLD candidates. The party claims 12% of its candidates are under 35 years of age and that another 40% are aged between 35 and 50. "I believe there are many young people who have the qualifications [to be] future leaders," Nyan Win said. "We all agree that, but in this busy situation we can't do anything."
Another question: whether any of these young leaders are anywhere near being able to take over. "There's always this big question," said Thiha Saw, head of the Myanmar Journalists Association. "We haven't seen anything yet. This is a big problem for the NLD, and this will be a big advantage for the ruling party."
The November 8 election thus looms as a high-stakes gamble for the NLD, which is staking everything on the hope that Suu Kyi's magnetism will win it enough seats to control parliament and begin dismantling, piece by piece, the old military establishment.
The best-case scenario is that the party will win enough seats – 333 in the 664-seat Union Parliament – to form government and select the next president. Even though she can't hold the position herself, Suu Kyi has made clear that if her party is victorious on November 8 she will effectively lead Myanmar from backstage. "If the NLD wins the elections and we form a government, I am going to be the leader of that government whether or not I am the president. Why not?" she told Indian journalist Karan Thapar in an interview broadcast on October 7. "Do you have to be president in order to lead a country?"
Victory, however, is far from a foregone conclusion. The 2008 constitution ropes off a space for the Tatmadaw "to participate in the national political leadership role of the state", reserving a quarter of the seats in parliament for military candidates. This effectively ensures that the NLD will have to win twice as many seats as the USDP-military axis in order to win power. Factor in the ethnic minority vote, rising anti-Muslim sentiment and the ever-present possibility of shenanigans on election day, and the NLD could well emerge with strong representation in parliament, but little real power.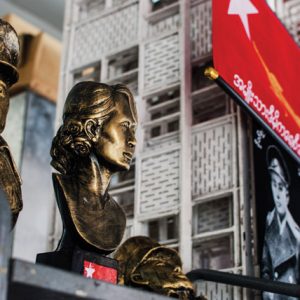 Even if it wins, others question whether the NLD has any clear platform. A 20-page election manifesto released in September was long on donor buzzwords – "transparency", "development", "national reconciliation" – but short on concrete details about how these ideas would be enacted. In her speeches Suu Kyi has been similarly vague. "We need a government that is free from corruption for the development of the country," she said during a September 21 rally in her home constituency of Kawhmu, north of Yangon. Who could argue?
All of this shows how cleverly Myanmar's elections – and the democratic "transition" of which they are the operative part – have been crafted to maintain the prerogatives of the old ruling establishment. Yan Myo Thein's take was that the USDP-military alliance had painted an ageing Suu Kyi "into a corner". In a September 15 commentary in the Irrawaddy news magazine, editor Aung Zaw argued that the military was looking far beyond the battle on November 8. "The generals set out from the start with a long-game plan," he wrote, adding that it was now time for the opposition to come up with a long game of its own.
Perhaps the NLD has little choice but to make a single, all-in, winner-takes-all play for the votes of Myanmar's people on November 8. But if the party is to bring the change it has promised, it will need to craft a plan for life after Aung San Suu Kyi. If not, the party's greatest short-term asset – its magnetic leader – could also turn out, in the long term, to be one of its greatest liabilities.
Keep reading:
"The future starts here" – In November, the people of Myanmar head to the polls for a famous general election. With ethnic allegiances, miniature coups and a skewed constitution already in play, the outcome looks anything but predictable