Thailand's prisons are at breaking point. With inmate numbers spiralling and sentences being handed down with abandon, true justice remains elusive
By Daniel Besant
For most outsiders, prisons in Thailand are synonymous with Western drug mules being sentenced to death or rotting away under long sentences in notorious jails such as Bang Kwang Central, often referred to as the 'Bangkok Hilton'. The pages of Sunday tabloids and the more salacious titles on offer in airport bookshops runneth over with stories of supposedly innocent traffickers duped into carrying a suitcase full of Grade A China White heroin fresh from the Golden Triangle and finding themselves on the wrong end of the Kingdom's harsh drug laws.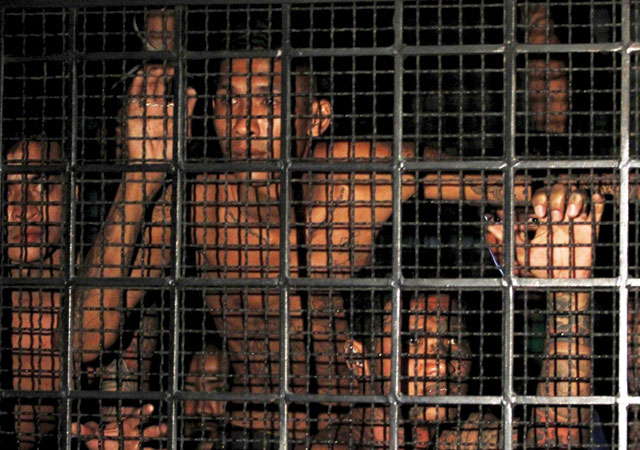 Unsurprisingly, lowbrow newspapers and self-published paperbacks rarely tell the full story. It is overwhelmingly Thai nationals who are stuffed into the country's 144 teeming and often brutal prisons and detention centres. Compared to the number of Thais, the total of foreign prisoners in the country's prisons is but a drop in the ocean, hovering between 3% and 4%. Therefore, Thais make up about 97% of the country's prison population, which stood at 307,294 inmates at the end of June. 
If that seems a lot for a nation of about 67 million people, that's probably because it is. The figure puts the country at number three in Asia. With their significantly higher populations, China (1.7 million persons incarcerated) and India (385,000) are the only nations that sit above the Kingdom. As a regional comparison, Myanmar has an estimated 60,000 prisoners from its population of 53 million. Thailand even rocks in at number six in the world, despite it being only the 21st most populous country. 
For Danthong Breen, chairman of the Bangkok-based Union for Civil Liberty (UCL), an organisation that works with Thai prisoners, there are many reasons why the prison population is so large. One of the key factors, he said, is the refusal of bail across the board, because it is believed the accused may escape or interfere with the judicial process. 
"This leads to a large number of prisoners awaiting trial, who, by international human rights standards, should not be incarcerated with convicted criminals," added Breen. "But in Thailand they fight for space with convicts." No less than 23.5% of prisoners were on remand or in pre-trial detention at the end of June – 72,000 people, which is higher than the total prison populations in Myanmar, Malaysia and Cambodia.
Thailand's courts are certainly not shy of dishing out long stretches behind bars either. Sentences of ten, 15 and 20 years are standard for relatively trivial, non-violent offences. Breen knows of a janitor who was an accomplice in stealing 20 desks from the school he worked at. "The standard sentence for stealing government property is six years," said Breen. "Therefore he was sentenced to 120 years."
It is no secret that Thailand's drug laws are severe, but even model prisoners convicted of a drug crime can expect little mercy if their case is up for review. While other convicts may get years knocked off their sentences, those serving sentences for drug crimes see their time inside cut by just days at most. Added to this, while locked up, even minor infractions of prison rules may mean years added to a sentence.
Defence lawyers are not much help. In traditional deference to authority – or just plain incompetence – they make poor cases for a reduction in sentences to courts. Often they make no case at all. Legislation allows for sentences to be reconsidered and trials to be reopened. "But in the 30 years since this legislation was passed," said Breen, "not a single case has merited reappraisal."
Thailand's prisons are home to numerous Chinese nationals who have completed their sentences but, as China refuses to take them back and Thailand will not countenance their release into society, are left stateless and in limbo behind prison walls. Then there are individuals who, according to Breen, have been in prison for so long that "prison officials have just forgotten about them".
Another group of long-term prisoners exist mostly in the jails of Thailand's south. According to the Duay Jai group, an NGO that works with prisoners in the area, about 550 people from Muslim-majority districts have been rounded up and given long-term sentences during security crackdowns in four provinces bordering Malaysia. Although the provinces – Yala, Pattani, Songkla and Narathiwat – have experienced unrest for decades, violence has intensified since 2004, with Muslims who are seeking more independence from Bangkok waging an armed insurgency and carrying out regular attacks. In the same year, the government responded by imposing martial law, under the strictures of which more than 6,000 have since been arrested. 
Duay Jai contends that many of those in detention are innocent. However, their legal situation "comes under special laws under security legislation that gives more power to the military to detain people than the civil courts", according to the NGO's director, Anchana Heemmina. Meanwhile, they are cut off from their families and prevented from practicing their faith. Heemmina believes the new military junta that installed itself in May will only make the situation worse "because the military mindset means they believe that they are of the right mind, the right way, and that all Muslim people are insurgents, particularly villagers".
Now the military has taken over, it seems highly unlikely that prisoner numbers will be declining any time soon. During its first weeks in power, the junta detained more than 300 people deemed a threat to the state or the monarchy. And the arrests keep on coming.
"Our very conservative estimate is that at least 565 persons have been officially summoned by the military junta since the coup, and that 327 of those have been confirmed as released," said Brad Adams, Asia director of Human Rights Watch. 
For anyone locked up in one of Thailand's prisons, life is certainly not sweet. Many, according to a 2013 report by UCL, "are subject to cruel, inhuman or degrading treatment and punishment, which extends to and includes torture". While doing time, prisoners suffer in overcrowded facilities and are given poor food and medical care. Shackles and isolation cells are routinely used as punishments.
Any change in treatment for Thailand's prison population is likely to be slow in coming. With a prisoner-to-warder ratio of 20:1, no real attention is paid to the relative merits of each prisoner and no proper records are kept. Therefore no effective system of probation is possible. In society, incarceration for crime is seen as both punishment and necessary for society's security. The majority view those imprisoned as having to undergo tough conditions in order to drive them to remorse. In Thai culture, evil actions lead to gam, or retribution, that follow in this life or the next.
As the UCL explains in its report: "Any relaxation of prison conditions is condemned as being against the order of the universe. Prisoners are 'evil' people, and must be made to realise their condition." 
Keep reading:
"Major general" – The words 'coup' and 'new military leader' have become synonymous with Thailand. Does General Prayuth Chan-ocha, the Kingdom's unelected leader and head of the army, have what it takes to bring the country out of its latest dark place?