Peering through the microscope at Global Superfoods, tiny spring-shaped strands lie illuminated on a bright white background. Each tightly wound spiral is a deep, clear forest green, indicating the good health of the farm's latest crop of Arthrospira platensis, a product better known as spirulina.
"I'm really happy with those," announces Global Superfoods co-founder Grant Catley, speaking from a compact white room on the site of the company's farm, set about 35 kilometres from the Cambodian capital, Phnom Penh. "Like anything, you've got to look after something. If you look after them, they look after you."
As a former dairy farmer, it is a concept that Catley understands well. Back in his home country of New Zealand, he owned and managed a herd of 320 milking cows with his business partner, and wife, Megan before making the move to the heat of Cambodia.
The couple, together with three shareholders, went on to launch Global Superfoods with the aim of cultivating high-quality spirulina – a nutritious blue-green alga known for its health properties and said to support cardiovascular function, strengthen the immune system and improve gastrointestinal and digestive health. Known as a 'superfood', the algae naturally occur in lakes in Myanmar, but the product is being commercially farmed across the world, including the Asean region.
With the Kingdom's climate providing excellent conditions for the water-bound crop, the enterprise is taking off. A tour of the farm reveals vast circular vats holding gallons of opaque dark-green liquid, all gently swept by rotating mechanical arms.
Every second day, the algae, which live in clean water pumped from an 80-metre-deep well, are harvested from the tanks. The algae-laden liquid is poured through a fine mesh to separate the spirulina. The resulting green slush is pressed to remove excess water and dried before being formed into health supplement pills and powders, or shaped into sprinkles that can be added to food or smoothies.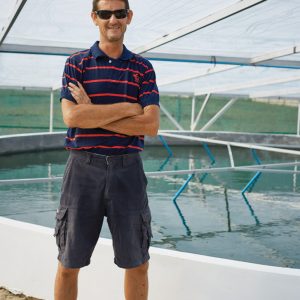 Despite the business only being about a year old, it has already exported to countries such as Australia, New Zealand, Canada and the UK, with products also stocked in leading Cambodian pharmacies. "It's an expanding market worldwide," says Catley.
For it's not just spirulina that is attracting attention. Statistics show that Asia-Pacific's multibillion-dollar health and wellness market is on the up. At the same time, leading players in the world's food and beverage sector have acknowledged a shift towards a more health-conscious consumer.
An article published on the Guardian website, which detailed Kellogg's removal of GM ingredients from Kashi Golean cereals and a Nestlé USA announcement that it would halt the use of artificial colours in chocolates, pointed to comments made by Denise Morrison, the Campbell Soup Company president and CEO. Speaking in New York last year, she said: "We are… confronting profound shifts in consumers' preferences and priorities with respect to food."
The businesswoman went on to note an "explosion of interest in fresh foods, dramatically increased focus by consumers on the effects of food on their health and wellbeing and mounting demands for transparency from food companies about where and how their products are made, what ingredients are in them and how these ingredients are produced".
In Asia-Pacific – a region where food safety scandals regularly reach the mainstream media, and organic stores and raw food cafés are popping up in increasingly affluent urban centres – reports indicate that local consumers are prepared to adjust their spending habits in order to invest in their health.

The 2015 Global Health and Wellness Report from insight agency Nielsen, which surveyed 30,000 consumers online in 60 countries, found that 93% of respondents in Asia-Pacific were willing to pay more for "foods with health attributes to some degree". Sales of products classed under 'health categories' were said to have grown 15% in the region from 2012 to 2014, compared to a 5% boost for 'indulgent categories'.
"Developing regions are particularly attractive markets for expansion opportunities given consumers' purchase history and future buying intentions," Susan Dunn, executive vice-president of global professional services at Nielsen, was quoted as saying in the report. "As purchasing power continues to grow in these countries, close attention to buying habits is necessary to stay aligned with their needs."
Businesses operating in Asean are also taking note of changing demands. The Singapore arm of foodpanda – an online food delivery platform that recently hit headlines with its successful testing of deliveries by drone – is one adaptor.
"Within Singapore and across Southeast Asia, there is increased awareness of the importance of a healthy lifestyle and being aware of what you eat. As such, we have seen a move towards healthier and more wholesome choices, which we expect to continue," explains Emma Heap, managing director for foodpanda Singapore.
"Restaurant owners are also increasingly health-conscious and want to make sure that their food is sourced responsibly," she adds, highlighting the company's links with health-aware partners. "We have already responded to consumer demand for healthier options and faster delivery times, and we believe both trends will continue this year."
Statistics also point to potential for further development. According to Euromonitor International, the retail value of the Asia-Pacific health and wellness sector – which includes organics, fortified produce and products tailored to food intolerances – has risen from $149.1 billion in 2010 to $219.5 billion in 2015 and is forecast to soar further in 2016 to an impressive $241.9 billion. Although much smaller, the market for supplements, such as minerals, probiotics, ginseng and echinacea, is also growing steadily.
Chris Schmidt, senior consumer health analyst at Euromonitor International, highlighted their impact on Indonesia's consumer health market in an opinon piece, stating that "recent growth has been fuelled by growing consumer interest in vitamins and dietary supplements (VDS), which are expected to account for 45% of all consumer health sales in 2016". In Thailand, "VDS products dominate the overall consumer health market. In 2016, VDS is expected to account for 62% of industry sales."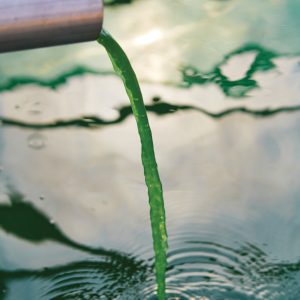 Back in Cambodia, the Catleys, who are operating the business on New Zealand business principles, are thinking big. The farm has been set up with expansion in mind. To the back of the site, set on a former beer garden complete with a lotus-filled moat, lies an empty plot that they plan to fill with eight additional 75,000-cubic-metre spirulina tanks.
Their hope is to establish further exports to markets in the southern hemisphere, Europe and the Middle East, as well as diversifying into products such as nutrition-rich spirulina crackers and jellies.
The message regularly comes back to the importance of care, consumer trust and social responsibility, alongside producing the highest-quality product possible for a market full of potential. "It's definitely an opportunity," adds Catley, surveying the algae tanks before him. "But, for me, I like a challenge in life."
But the message regularly comes back to the importance of care, consumer trust and social responsibility, alongside producing the highest quality product as possible for a market full of potential. "It's definitely an opportunity," adds Catley, surveying the algae tanks before him. "But, for me, I like a challenge in life."