From a swirl of rich, emerald green brushstrokes, an enormous kingfisher rises, its golden wings stretched out wide and its turquoise crest arched and reaching for the sky. "As soon as I saw this artwork, I resonated with it," says Cambodian entrepreneur and art enthusiast Soann Kann, nodding toward the striking diptych in his sprawling Siem Reap villa. "Art is always personal and subjective. For me, this bird is a sign of freedom. I felt that it symbolised my life, in many ways."
A few years shy of 40, Kann is well known in Cambodia's hospitality circles for his savvy business strategies – he opened two high-end restaurants, a successful spa and a stylish boutique resort in an astonishing two-year period – as well as his inspiring life story.
Visiting Kann at his home for an early lunch interview, I'm greeted at the door by the kingfisher painting. On the adjacent sideboard sits a tableau of intricate woodcarvings. Buddha and Apsara sculptures mark the entrances to various rooms. A life-sized tapestry portrait of Kann by local artist Em Riem lies against one wall, ready to be hung. The house, like all of Kann's businesses, is a design bombshell. It's also an entertainer's dream, with an open kitchen looking out over a vast dining space and shelves lined with top-grade whiskies and cognacs. "I've been collecting all of this stuff for a long time, so it's nice to finally have a space – a gallery – to showcase it all," he says.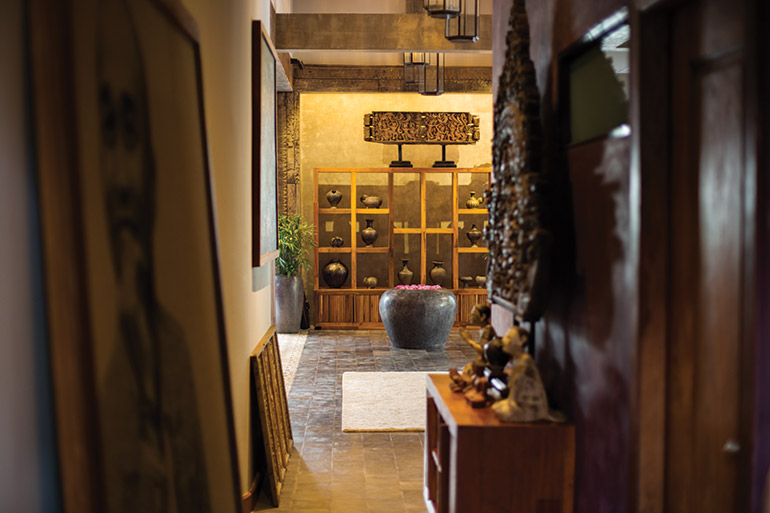 The entrepreneur currently oversees a staff of 188 spread across his four businesses. His first, Sokkhak Spa, was opened in 2012 and is still his biggest earner, closely followed by the popular Chanrey Tree, a Cambodian restaurant opened six months later. In 2014 he unveiled two even bigger projects: the elegant, 12-room Sokkhak Boutique Resort, and a second restaurant, French fusion spot Sokkhak River. "Opening everything in quick succession was a conscious strategy of mine, but it was also determined by opportunity," he says.
"Most families at this time were going through equally tough situations"

Kann
Kann's fearless approach to business might well be traced back to his childhood. He grew up in the wake of the brutal Khmer Rouge regime in a poor farming village 18km from downtown Siem Reap. "My parents had a very hard situation. There were six of us kids. We often did not have enough rice to eat… To be able to survive my mum would do different kinds of business, depending on the season and what she could grow. I learned from her the importance of being adaptable," he says.
As a teenager, Kann became the family's breadwinner, moving to the city to work at a local restaurant. He is keen to emphasise that he's not unique – "most families at this time were going through equally tough situations" – but wishes that more of his generation would leverage their early hardships as he has. "[That time] was painful, but it made me strong. These days I can look back and say that I learned huge business and life lessons… I'm not afraid to take risks. I think it's definitely been part of my success, my edge."
As we chat, Kann moves into the kitchen to help his in-house chef dish up our lunch – a feast of classical Cambodian dishes such as a honey and rice brandy-marinated roast chicken and a riverfish amok curry. He says his main advice for budding Cambodian entrepreneurs is to value practical experience. "Whatever your background, my advice would be to get on-the-ground experience. It's the only real way to understand operations… There is this growing group of upper-middle-class kids in Cambodia whose parents send them off to Singapore or Australia for university. Then they come back to start businesses but they have no real experience… However affluent you are, take a year off before university and go and work," he says.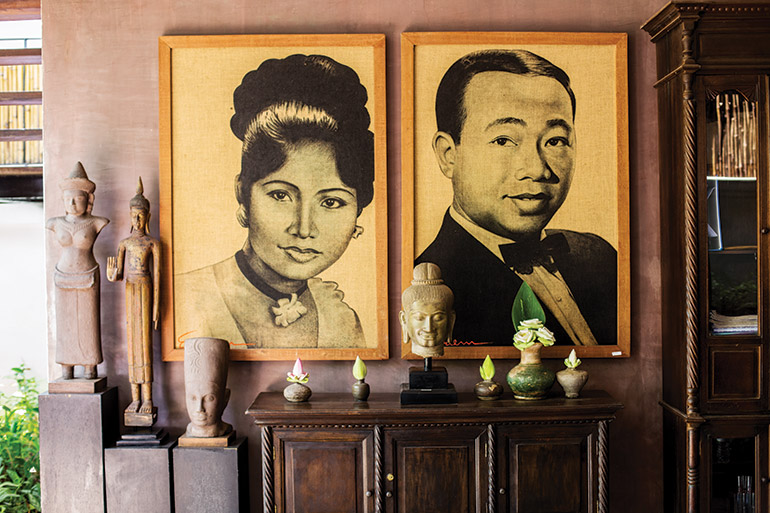 When Siem Reap's Sofitel hotel opened in 2000, Kann joined their food and beverage team as a food runner. And as tourism in 'Temple Town' blossomed, so did Kann's career – he swiftly climbed the ladder in various management roles at high-end hotels. In 2006, he met the owner of the acclaimed Cambodian spa chain Bodia at a bar. Although the business had not launched at the time, he landed the general manager position three days later.
Kann says he dove headfirst into the industry, even travelling to Bangkok to complete a diploma in massage therapy at the acclaimed Chiva Som Academy. He says he also soaked up the Bodia owners' expertise in finance and marketing. "I learned confidence and that I, too, could be an influencer," he says.
Kann gave Bodia a full year's notice before embarking on his own business venture in 2012. With 70% shares in the new business (he partnered with two friends), he says he felt "quite nervous" prior to opening. He needn't have worried – the spa broke even in its first month.
Six months later, Kann stumbled across a vacant plot of land on the Siem Reap river. "I called the owner, made a deal and we were under construction a month later. I didn't know what to do with it, then realised it was time I tapped into my food background," he says.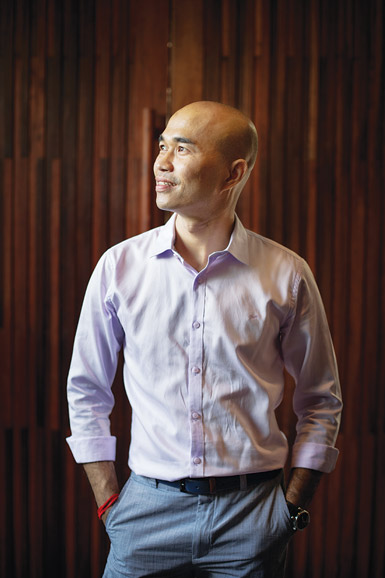 Building on recipes and notes he'd taken when eating at local markets and friends' homes across the country, he developed Chanrey Tree's menu of Cambodian dishes with a contemporary twist. "I wanted all of my dishes to tell a story – where they're from, the people behind them," he says. "I think in business this is so important. It's how you connect with consumers."
One of the toughest challenges Kann faced was switching his business model from family-oriented to one with a corporate structure. "It was difficult. I had a lot of family working for me and had to let a lot of them go. Many of them were complacent; they had no interest in striving for success," he says. "Now we have a fantastic team, and we focus on training and motivation… The secret to building a great team is to keep innovating. If your management style remains the same, people will move because they feel bored."
Looking ahead, Kann sees huge potential in the spa industry and Cambodia's abundance of herbs such as lemongrass, galangal and ginger – perfect for creating essential oils and balms. He also hopes to export Sokkhak Spa overseas and says he's had interest from Australian and Chinese entrepreneurs keen to franchise his business. He also sees huge potential in the LGBTI demographic – travellers he believes are usually curious, educated and affluent. "This community is also part of our success, and I'm proud of that. I think there has historically been a gap in catering to this market."
As our interview winds up, I peer up at the ceiling and notice striking panels of rich, weathered wood featuring intricate carvings. Kann says they are at least a hundred years old, but by the time his house was almost ready he realised he didn't have enough. He could either wait indefinitely to find a whole set or simply get the project finished. He chose the latter, sourcing polished wood from a similarly aged wooden house and interspersing the carvings with these.
"I didn't want to miss my deadline, but I wanted the highest quality possible," he says. "Often, such compromises result in something that's even better than what you imagined."