Events in Myanmar's capital, Naypyidaw, have been the focus of most attention since Aung San Suu Kyi's National League for Democracy (NLD) party was swept to power in a landslide election in November 2015.
But an upheaval is also taking place in the country's economic heart of Yangon – and it could have significant implications for how the city develops in the years to come.
Yangon is at a juncture. It's fuelling Myanmar's economic boom – the country had the fastest-growing economy in Asia in 2015-16 – but it's also choked with traffic, suffers regular power outages and is enduring a housing affordability crisis. Many have no access to government-supplied water or sewerage.
There's an obvious need to improve infrastructure and living conditions. At the same time, there's contestation over how much of the city's heritage – not just individual buildings, but entire neighbourhoods – can and should be protected from what conservationists deem inappropriate development.
For decades, but particularly after the capital shifted to Naypyidaw, Myanmar's military rulers adopted a policy of neglect toward Yangon's heritage buildings. The new Yangon Region government, formed in March 2016 and headed by long-time NLD activist Phyo Min Thein, has changed the equation. It has thrown out the leadership of the notoriously corrupt municipal council and taken steps to improve delivery of public services.
It is reviewing major projects initiated by its predecessor, including controversial 'new cities' on Yangon's fringes. New initiatives, such as river transport, are being trialled. A long-delayed zoning plan is also being dusted off. Some of the reforms have been difficult, even unpopular – a new bus system launched in January remains a work in progress and has been widely criticised, while a night market to shift vendors off the streets failed to gain traction.
But for those leading the country's heritage conservation movement, it's still been a welcome shift.
Moe Moe Lwin from the Yangon Heritage Trust said the group and the regional government "share the importance of heritage and the conservation of it", as well as the need for "more facilities for the public, particularly recreational facilities".
When you remember Yangon, what do you think of? What's the memory of the long-term residents? That's what we're trying to save

Moe Moe Lwin, Yangon Heritage Trust
She's cautiously optimistic about the likely direction of urban development in Yangon but also anticipates pushback. "I think the government will have pressure from the developers – where to give or where to allow the new developments, and how much to give and in which area, as well as what to limit."
Founded in 2012, the Yangon Heritage Trust has been a tireless advocate for sensitive development of the city. Chairman Thant Myint-U, a noted writer and historian, regularly outlines a vision for a modern, liveable city that integrates the new and old. But the trust also struggles to fight perceptions that it is anti-progress or seeking to retain Yangon's time-warp atmosphere.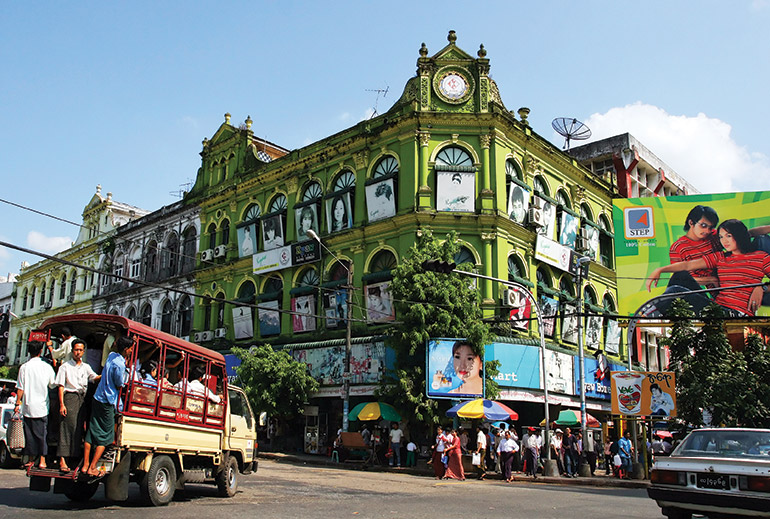 "When you remember Yangon, what do you think of? What's the memory of the long-term residents? That's what we're trying to save," said Moe Lwin. "Attachment is always related with memory; it's the history, the individuals and the places. Of course we need 21st century facilities, but development should take that attachment into account."
The same economic forces that threaten Yangon are also a potential saviour. Greater awareness of both the cultural significance and economic potential of heritage buildings has encouraged more entrepreneurs to opt for restoration, particularly those in the tourism and hospitality sectors.
Foreign firms have been brought in to advise on the larger projects, while at the country's architecture schools, a large proportion of postgraduate students are focusing their research on heritage conservation.
Tourism has been a major driver of the restoration trend. Many of the largest projects are tourism-focused, including a Kempinski Hotel that is due to open in a former government office on Yangon's Strand Road, and the recent renovation of the stately Strand Hotel.
However, tourism growth presents a further challenge: ensuring historic Yangon does not become a living museum, preserved but at the cost of its vibrancy and culture. There are enough cautionary examples from around the world – from Venice in Italy to Lijiang in China – but fewer that chart a viable path forward, given Yangon's size and economic importance.
Yet some are leading the way. In May, international NGO Turquoise Mountain unveiled what it called a "living restoration" project: a two-storey building that was renovated using traditional techniques while residents continued to live in
the apartments.
Turquoise Mountain's director for Myanmar, Harry Wardill, said his organisation was considering taking on a more ambitious restoration project in the coming years – potentially one of the grand state-owned structures clustered around Pansodan, Sule Pagoda and Strand roads.
He said he hoped it would showcase the potential for heritage buildings to be repurposed into commercially viable ventures and help change widely held local perceptions about these grand but often poorly maintained structures.
"We want to… get rid of this perception that old buildings are crumbling and not nice," Wardill said. "If you leave it without maintenance, any building will quickly become old. So we want to show this building is fit for purpose – and, more than that, it's more fit for purpose than a new building."
Challenges related to land ownership and planning regulations have so far hindered investment in similar large-scale projects. Wardill believes that the new regional government's focus on conservation will encourage more businesspeople to commit to restoring heritage buildings.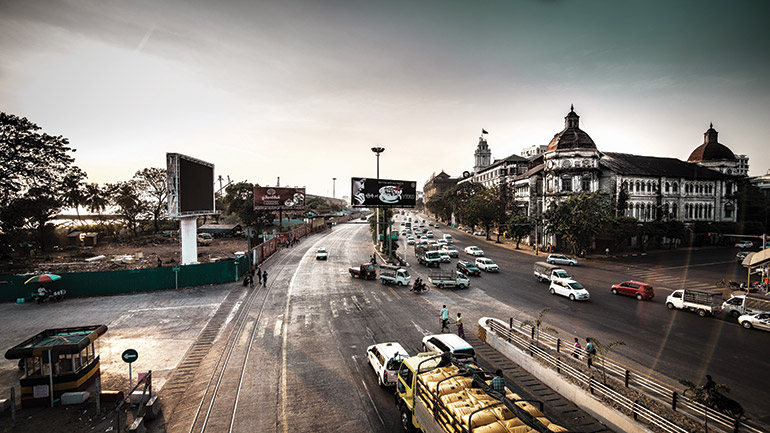 "The next step really is to get some more physical projects done: to show people what's possible, to train up the workforce, to get a critical mass of examples. What will follow on from that will be more commercial investment, because you can't just keep pumping in aid money forever," he said.
A handful of architecture firms in Yangon have experience renovating heritage buildings. Spine Architects, founded 13 years ago by husband-and-wife team Stephen Zawmoe Shwe and Amelie Chai, has undertaken a number of projects, including the offices of local newspaper the Myanmar Times, conglomerate Max Myanmar and the World Bank. Spine was also involved in the creation of Gekko, a bar and restaurant inside the historic Sofaer building.
Working with heritage sites presented a number of challenges, Chai said. The original drawings have often been lost, and many buildings have been renovated numerous times. The costs associated with upgrading the structure are higher than a new build, while a lack of regulatory certainty and capacity within the municipal council are also putting off many potential investors, she said. Government incentives, such as grants or tax reductions, could make a significant difference.
"For heritage restoration to become in demand, it has to make financial sense and be sustainable," she said. "With current high land prices, owners need to know that their investments will be repaid in reasonable time and the properties can be maintained, perhaps with a combination of commercial and retail components along with government tax incentives."
While there's a perception that only foreigners appreciate heritage architecture, she said that local interest could also be harnessed to help bring new life to empty buildings.
"There is a strong local appreciation of heritage architecture that can be promoted by transforming currently unused government-owned buildings into new public spaces for cultural and community use," she said. "Such projects would truly reflect the changes hoped for in the new government."