At a law firm in the centre of Singapore's Central Business District, a deal is being struck. Heavy drums clang like the opening bell on Wall Street.
The exchange is made: a heavily bearded lion bounds, bows and takes a small red packet of cash in return for wealth, good fortune and successful business for the year ahead.
The lion dance, a traditional routine where performers disguised as the auspicious feline perform choreographed moves to bring good fortune, are a familiar part of Singapore's festive landmarks, Lunar New Year, Mid-Autumn Festival, or the launch of a new business.
But for three years the Lion City lost its lions. Pandemic shutdowns put a halt to the traditional routine and saw many lion dance troupes hang up their maned masks for good. Now, as business returns in full swing to mark the lunar new year, a rise in corporate clients and dwindling resources mean that insufficient manpower could fail to meet roaring demand.
"Whenever Chinese New Year comes they call," said Chan Yekway, a long-time lion dancer, referring to the businesses, households and charities who seek them out during the festive period. "Clients call me up, but I say 'not promising, have to confirm.' If you have no manpower, no point getting [a lion dance]. That is why manpower is so important."
Chan is part of Singapore's first lion dance troupe, the Hok San Clan troupe, which still operates out of the terraced shophouse on Kreta Ayer Road that were the clan's original headquarters. He has been a lion dancer since he was 12 years old.
Now 67, he is part of a core group of Hok San clan members who lead lion dances for businesses, charities, and residents of Singapore's Housing Development Board public condominiums. Most of his peers from his most recent event, an office visit for an insurance company, are about his age.
The association has 200-300 committee members, but only about 60 lion dancers. Of these, Chan estimates only about 10 of them are in their teens or early twenties.
"Look around, all the others, they are all grey-haired like me," he said with a laugh.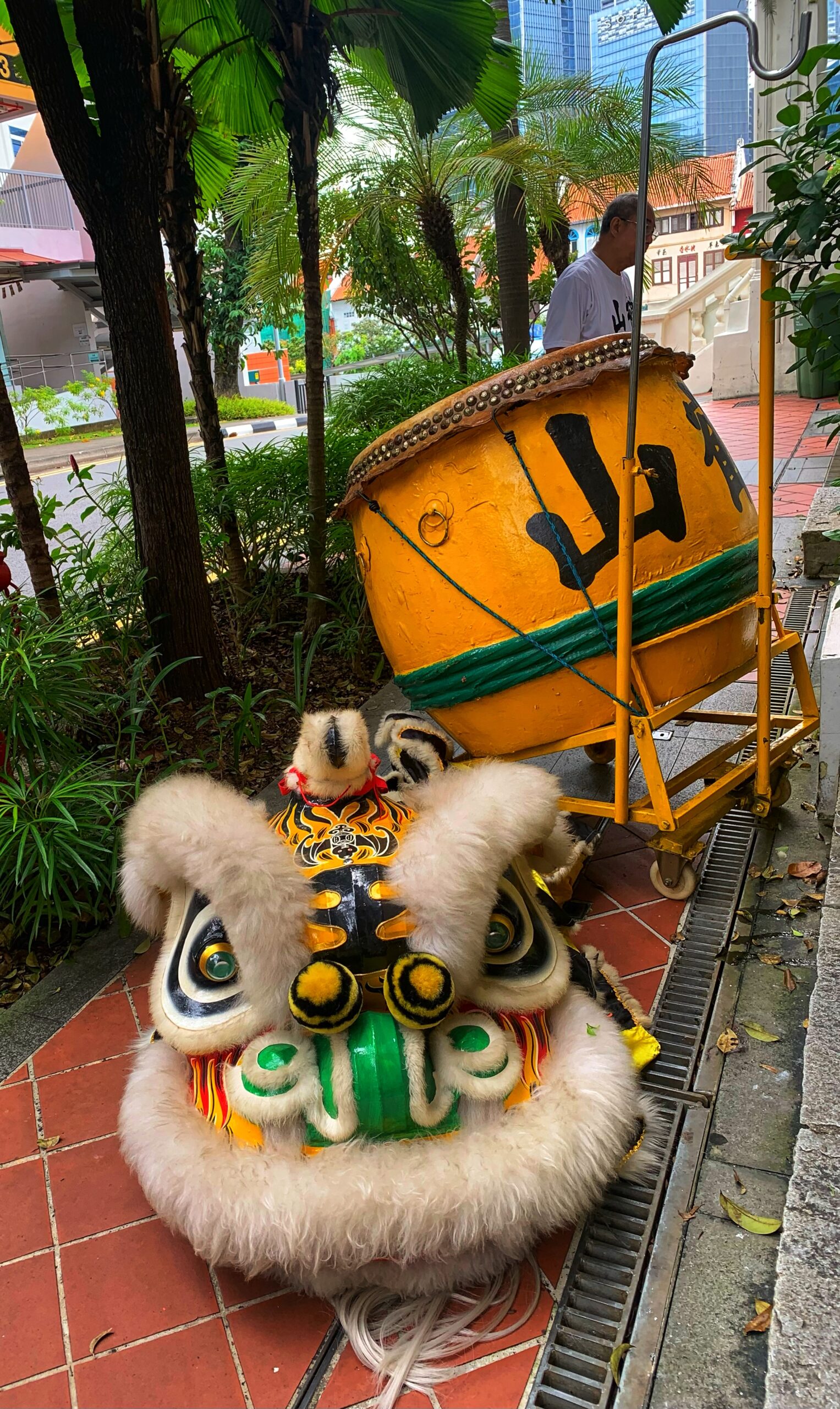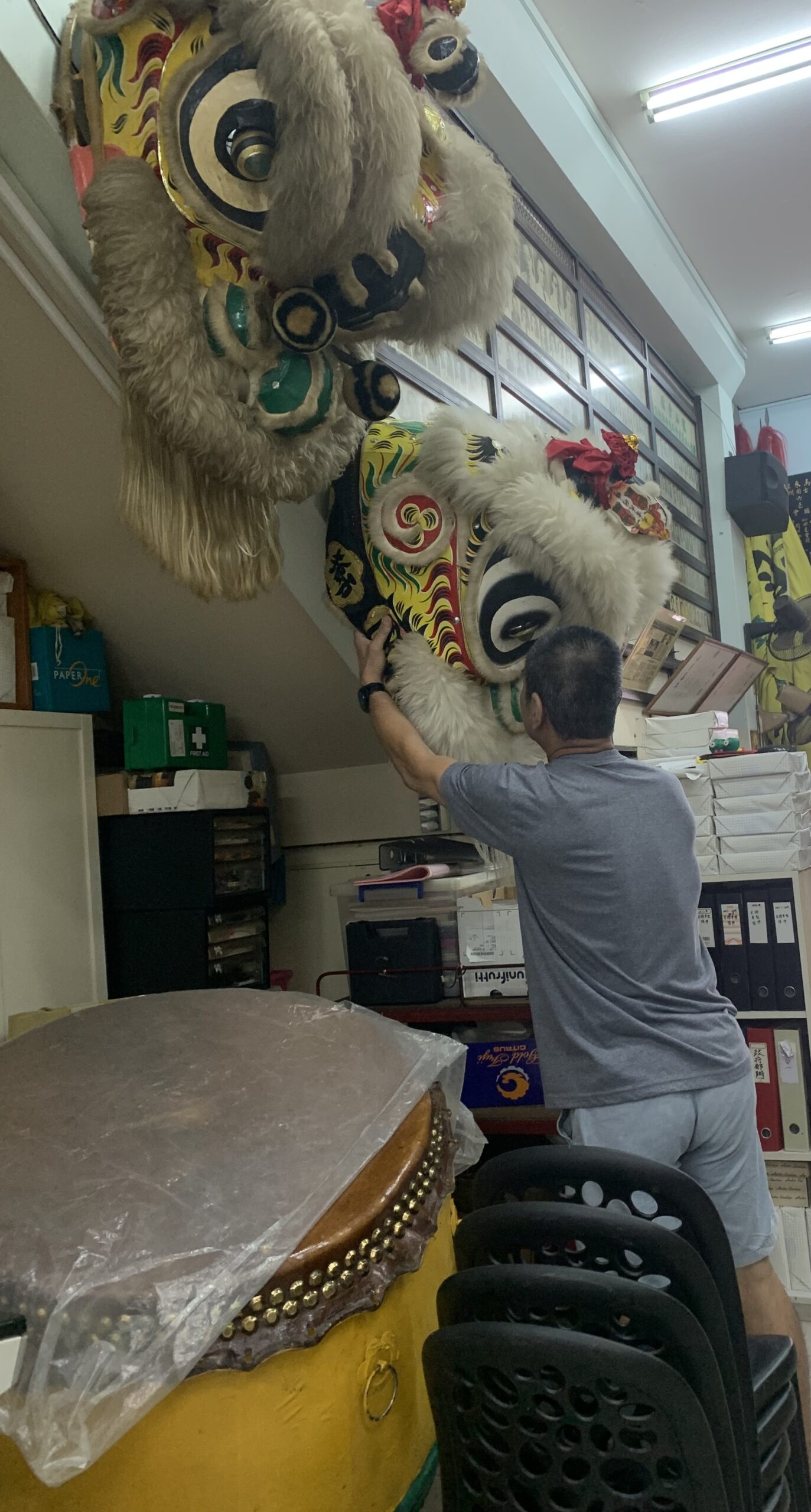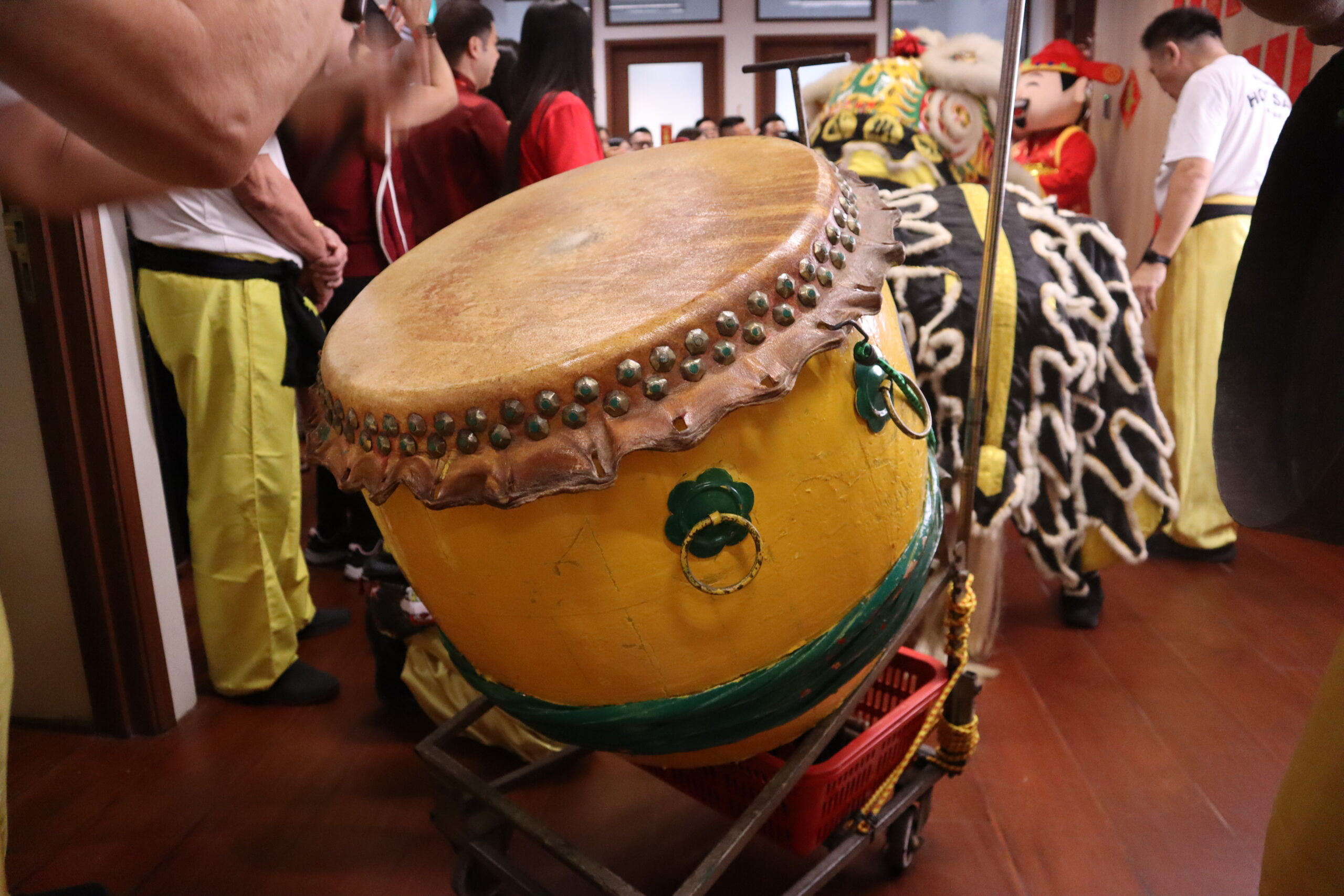 ---
Lion dances have been practised in Singapore since the first half of the 19th century, when labourers who emigrated from China's southern provinces imported the tradition from their home country. In China, lion dances had been a part of imperial history and popular culture since the Tang Dynasty (619 – 906 AD).

Much later in Singapore's Chinatown, a network of clans, associations and secret societies set root as a way to build connections and security amongst the new immigrants. Many of the city-state's earliest lion dance troupes were affiliated with a Chinese association. The lion dance was not only a form of entertainment, but an important community event.
Many of the dance's choreographed moves are inspired by traditional martial arts such as wushu (kung fu). Some martial arts centres also run lion dance classes and all lion dance troupes are legally required to register under the Singapore Wushu, Dragon & Lion Dance Federation for a licence to perform.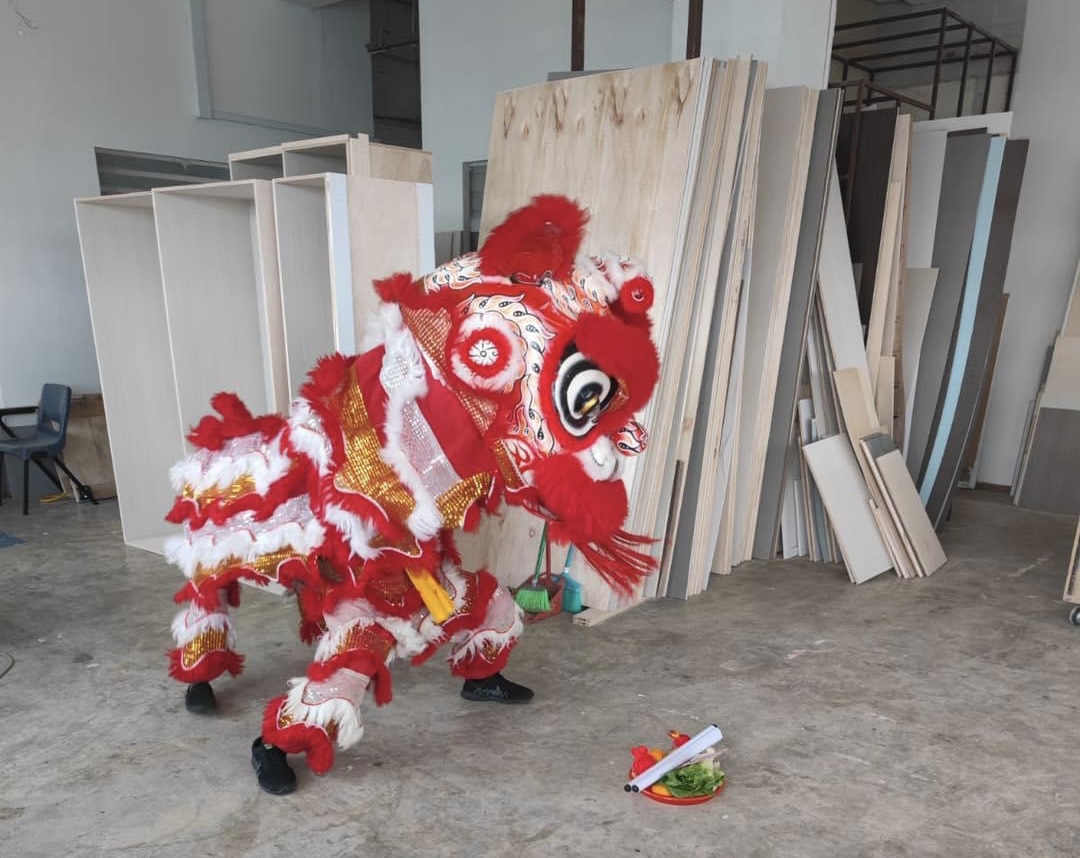 Numbers of registrations have been steadily falling over the past decade: in 2015, concerned after a 5% drop in applications, the Nam Sieng Dragon and Lion Dance activity centre invited lion dancers from Vietnam, but they were stopped under the Ministry of Manpower's immigrant policy at Singapore's customs.
Perceptions of the lion dance as a community-based cultural activity means that, unlike wushu, it fails to be recognised as a competitive sport at major games, depriving practitioners of opportunities for accolades and prize winnings.
Modern schedules also raise hurdles. Most of Hok San's performers balance lion dance commitments with day jobs or study, meaning that when a booking comes in for a weekday, it is left to Chan and other seniors to take up the mane.
With manpower stretched, demand is at a high. As many households and companies embraced Lunar New Year celebrations for the first time since Covid-19 restrictions were first put in place in 2020, demand for lion dances spiked by 30%. With numbers of troupes diminished since the pandemic, existing groups are overwhelmed, and some have been forced to turn down requests.
Auspicious dates calculated according to feng shui, an ancient Chinese practice aimed at harmonising individuals with their surroundings, are hotly contested and can lead to peaks in bookings concentrated around certain points of the festive two-week period of Lunar New Year.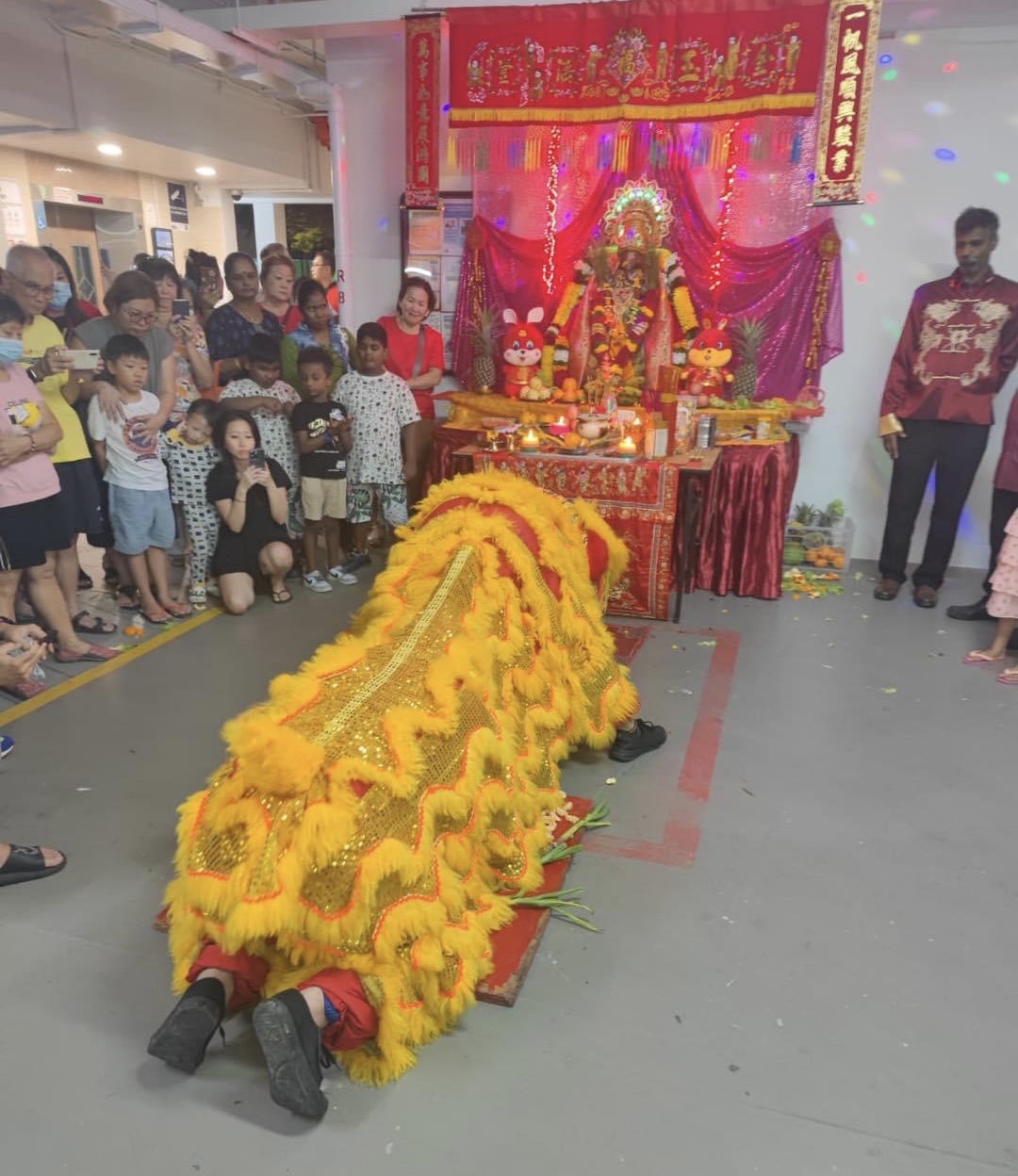 Chan has also seen an increase in popularity from corporate clients, businesses hiring lion dancers to bestow the Five Blessings of ancient Chinese spirituality – longevity, wealth, health and composure – on their offices and employees. Hired lion dances will take a tour of the office and for a donation of oranges and money in a festive red ang-bao packet employees can receive an individual "desk blessing". The lion will "pluck the green" in a lobby or conference room, a ritual where the animal mimes eating a lettuce or another green vegetable, then spits it out.
Some companies source "contemporary lion dances" with LED lights, or hip-hop moves.
Edwin Tan, director and chief instructor of the Pho Leng Lion Dance Instruction Centre, estimates most of his major clients are big hotels and large corporations, such as international logistics and shipping company DHL.
A lifelong dancer, he admits that the tough physical nature of the practice makes it a tough occupation.
"It's not easy money. If you want to be a lion dancer, you have to be very aggressive. You have to be very firm," Tan said.
Unlike Hok San, which performs many of its lion dances pro bono, and pools the funds from corporate commissions into the association, Pho Leng operates as a private company and commercial business, taking commissions and paying their dancers an hourly rate for each event.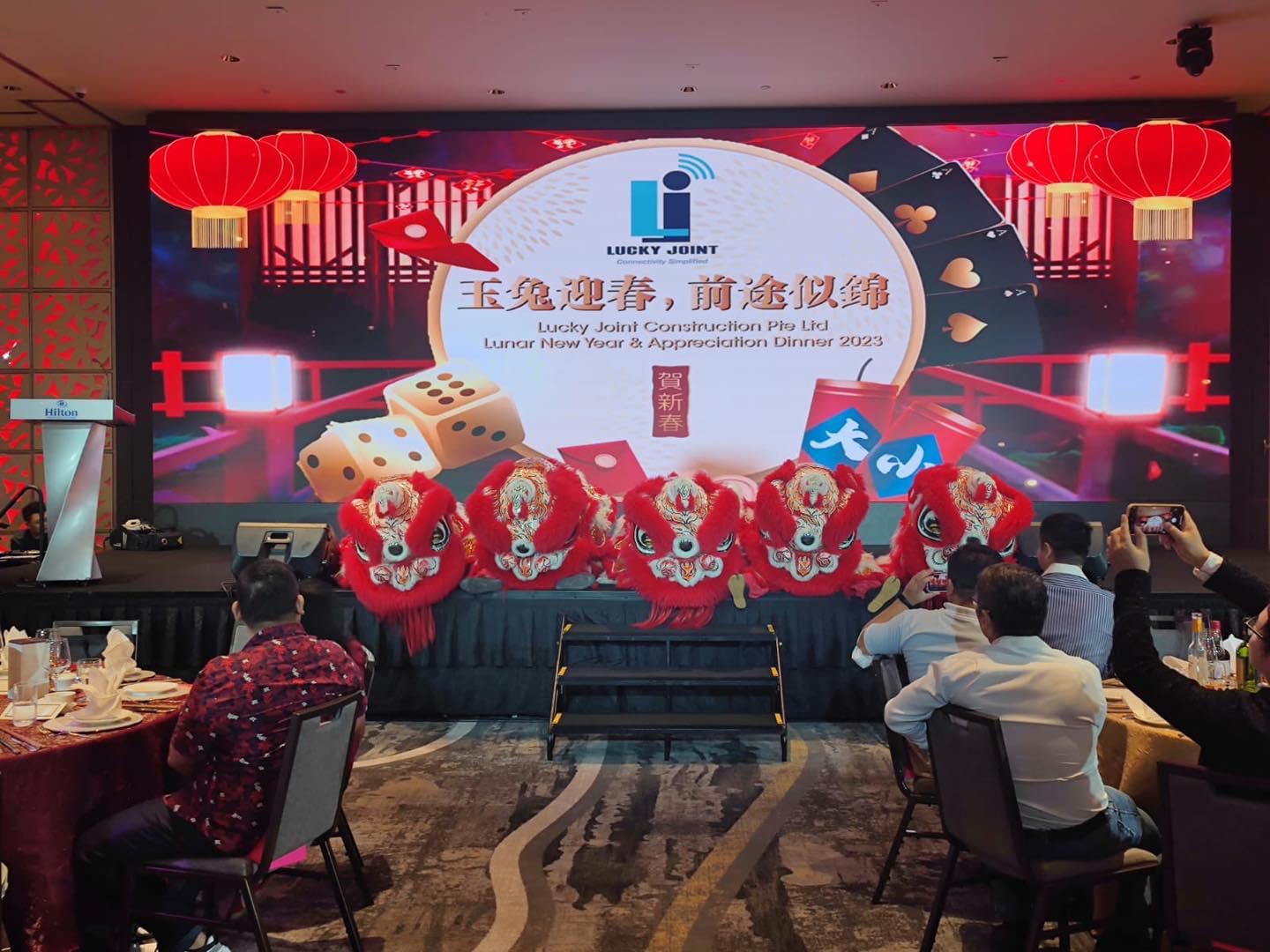 Business is good ("very very good – my guys are planning holidays!") and Pho Leng can charge up to $488 for two lions to visit for 15 minutes. A costumed "God of Fortune" can be hired for an additional fee and commissions are earned through ang-bao donations. On an average lunar new year period Tan estimates his troupe can take in about $100,000.
Though the commercial aspects came later, like Chan, Tan was initiated into lion dancing young.
His father – a businessman who sold jellyfish across Southeast Asia – signed his sons up for self-defence lessons at the local Wushu martial arts centre, which also ran dragon and lion dance training. There, the 12-year-old Alvin "discovered that lion dancing was my passion".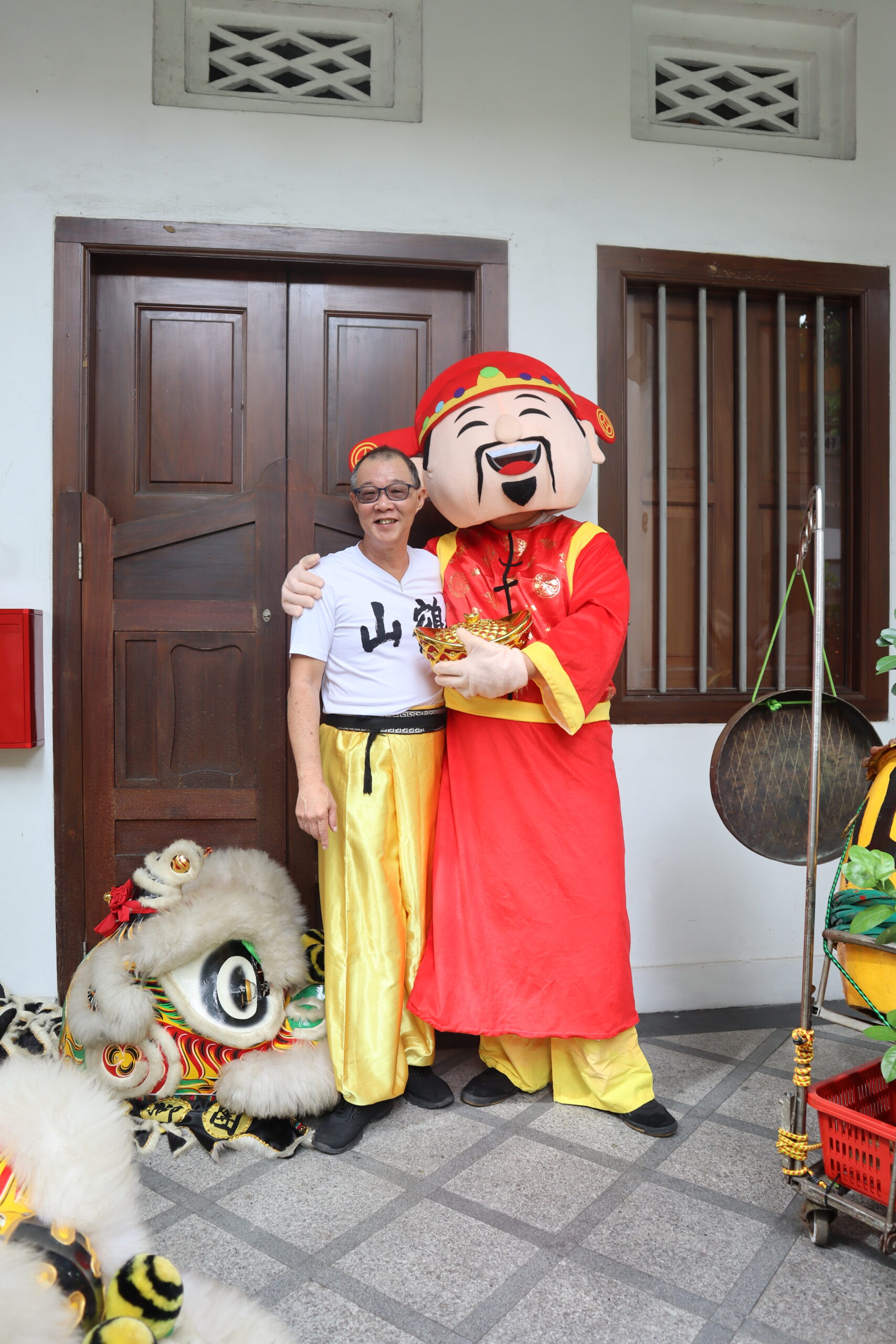 He set himself a goal to master the art from the centre's elders. Once his national service ended, he set up his own lion dance instruction centre. Now, at 56 years old, he has mentored over 300 "disciples", dancers he has trained, some of whom have gone on to start their own centres.
He also found an unconventional recruitment channel through his day job as an investigator at the Singapore Police Force. He would meet former gang members who were struggling to find employment in Singapore's hyper-competitive job market and offer them apprenticeships.
Now when he is overbooked during busy festive periods, he refers the business to other lion dancers he has worked with. For him, the lasting bonds between lion dancers goes deeper than sharing a costume.
"Whatever problem they have I am always there for them," he said.
---
For Chan with Hok San, the activity is more than a job or sport, "it is an art form." His first six months of training were unexpected, and didn't involve a single move, at least on his part.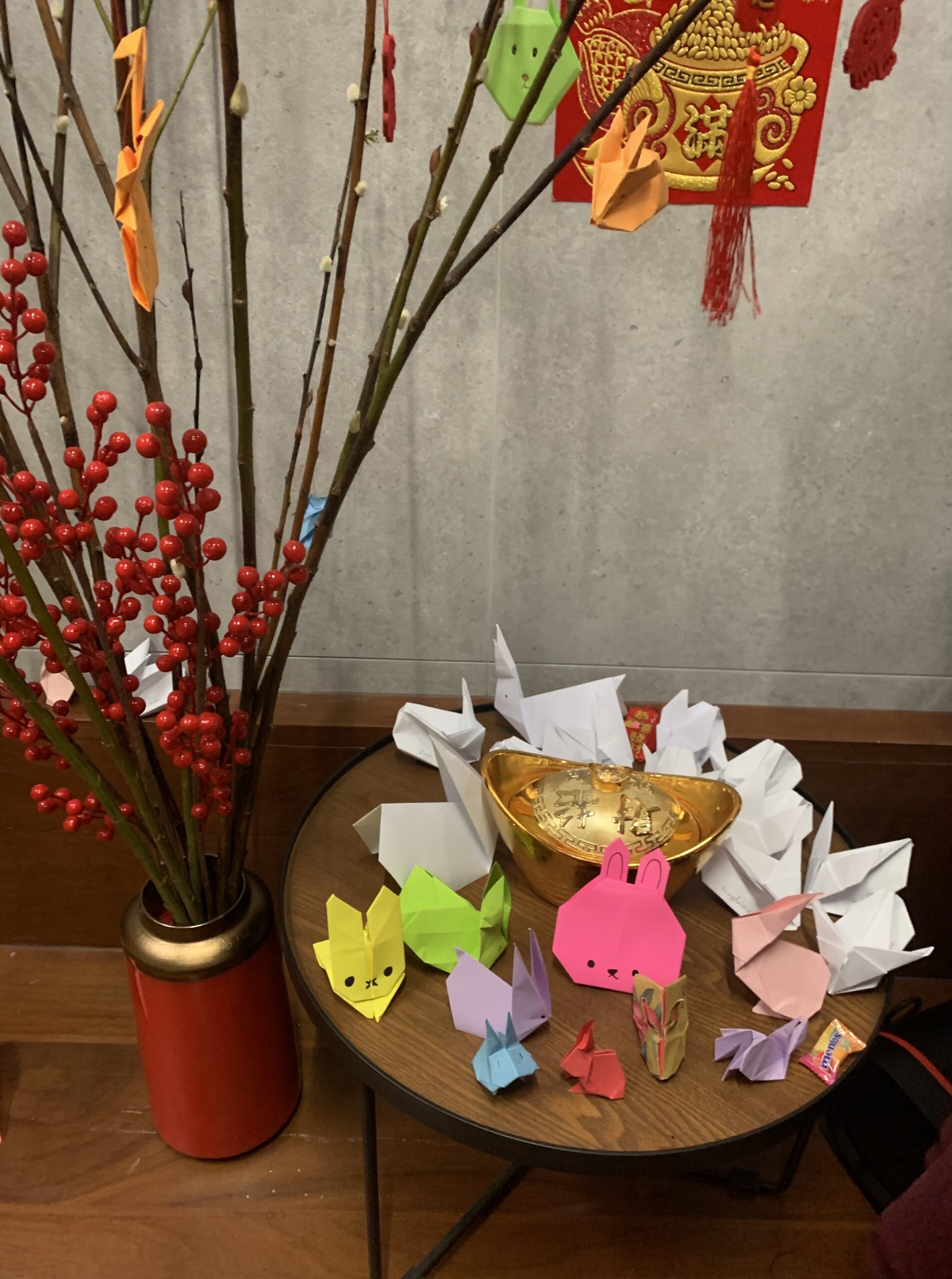 "I was given a pet cat and a ball of string," he recalls. "For six months, they told me to play with him, watch him, study his moves. Now, when I perform my lion dance, my moves are his. I try to become him."
Going forward, he recognises the need to adapt for the current modern lifestyle to attract new members. The association partners with youth clubs, charities and seniors groups with simplified routines, to teach interested participants the basics.
"This is the future of the lion dance," he said. "We have to bring out the interest. If you don't do anything, if you don't tell them about it, you will die."
For Tan, the approach is more aligned with the direction of a growing modern lion dance market. He is already planning for his next commission, a lion dance to celebrate the IPO of investment company Singapore Exchange.
"It's becoming more commercialised, of course it's become more commercialised," he said. "But we have to earn money to survive."