With Aung San Suu Kyi likely to be out of the running, some fancy that Shwe Mann will become Myanmar's next president
By Daniel Besant
Illustration by Victor Blanco
On January 22, Shwe Mann, speaker of Myanmar's lower house, weighed in on the sticky issue of constitutional reform by writing a letter to President Thein Sein. In it Shwe Mann urged his president to open sexpartite dialogue with various political factions in order to "create opportunities for successful nation-building in the future", according to a report in the Democratic Voice of Burma. Such dialogue, Shwe Mann declared, would "bring about positive outcomes for the country's development, ethnic unity, national reconciliation… and democratic transition".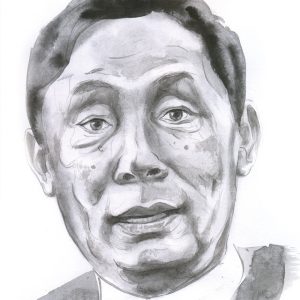 These undoubtedly noble aims come from a man many have tipped to be the next president of Myanmar.
With its chairperson Aung San Suu Kyi barred from appearing on ballot papers – due to a constitutional rule banning those who marry foreigners from office – it is rumoured that the opposition National League for Democracy (NLD) has given up its hopes of constitutional change and will throw its weight behind Shwe Mann, who is widely regarded as a conciliatory and reform-minded politician. This comes even though he is not a member of the NLD but a stalwart of the ruling Union Solidarity and Development Party (USDP). He was also a leading general in the oppressive military junta that ruled the country for decades.
"The NLD have denied supporting Shwe Mann," said Kyaw San Wai, an expert in Myanmar politics at Singapore's S. Rajaratnam School of International Studies. "But Aung San Suu Kyi and Shwe Mann are seen as having a working relationship, albeit perhaps one of convenience."
During his time as speaker Shwe Mann has gained a reputation as a reformer and a person who can bring disparate sides together. In turn, this has contributed to the lower house's authority, "which may turn out to be one of the more important foundations for a successful, long-term democratic system in Myanmar", said Trevor Wilson, a former Australian ambassador to the country.
Despite his hat being nowhere near the proverbial ring at present, most onlookers agree that Shwe Mann is ambitious. "He seeks to be a constructive influence during this period of national transformation," said Nicholas Farrelly, a political and strategic expert with the Australian National University. "He wants a place in history as the military man who mastered the art of democratic transition." 
However ambitious he may be, allegations of shady practices by members of his family could plague his lofty plans. One son, Aung Thet Mann, is a board member of the Htoo Group of Companies, a controversial conglomerate with fingers in the transportation, logging and construction sectors, among others. Another son, Toe Naing Mann, is head of telecommunications company Red Link Communications and has been accused of having too cosy a relationship with the minister of posts and telecommunications. "Allegations of his sons' business dealings will negatively affect his candidacy, should he run," said San Wai.
Although a huge chunk of the country's population want Suu Kyi to be president and nobody else, Farrelly feels that Shwe Mann is "one of the few good options for the presidency" at the moment.
"He would be a compelling candidate for military and USDP legislators, and even for some among the ethnic and democratic parties," Farrelly added. "If he stands for the post, he would likely tick the boxes for a range of different groups."
However, Shwe Mann is far from enjoying a free run at the presidency, with a number of heavy hitters circling the throne. President Thein Sein has not yet ruled out running for a second term, while General Min Aung Hlaing, the current head of the armed forces, may well run.
"It's also still unclear what the NLD will actually do," San Wai cautioned. "With these possible candidates, Shwe Mann faces tough competition."
Keep reading: 
"Missing: nine million people" – Myanmar's census not only reawakened the country's religious tensions, it also revealed a truly shocking population statistic. The fallout continues…
"The end of the Myanmar fairytale" – With racial tensions soaring, doubts over the future of Aung San Suu Kyi and a challenging business environment, is the West's love-in with the former pariah state finally over?