Renowned as a den of iniquity across the region, Pattaya's efforts to clean up its image have resulted in foreigners and locals joining forces to blitz the city's seedy underbelly
Following a robbery on Pattaya's Walking Street, a member of the Foreign Tourist Police Assistants (FTPA), checks the ID of a transgender woman. Since 2002, members of the FTPA of Pattaya have been assisting local police on Walking Street, Pattaya's main nightlife area. Members of the FTPA carry handcuffs, batons and pepper spray, and are charged primarily with assisting foreign visitors and the Thai police, as well as breaking up fights and catching thieves.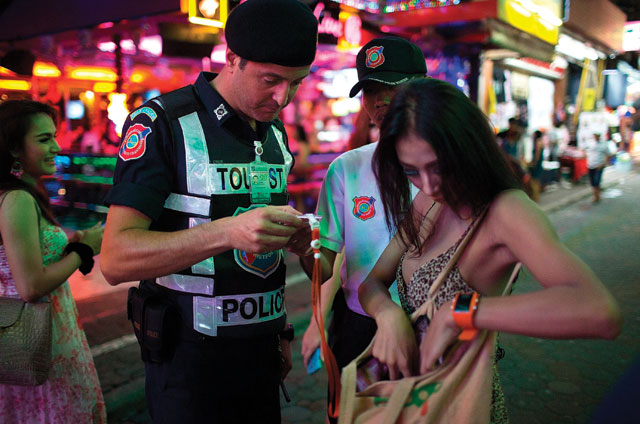 In recent years the beach resort town, which attracts more than nine million tourists each year, has moved to fight the rampant crime that plagues its streets.
Last year the Royal Thai Police mobilised more officers to patrol the streets, and efforts were made to coordinate the work of the national police units and the FTPA. 
According to provincial police chief Major General Sanchai Chaiamphorn, there were an average of 1,000 'non-confrontational' petty crimes committed each month in 2013, with numbers spiking in December during the tourism high season.
This comes as Thailand's new military government has promised to combat all forms of vice in the Kingdom and shed the country's reputation as a choice destination for sex tourists.
A large proportion of police work in Pattaya consists of dealing with minor incidents involving foreign tourists and expats, such as fights outside of bars and disagreements with the owners
of establishments. 
However, Pattaya is also a haven for human trafficking, drug smuggling and gun-running. Last August, police raided hundreds of properties, questioned 1,280 suspects and confiscated 40 handguns. Over the past few months police have also arrested a number of foreign drug dealers living in the city, including a Dutch national who allegedly trafficked millions of dollars' worth of marijuana from Thailand to the Netherlands.
Keep reading;
"Stir crazy" – Thailand's prisons are at breaking point. With inmate numbers spiralling and sentences being handed down with abandon, true justice remains elusive