It took 26 days at sea for VinFast to ferry 999 electric vehicles from the northern port of Hai Phong to the United States.
The massive cargo ship with the Vietnamese startup's logo plastered across its side passed under San Francisco's Golden Gate Bridge before reaching land on 20 December.
VinFast's rise has been rapid and it's making leaps for the Southeast Asian nation. The company was formed in 2017 by Vietnam's largest-conglomerate Vingroup, worth 428.4 trillion Vietnamese dong ($18 billion) as of 2021. VinFast is the first Vietnamese car maker to expand internationally and produce electric vehicles.
VinFast's CEO Le Thi Thu Thuy described the company as "Vingroup's first global brand with a mission to bring the brand across borders," in written communication with the Globe.
"VinFast marks a significant step forward for the Vietnamese automotive industry," she added.
In Vietnam, the automaker is buoyed by the ubiquity of its parent company, close ties within government, and support from many Vietnamese buyers despite flaws in the product.
While the automaker's push into the global market is groundbreaking, the company's short history leaves experts puzzling over VinFast's viability abroad. The enterprise has been marred by delays, erratic changes in personnel, billions of dollars in losses, and many see the vehicle as subpar compared to the competition.
Gregory Poling, director of the Southeast Asia Program at the Center for Strategic and International Studies, agreed with Thuy on the noteworthiness of VinFast's expansion.
"It shows Vietnam leap-frogging the value-added chain. … Vietnam would be the first and only Southeast Asian economy selling a domestic auto brand abroad with success," he told the Globe but stated the car's competitive viability is in question.
"[But] nobody's very impressed with driving the VinFast car. They're not cheap enough to compete on cost and they're not good enough to compete on quality."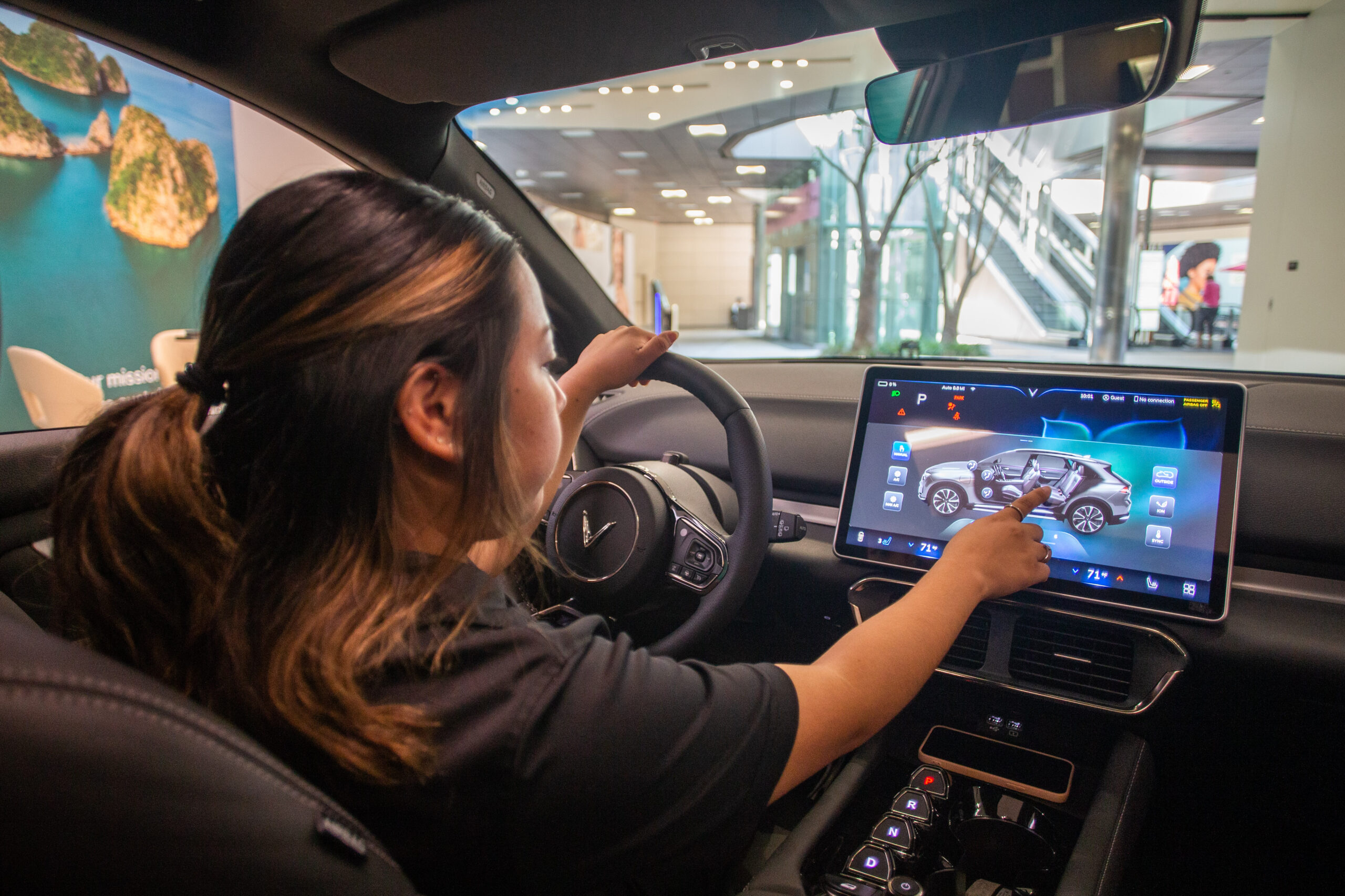 There's high stakes for Vingroup's EV arm. The financial stability of its parent company Vingroup and its chairman and founder – Vietnam's richest man, Pham Nhat Vuong – are on shaky footing at home.
Vingroup has enterprises in nearly every sector of the Vietnamese economy yet depends on its real-estate venture, Vinhomes, to bring in the cash. But the country's property sector is in crisis. In an ongoing anti-corruption campaign, the government tightened laws on bond issuance spooking the market, developers are deep in debt, and the market for high-end housing is saturated.
VinFast first moved into the international car market in July 2021, stating they'd open offices in North America and in Europe. On 29 March 2022, the company made another big announcement, it would start making vehicles in Pittsboro, North Carolina.
Along with concerns about the saleability of VinFast's EV, the automaker is having major losses. From 2021 to 2022, VinFast lost $2.4 billion. Further, in March the company postponed the founding of its first overseas auto plant in the U.S. state of North Carolina from a July 2024 commission to an unspecified time in 2025. That's just the latest in a spate of setbacks.
In February, the company announced there would be delays on the delivery of its first cars to American customers and cut 80 jobs in North America – eliminating its Canadian division. There were more staff changes in March, with three US-based executives leaving the company. The leadership at the top of the company has also been unsteady, with three CEOs in the last five years.
"VinFast focuses on leanness and flexibility to adapt quickly to the fast-paced development of the electric vehicle industry," Thuy stated in response to the personnel shifts.
Vuong's mammoth enterprise could be near collapse, Alexander Vuving, professor at the Asia Pacific Center for Security Studies in Hawaii, told the Globe.
"[Vuong] has built an empire where you have Vin-everything… electronics, electric cars, education, health, and everything else but the only portfolio that has produced profit for him, it's really been real estate," Vuving said.
"He is now putting all of his bets on electric cars but it is not going to bring him profit for many many years."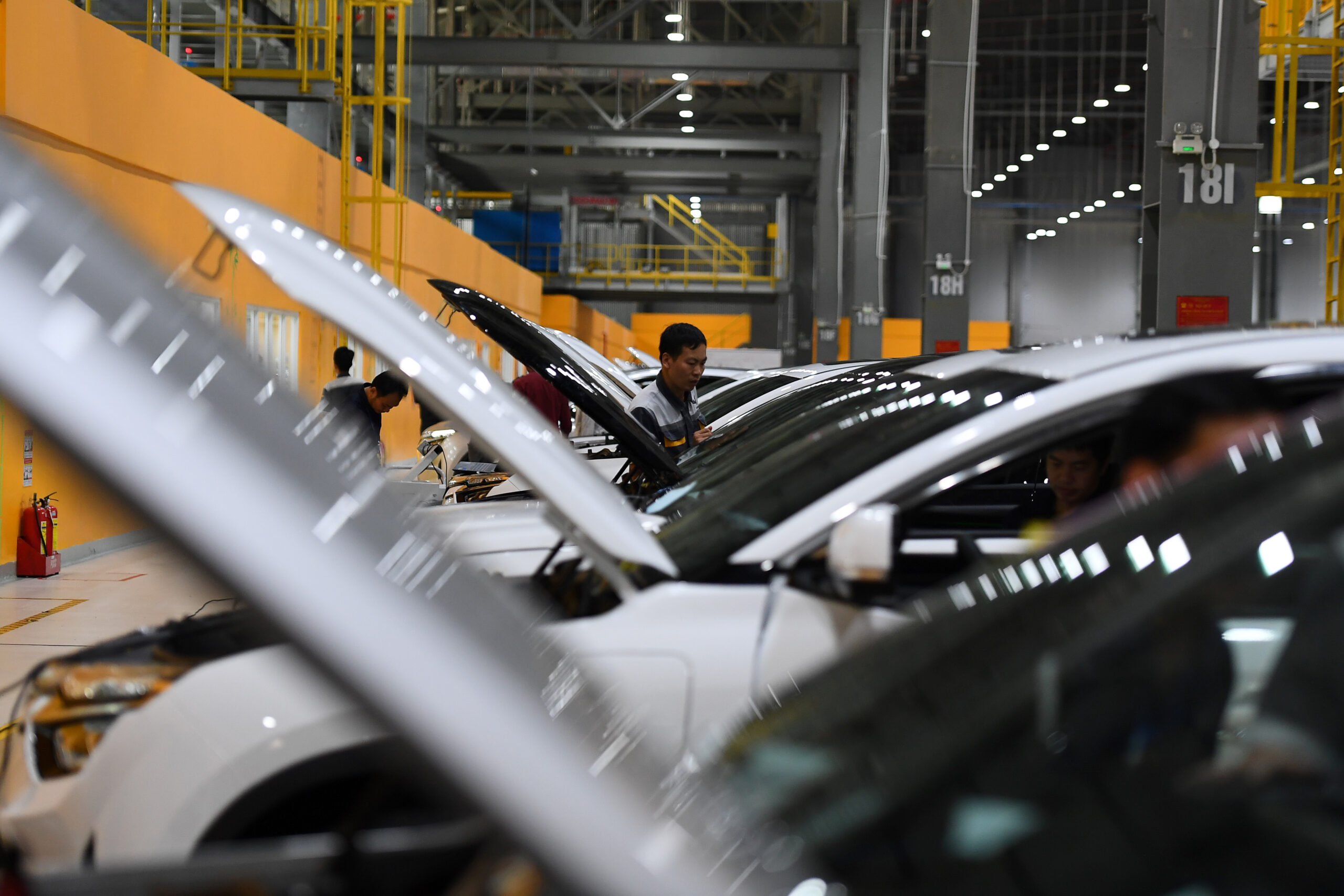 ---
Five-year-old VinFast was quick to get up and running. After the project was launched in 2017, the company built a sprawling 335-hectare auto-plant on northern Cat Hai island. By 2020, VinFast was the country's fifth-best-selling car.
Although Cuong Hoang Chan, an owner of a VinFast e34 in Ho Chi Minh City, noted some errors in the car's software, he is happy with the vehicle. He mentioned "minor errors in software" including sensors showing warning signs when changing lanes at high speeds despite the car operating normally. Still, he said customer service and charging stations are easily accessible, the company makes frequent software updates, and is excited to see the company's expansion.
"Expanding business in the U.S. is the right step," he said. "If you can sell a car in the U.S., you can sell it around the world. … This is just the beginning."
The VF8, the only current model available in the U.S., was made available to customers in Vietnam in September 2022. Stalling batteries, software issues, and temperature controls have plagued the Vietnam roll out, according to a Rest of World report.
Do Son in Hanoi owns two VinFast EVs – an e34 and the newer VF8. He said the VF8 has similar issues to what the e34 had a year ago but is happy with his vehicles and customer care when issues occur.
"As an electric car fanatic like me, Vinfast is a company that helps me realise my dream of owning an electric car in Vietnam," Do Son told the Globe.
Not everyone is as bullish on VinFast's future success or the conglomerate's broader prospects.
Bill Russo, head of Shanghai-based consultancy Automobility Ltd and a former Chrysler executive, said there will be a tough path ahead for the EV startup.
For Russo, VinFast's push into the U.S. market showcases the company's drive to tap into a large demand market.
Although this allows the company greater opportunities to scale up, he noted some potential obstacles: the initiative is highly capital intensive, VinFast has near-zero brand recognition abroad and EV giant Tesla already controls the majority of the market. As of 2022, Tesla held 68% of U.S. sales.
"Failure is always possible," Russo told the Globe. "If you're going to get a high-risk business like this to run, it's going to be a pretty scary ride."
VinFast's leading option would be to offer the best value proposition, Russo explained, but Tesla is pushing down prices, making it more difficult for VinFast to provide the bargain option. Tesla has slashed prices twice this year, with higher-end models dropping by $29,000.
Prices for the VF8 start at $49,000 compared to the cost of an entry-level Tesla at $42,990.
VinFast CEO Thuy listed high-quality products, good pricing, and "outstanding after-sales" as the VF8's offerings to U.S. customers.
But just 45 cars have been sold in the U.S. so far with its first California-based customers getting the vehicle on 23 March. The VF8 model is currently the only option in the U.S. and the U.S.'s Environmental Protection Agency found the vehicle's battery range was about 80 miles less than what the company advertised. VinFast planned to offer two options for the VF8 battery. Customers could pay a higher price for the car battery included or lease the battery to cut costs. The company increased leasing prices on multiple occasions and the subscription is currently unavailable.
Some who have tested the VF8 have been frustrated by its quality and with VinFast's wishy-washy roll-out.
EV tester Kyle Conner posted a YouTube review of the vehicle in January.
In the video with more than 6,000 likes, Conner compliments the design but complains of what he found to be inconsistent power, voice commands which are impossible to turn off, slow charging speeds, and wrote on the comment of his video that "the noise on the highway is nearly unbearable." The YouTuber also described an extravagant marketing campaign that for him, failed to live up to the hype.
"If VinFast put half the amount of money into engineering instead of the crazy marketing they're doing, they may have a desirable product," he stated. "What you would spend on this car actually makes no sense."
Some in the U.S. are more positive. Living about a 10-minute drive from VinFast's future plant in the town of Pittsboro, North Carolina, resident Kyle Mullaney hopes the factory can bring more opportunities to the community. Still, he'd also heard some negative comments on the car's quality, cost, and some are frustrated by being priced out of their neighbourhood as Pittsboro develops. Five businesses, 27 homes, and a church built in 1888 are set to be cleared to accommodate the factory.
"One of the big things that really excites me is just the possibility that Pittsboro is going to get new businesses, new job opportunities for folks," Mullaney told the Globe. "The problem is, the pricing that we've seen is not very competitive … and there's questions about the quality."
With only 45 of the 999 vehicles which were shipped to the US delivered to customers and a shaky value proposition, VinFast losses are likely going to continue, burdening Vingroup.
"It is a high cash-burn proposition for Chairman Vuong," Russo said. "The question is, does the brand have any particular value proposition to markets like the US – and the answer is no."
Vietnam-watcher Poling said the company's brand power and government support give VinFast and Vingroup enterprises more broadly a leg up in Vietnam, but the burgeoning efforts overseas are shaky without that cushion.
"Vingroup is used to operate in an environment where it is a national champion and is too big to fail," Poling said. "Outside of Vietnam, they don't have any of those protections."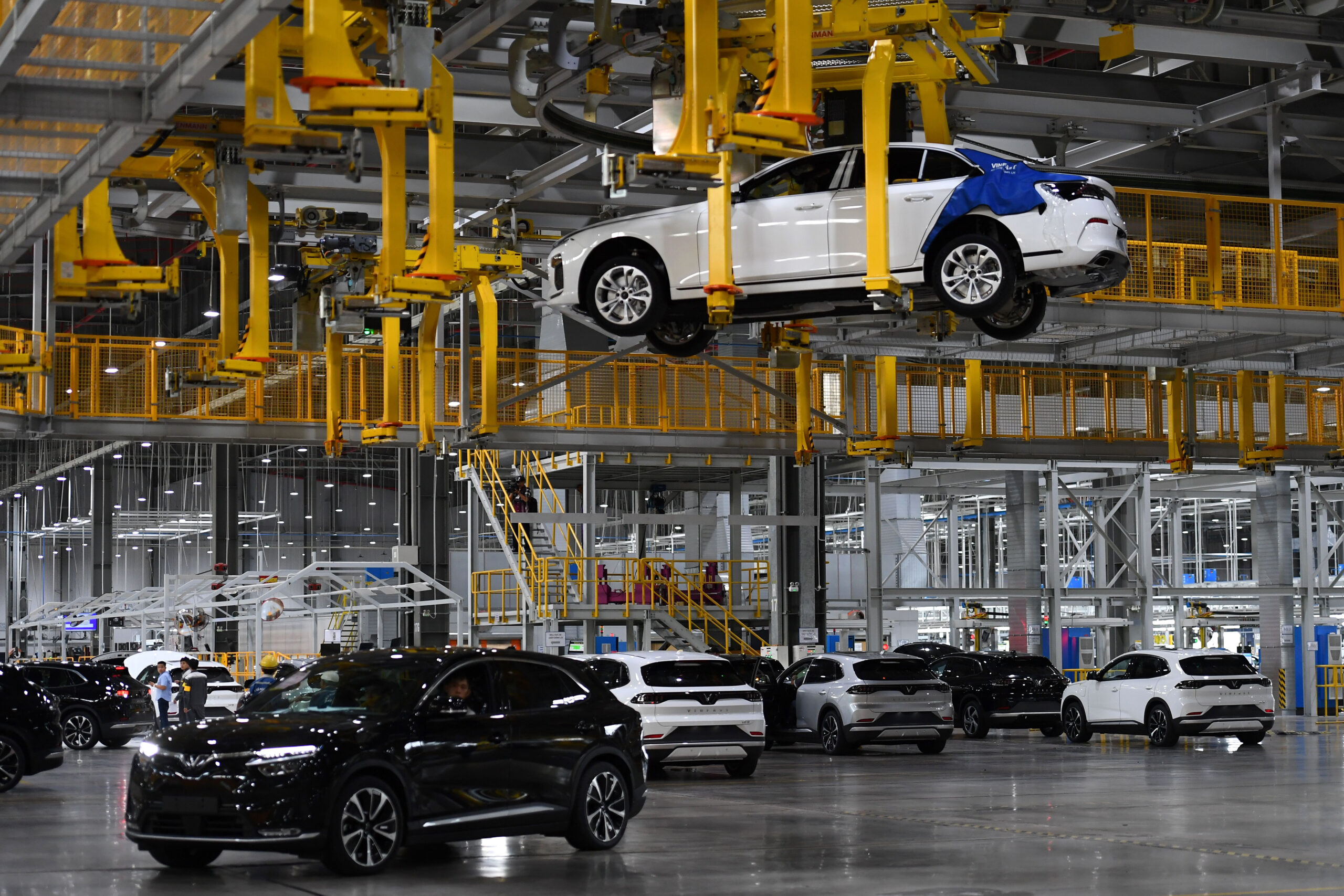 ---
Before there was Vin-everything, Vuong's ambitions began in eastern Europe.
Prior to the fall of the Soviet Union, Vuong and other high-achieving Vietnamese students received scholarships to study in Soviet-bloc countries.
After studying in Russia, Vuong moved to Ukraine where he began a range of businesses marking his biggest success in instant noodle production.
In 2000, Vuong turned his ambitions back to Vietnam seeing opportunities in real estate after the passage of the Law on Private Enterprises began to allow non-state businesses to thrive and on the advice from knowledgeable and government sources.
"At that time, he saw a big opportunity for our real estate," said Vietnam-born Vuving who also received a scholarship to study in Europe in the same period as Vuong.
The land was turned into the first Vincom Center, a shopping mall that now has more than 250 locations across the country. With Vuong's efforts, the conglomerate kept ballooning. In 2010 he was focused solely on his Vietnamese enterprises after selling his Ukraine operations to Nestle for $150 million.
The conglomerate's projects now mark the country from north to south, where Vietnam's tallest skyscraper – Vingroup's Landmark 81 – towers over the rest of Ho Chi Minh City's skyline.
But on home turf, it's been a tough couple of years for Vingroup.
The Covid-19 pandemic disrupted the flow of cash into Vingroup's tourism complexes, Vuving said, and the country's real estate industry has taken a nosedive starting last year when the government issued a crackdown on bond issuance.
Now, many companies are struggling to repay debts and 235 property firms went out of business in the first two months of 2023.
Xavier Jean, senior director at financial analytics firm S&P Global, told the Globe that Vietnam's property market isn't likely to improve anytime soon. There was a boom in the real estate sector for high-end apartments, but now the market is oversaturated causing supply and demand to tilt out of balance.
"Developers continue to be massively leveraged entities with chronic liquidity problems," Jean said from his Singapore office. "Things are going to get worse before they get better."
In what some see as Vingroup's need for an influx of capital, Singaporean real estate giant CapitaLand is in negotiations to acquire $1.5 billion in Vinhome's assets, Reuters reported on 20 March.
Vingroup is also in talks to sell assets of its shopping mall enterprise to Thailand's Central Group and other companies, Reuters reported on 30 March.
Tyler Manh Dung Nguyen, vice president of institutional equity sales at Maybank Investment Banking Group in Ho Chi Minh City said Vingroup's looming asset sale could be going to support initiatives including VinFast.
"I think that it's actually quite logical in order to sell some of their assets to be able to raise cash and fund their other activities," he told the Globe of the Capitaland negotiations. "They need the capital to build the [VinFast] plant, they need the capital to fund their projects."
Vuving also sees an insecure future for the company, with the potential Capitaland deal a foreboding signal.
"This means Vingroup is in dire straits," Vuving said of the CapitaLand negotiations.
"There are also rumours about [Vuong's] company's sort of collapse, just having no money. … I think that's very close to the truth."
Still, Vuving noted that Vingroup has widespread support in Vietnam at the highest levels. If the company is truly crashing, Vuong's allies may come to the company's rescue.
However, in July 2022, there were rumours that Vuong could be on the chopping block of the country's anti-graft campaign although no official actions against Vuong were taken. In Vietnam's current corruption crackdown, which led to the surprise downfall of the country's president in January, it seems anything is possible.
"Within the Vietnamese Communist Party, there are factions, there are networks, there are people who are fighting each other. But as far as I know, [Vuong] has a very good relationship with all of them," he said.
"If his company falls into a financial crisis, his friends in the government will try to use government instruments to help him… It's still a gamble. They may sacrifice you, they may not."