The chairman of Worldbridge Land, Rithy Sear, discusses his major property development, opening a new five-star hotel and making a move into the world of e-commerce
Rithy Sear steps out of an impeccably buffed, black Rolls-Royce and into the confines of his company's showroom in Phnom Penh. Talking with great enthusiasm, the 45-year-old is every inch the self-described "corporate man".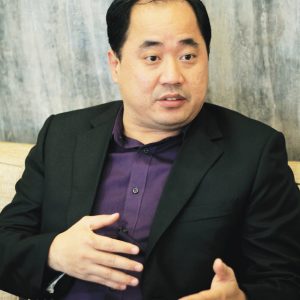 "Things are moving in the right direction," he says, when asked about the progress on one of his standout projects, the Bridge – a luxury, mixed-use development in the Tonle Bassac district of Cambodia's capital. "It's very exciting. We will not delay. In fact, we want to get it finished faster."
As chairman of Worldbridge Land, Sear has overseen the joint venture with Singapore's Oxley Holdings. The Bridge will offer more than 700 one- to three-bedroom residential properties, as well as business and commercial space on the lower floors. It will also offer almost 1,000 SoHo units (studios that include both office and residential space).
"SoHo is a new concept for Cambodian people, but in Hong Kong and Singapore they have been built for decades," Sear explains, adding that sales are looking good. Although the project is not expected to open until 2018, all of the condominiums have already been sold and 70% of the SoHos have been snapped up.
But Sear's ambitions do not end there. In the near future, the showroom where we are sitting will be knocked down to make way for a five-star hotel.
In October last year, Oxley Gem (Cambodia) – the partnership between Oxley Holdings and Worldbridge Land – signed
a memorandum of understanding with Shangri-La International Hotel Management to develop a 300-room, five-star hotel. "It is very, very exciting and I think it will be a major boost to Cambodia's luxury hotel market," Sear says, adding that work is expected to begin this month.
Sear also has his sights set outside of the property sector. Late last year he established WorldBridgE Commerce in a bid to make a mark in the online marketplace. While the property industry has piqued his interest in recent years, for more than two decades Sear has been CEO of Worldbridge International, a logistics company specialising in freight forwarding.
"My core business is logistics, and e-commerce is related to logistics – with a nationwide logistics service you can create a proper e-commerce business," Sear says. "So far there have been online shops here, but they're focused on small things. They use Facebook or websites. But they don't have their own, nationwide platforms."
WorldBridgE Commerce has produced an online marketplace, My All In One Mall (MAIO Mall), which allows users to shop, book tickets and hotels, and conduct banking and other financial transactions from mobile devices.
Sear admits that it might be a little early to start an online business in the Kingdom, due to the nascent nature of the industry and the fact that the law on e-commerce has yet to be passed, but he is adamant that it will be a highly profitable venture. "If you don't make the first step, you won't get to the end. If you don't make a start, you will never move," he says.
As of March, MAIO Mall had more than 40,000 products or services for sale and will be operational this month. As with many of Sear's other projects, it will not be done on
a small-scale.
"We think regionally, because I will open e-commerce businesses in Myanmar and Laos too. Cambodia's small entrepreneurs want to keep it small. But for us, we want to do everything corporate, everything big." 
Keep reading:
"Take it to the bridge" – Having made his mark in housing developments in Singapore and the UK, Ching Chiat Kwong, CEO of Oxley Holdings, is bringing the concept of 'SoHos' to the heart of Phnom Penh