In addition to providing its longstanding ride-hailing services, Grab is also offering on-demand food, package delivery, cashless payments, financial services and grocery delivery on a brand new app that launched in Singapore and Indonesia this week.
"When we first launched, we were built for one purpose: to bring people safely from point A to point B," said Grab co-founder Anthony Tan at the official launch of the new Grab app and platform. "But our mission evolved. In the beginning it was a simple taxi app… now it's changing to become an everyday superapp."
Grab intends to introduce the new app to its markets in the Philippines, Malaysia, Thailand and Vietnam by the end of the third quarter this year, but has not yet established a time at which it will roll out the app to consumers in its other markets.
Jerald Singh, head of product management at Grab, said that because Grab's basic ride-hailing platform was only recently launched in Cambodia and Myanmar, the company must grow its user base before expanding services offered in these countries.
"We have bigger things to solve in Cambodia and Myanmar… we want to be sure we do transport really well before we bring these other services to them," he said, adding that Grab's focus in these markets remains on geo-mapping.
For the markets where Grab's latest app is currently – or soon will be – operational, consumers can expect several new services to be offered to them in the coming months as Grab partners with already active and successful startups.
Grab's first partnership, established Tuesday with grocery on-demand delivery startup HappyFresh, will see the ride-hailing company offer its customers the opportunity to use their apps to order daily groceries to their homes via the GrabFresh service.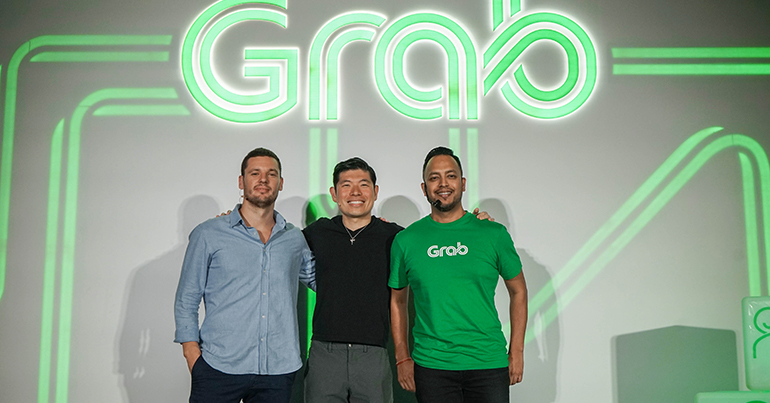 HappyFresh, which launched as the first app of its kind in Southeast Asia a little over three years ago, currently operates in 40 major cities across Malaysia, Thailand and Indonesia. Though previously operating in the Philippines and Taiwan as well, the company withdrew from these markets in mid-2016 to "concentrate on improving operations" in its other three markets.
In light of its new partnership with Grab, HappyFresh is eyeing a potential launch in other cities and countries in the region by the end of this year. CEO Guillem Segarra said that the company has a shifting timeline for its long-term goals, but he foresees HappyFresh's services expanding across the region over the next five years or so with the help of its new partner.
"We work better in countries where infrastructure is not so good, especially in countries without reliable public transit," he said, adding that he had high hopes for his company's eventual expansion into Cambodia and Myanmar. "We bring the infrastructure ourselves."
According to Segarra, his company will likely be the only service of its kind to partner with Grab in Southeast Asia.
Singh, though, said that he was happy to see startups launching on the Grab platform with the intent to expand, and added that Grab could form partnerships with other, similar services in countries where there may be a pressing need.
"If there's a partner that has an excellent service and wants to use its partnership with Grab to expand, we will work with them and enable them to do that," he said.
He also mentioned that Grab is in talks with several businesses providing localised services, including Yahoo, Chubb, Shopee, Tokopredia and Kudo, with which it intends to establish partnerships in the upcoming year.
"We're going to focus on partners that deliver everyday needs for our customers," said Singh. "We will choose those that provide a daily service and address a unique need in the community, and ensure all these partners provide income opportunities for local people."